PRISM! ~ Sound time in love with flute, clarinet and mezzo-soprano ~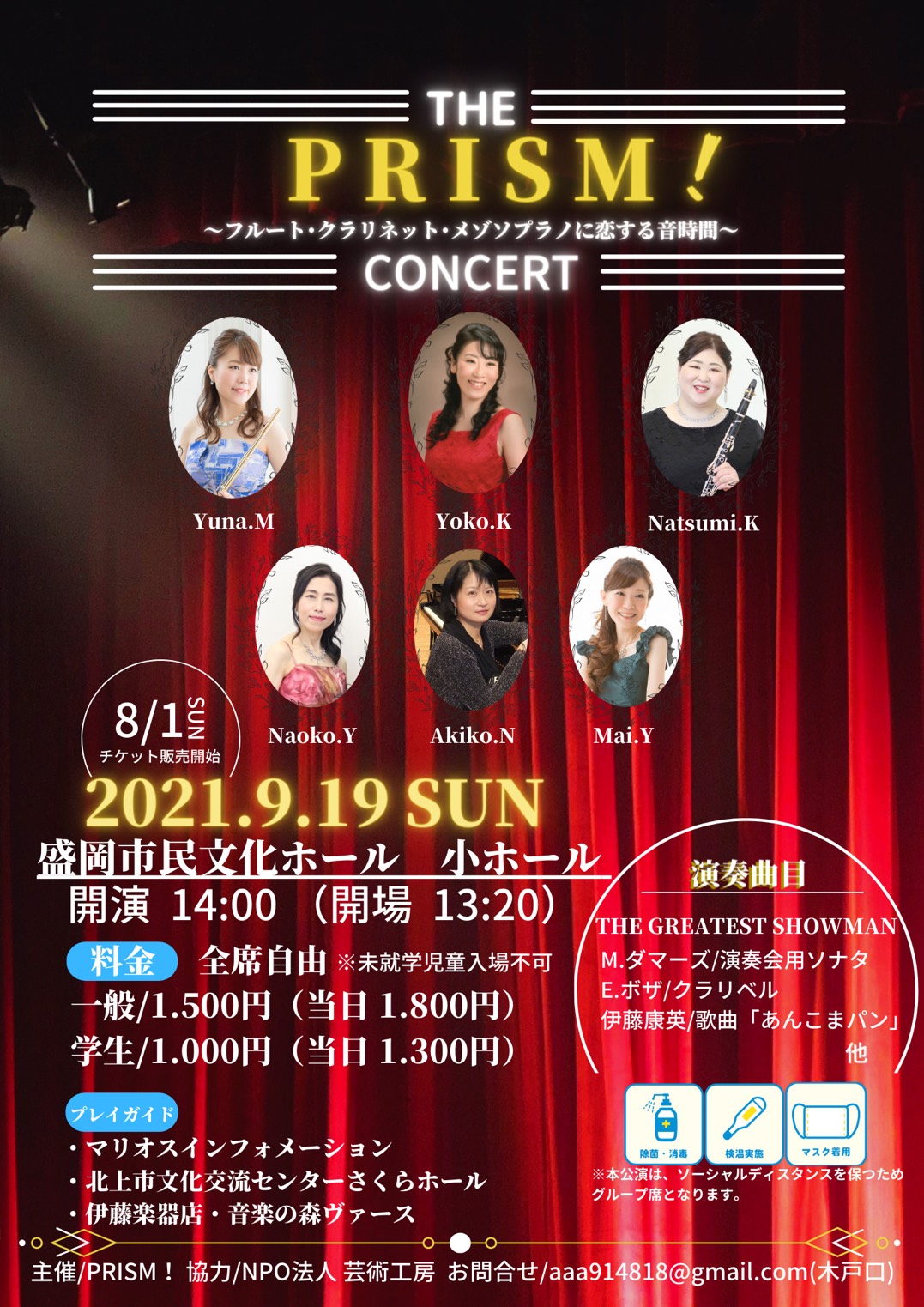 A moment when the timbre that is spun out glitters in your heart
A concert with a slightly interesting combination of flute, clarinet and mezzo-soprano.
Part 1 will focus on solo performances.
Please enjoy the individuality of each instrument and performer.
In the second part, the atmosphere changes dramatically …
Beginning with funny songs that make you laugh, we invite you to the world of film music, including classic masterpieces.
A pipe organ is permanently installed, and it is a small hall of the Morioka Citizens' Culture Hall with a solemn atmosphere, but this time we also devised lighting.
A concert that you can enjoy with your ears and with your eyes, where you may discover a different side of the small hall.
And by the time you leave the venue after spending such a time, there is no doubt that your heart, which has been entrenched by the corona wreck, will be radiant and light.
Seats are thinned out, and we also take preventive measures against infectious diseases such as disinfection and ventilation.
We would be happy if all the performers could come.
Holding period
2021/9/19
Open time
Opening 13:20

Starts at 14:00
Venue

Morioka Citizens' Culture Hall Small Hall

Address
2-9-1 Nishidori, Morioka Station, Morioka City, Iwate Prefecture
Parking
In the neighborhood
Price
General 1500 yen (1800 yen on the day)

High school students and younger 1000 yen (1300 yen on the day)
Contact
aaa914818@gmail.com