Posting is free! We are looking for event / classroom / circle information!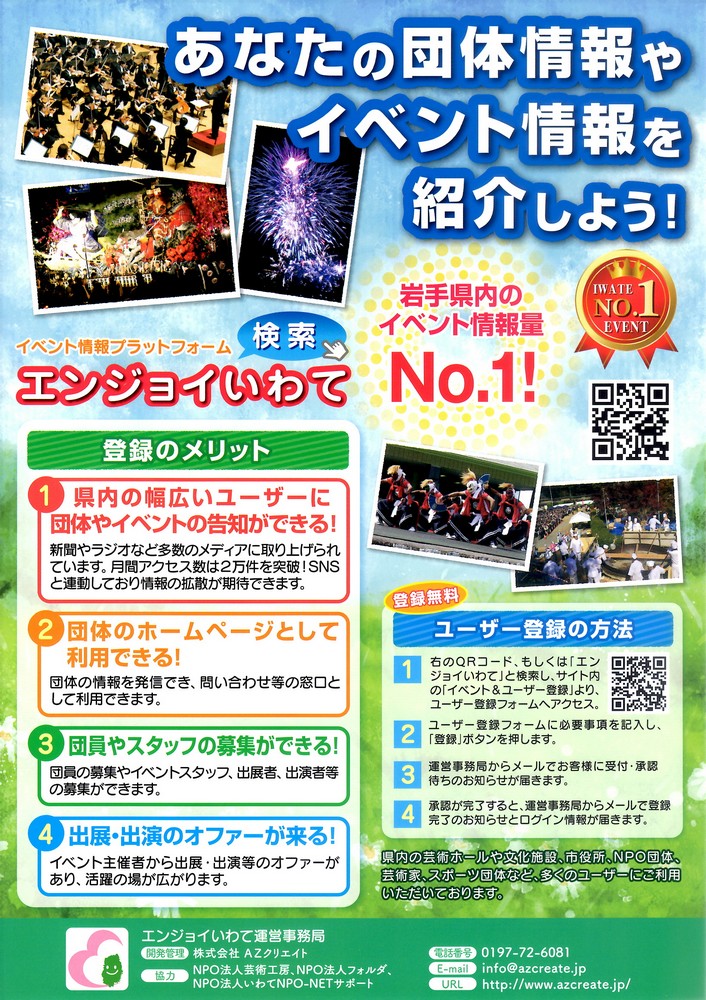 This site (Enjoy Iwate) started with the goal of "realizing a local community where everyone can realize themselves" by activating the area, and in order to realize it, we are working on the consolidation of local information and the cooperation of those related organizations. is.
Currently, it has grown into an event information site that boasts the largest amount of information in the prefecture, but it cannot be said that it covers all the information in the prefecture, and in order to provide more information, information from customers Offering is essential .
For this reason, this site is looking for the registration of the organizer.
The registration fee is [free] . There are no registration fees, renewal fees, renewal fees, etc.
By registering, you will have the following merits.
■ Benefits of registration
・ Event information can be posted and announced.
・ You can post and announce classroom and club activities.
・ The organizer can be posted and announced.
・ Various notices can be posted by using the blog function. ・ Notices can be sent by e-mail to desired customers.
・ You can post information on the official SNS of Enjoy Iwate.
・ You can recruit event staff, exhibitors, and performers.
・ By finding various collaborators, it will be possible to hold events in collaboration with the local community.
■ Difference between "Enjoy Iwate" and general event sites
Most event information sites only provide information unilaterally. However, Enjoy Iwate can exchange information in multiple directions with multiple registered users and site visitors, and as a result, it is possible to build new connections.
Events that could not be held by individual power alone can be held more effectively and interestingly than before by recruiting collaborators and staff on the site and holding them in cooperation.
■ Flow of organizer registration
① Fill in the required items from the organizer registration form and press "Register".
(2) Enjoy Iwate The management office will notify the customer by e-mail of acceptance / waiting for approval.
③ When the approval is completed, you will receive a notification of registration completion and login information (login URL, login email address, user name, password) by email from the Enjoy Iwate Management Office.
■ Start organizer registration
This service was officially released on June 1, 2019, and registration of the organizer has started.
Anyone can register event information and group information for free.
Currently, there are more than 300 users in the prefecture's art halls, cultural facilities, city halls, NPOs, sports groups, brass bands, art groups, tourist associations, youth conference halls, community revitalization teams, festival executive associations, companies, shops, etc. It is used by customers.
Please click the button below to register.