Miyako Traditional Performing Arts Festival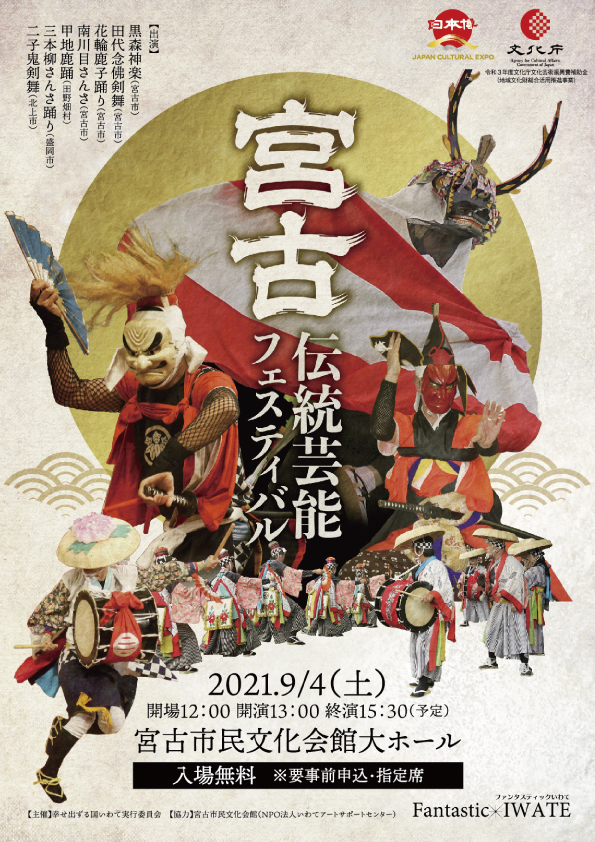 Miyako City, Iwate Prefecture, a coastal city in the Sanriku region with the scenic Jodogahama beach.
Embraced by the rich sea of Sanriku overlooking the Pacific Ocean and the series of Kitakami Mountains looking up at Mt. Kuromori and Mt. Hayachine.
The people of Miyako have nurtured a rich culture.
This year is the 10th year since the Great East Japan Earthquake.
Traditional performing arts in Kita-Sanriku and Iwate prefectures, including Miyako, will meet in one place.
Performing group
Kuromori Kagura (Miyako City), Tashiro Nenbu Kenmai (Miyako City), Hanawa Kago Dance (Miyako City), Minamikawame Sansa (Miyako City)
Koji Deer Dance (Tanohata Village)
Futako Onikenmai (Kitakami City)
Holding period
2021/11/6
Open time
Opening 12:00

Start at 13:00
Venue

Miyako Citizens' Cultural Center Large Hall

Address
2-22 off Sokeioki, Miyako City, Iwate Prefecture
Price
Free admission (numbered ticket required, reserved seats)

[How to get an admission ticket]

Admission ticket distribution: Miyako Citizens' Cultural Center

[Admission numbered ticket application]

Please apply by fax or from our website.

① Event name "Miyako Traditional Performing Arts Festival"

② Name

③ Postal code / address

④ Telephone number / FAX number

⑤ Fill in the desired number of people (up to 4 people)

● FAX: 022-706-8803

* Registration will end as soon as the planned number is reached. Please check the LMS website.

* When applying, the names and contact information of all those who wish to visit the venue are required. Duplicate applications cannot be made via fax or the Internet.

* Personal information provided at the time of application will be used only for information on this performance.
Contact
[Inquiries regarding admission tickets]

Cool Mine (Weekdays 11: 00-19: 00) 022-796-8700

[Inquiries about performances]

Happiness Country Iwate Executive Committee Secretariat (LMS / Weekdays 10: 00-18: 00) 03-6912-0945
HP
Click here for official website and other related sites

※Event information is subject to change. Please see the official website for details.