<Cancelled> PHOTO / DANCE ~ Michinoku Shiokaze Trail, from a walking trip ~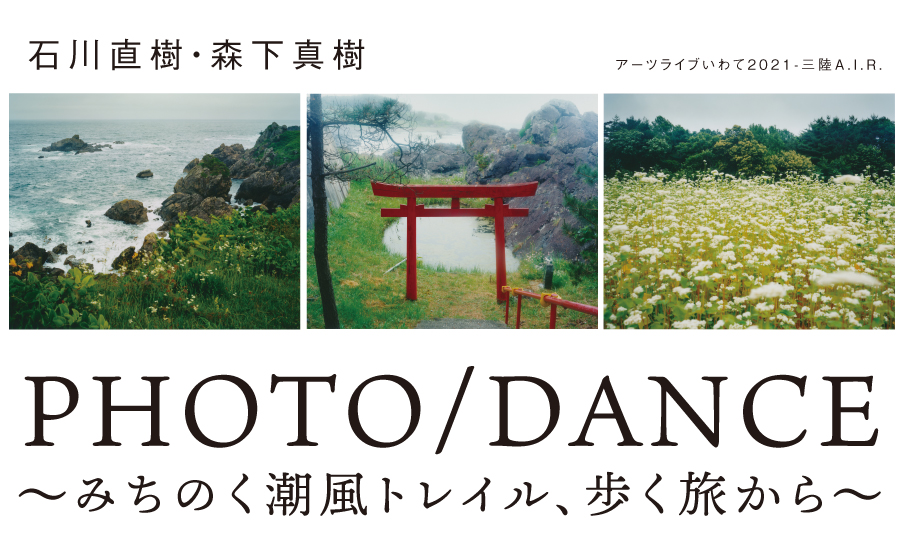 Considering the influence of the new coronavirus, we decided to distribute the video in a hurry. We will inform you of the delivery schedule again.
Naoki Ishikawa, a photographer traveling on the Michinoku Shiokaze Trail in 2021. Maki Morishita, a dancer who joins one end of the journey.
This is a special performance where you can see and feel the nature of Sanriku as you walk, see and feel it with your photos and body.
A photographer and a dancer who traveled to Sanriku for 10 years after the earthquake, and the appearance of Sanriku drawn from their respective perspectives, at the brewery of the former Toya Sake Brewery (a nationally registered cultural property) that has survived repeated disasters. Please take a look.
<Cast>
Naoki Ishikawa / Photographer
Born in Tokyo in 1977. photographer. Completed the doctoral program at the Graduate School of Fine Arts, Tokyo University of the Arts. He continues to present his works while traveling everywhere from remote areas to cities. Received the Domon Ken Award for "CORONA" (Seidosha) in 2010, and the Photographic Society of Japan Award for Writer Award for "Marebito" (Shogakukan) and "EVEREST" (CCC Media House) in 2020. He has written many books, including "The Last Adventurer" (Shueisha), which won the Takeshi Kaiko Nonfiction Award, and "Creating a Constellation on the Ground" (Shinchosha).
Maki Morishita / Dancer / Choreography Roots are the play that grew up in a transfer family when she was a child and was developed by making friends at the transfer destination. So far, he has performed solo works in more than 30 cities in 10 countries. Expand the field of collaboration activities with artists in various fields. In 2013, he won the 8th Japan Dance Forum Award for his work "Rusted Fruit" with contemporary artist Tabaimo. Since 2017, he has developed his own solo "Dancing Beethoven Symphony No. 5" Fate "All Movements" (choreography: MIKIKO, Mirai Moriyama, Naoki Ishikawa, Akira Kasai). We hold workshops and create works with the motto of 100 people and 100 people. Presides over the Morishita stand, a company centered on young dancers. It features an unpredictable, fantastic world that involves the surroundings at once and comes from a unique "pause".
Holding period
2021/9/19
Open time
Start at 14:00 * Start before 30 minutes
Venue

Cinema de Aeru

Address
"Kura" of Higashiya, 2-2 Honmachi, Miyako City
Price
1,500 yen * First-come-first-served basis, reservation required

▶ ︎Sales at the counter: Miyako Citizens' Cultural Center (9: 00-17: 00)

▶ ︎WEB reservation
Contact
Miyako Citizens' Cultural Center TEL: 0193-63-2511
HP
Click here for official website and other related sites

※Event information is subject to change. Please see the official website for details.