For those who feel vulnerable or difficult to live How to deal with anxiety and stress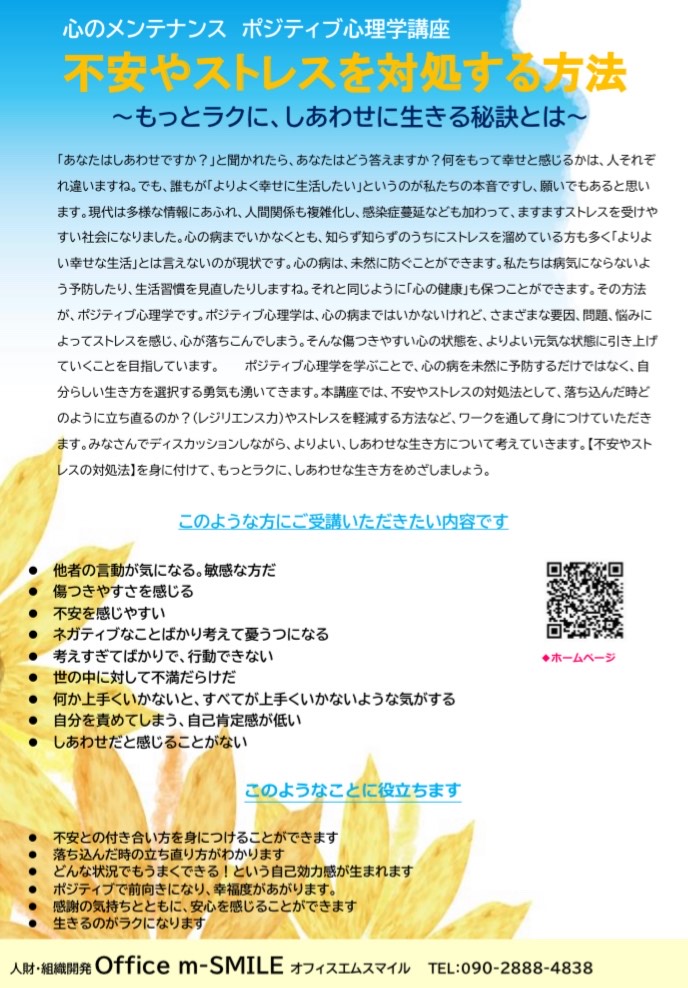 -I will tell you the secret to living happily more easily-
Are you worried about something like this?
・ I'm worried about the words and actions of others. Sensitive
·easy to be hurt
・ Easy to feel anxiety
・ I feel depressed thinking only about negative things
・ I can't act because I think too much
・ I'm full of dissatisfaction with the world
・ If something goes wrong, I feel like everything goes wrong.
・ Low self-affirmation that blames oneself
・ I don't feel happy
"Are you happy?"
How do you answer this question?
What makes you happy is different for each person. However, I think it is our true intention and wish that everyone wants to live a better and happier life.
Today, the society is becoming more and more stress-prone due to the abundance of diverse information, complicated human relationships, and the spread of infectious diseases. Even if you don't have a mental illness, there are many people who are unknowingly accumulating stress and cannot say that it is a "better and happier life."
However, just as we prevent illnesses and review our lifestyles, we can maintain "mental health" by preventing it. That method is positive psychology.
Positive psychology does not lead to mental illness, but it aims to raise the vulnerable state of mind, which is stressed and depressed by various factors, problems, and worries, to a better and more energetic state. I am aiming.
Learning positive psychology not only helps prevent mental illness, but also gives you the courage to choose your own way of life. In this course, how do you recover when you are depressed as a way to deal with anxiety and stress? You will learn through work, such as (resilience) and how to reduce stress. In addition, we will discuss with you and think about a better way of life.
Let's learn [how to deal with anxiety and stress] and aim for a more comfortable and happy way of life together.
Useful for such things
・ You can learn how to deal with anxiety
・ You can see how to recover when you are depressed
・ You can do it well in any situation! Self-efficacy is born
・ Become positive and positive, and increase happiness
・ You can feel reassured with gratitude.
・ It will be easier to live
What is Positive Psychology?
Conventional psychology is to focus such as mental illness and worries, was intended to be Toriharao the negative parts of the heart. Positive psychology aims to help the mind weakened by various stresses and the stressed mind to regain a healthy state. Although it is not a disease such as depression, if left untreated, it may progress to the disease. If you feel uncomfortable with your own state of mind or have difficulty living, why not take this opportunity to maintain your mind? This is a course where you can feel the true meaning of happiness, which makes your mind and body easier and makes you want to do your best again.
How to deal with anxiety and stress
〇 Day time September 25th (Sat) 13: 10-16: 50
〇 Meeting place Kitakami City Sakura Hall * Details will be announced at the time of application.
〇Lecturer Office m-SMILE Miwako Iwaizumi
〇Text / Practice participation fee 4,000 yen (tax included)
〇Capacity 4 people Small group system
〇Application form for participation in the course hosted by Office m-SMILE
* We will inform you about the application details and tuition fee to the e-mail address you entered at the time of application. Therefore, please make settings so that our address can be received.
* Please see here as well. Measures to prevent the spread of infection in our training and lectures
* Those who are currently active as human resources consultants, training instructors, counselors, those who are planning to do activities in the future, and those in the same industry are not allowed to participate.
Holding period
2021/9/25~2021/9/25
Open time
Opening 13:05

Opening 13:10
Venue

Kitakami City Cultural Exchange Center Sakura Hall

Address
2-1-1, Sakuradori, Kitakami-shi
Parking
Yes (free)
Price
Textbook / Practice participation fee 4,000 yen (tax included)
Contact
office.m.smile@gmail.com Iwaizumi
HP
Click here for official website and other related sites

※Event information is subject to change. Please see the official website for details.