[Held in Yahaba Town] New positive psychology "Technology to become who you want to be''-Aiming for a well-being way of life-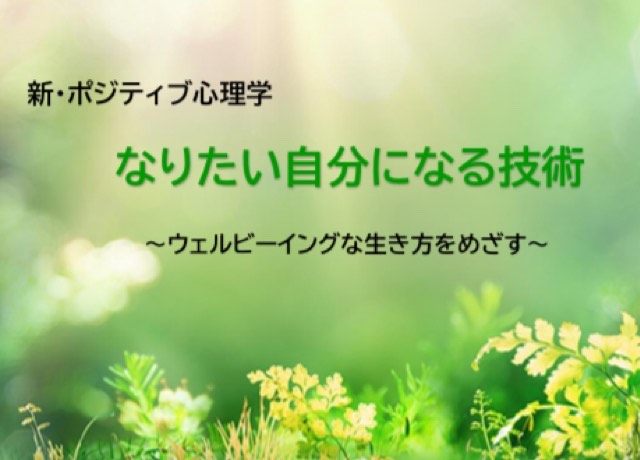 Thank you for visiting our page.
The application deadline for participation has passed.
Are you having trouble with this?
You get depressed just thinking about negative things
● Thinking too much and unable to act
Feel like everything is going wrong
●Low self-esteem
●Be mindful of other people's eyes and live according to your surroundings
Feeling sensitive and vulnerable
●It is worrisome
●I don't have confidence
-Remembering the past makes you feel uncomfortable
Afraid of failing
What makes you happy is different for each person. However, we believe that it is our true intention and wish that everyone wants to live a better and happier life. Today's society is filled with diverse information, complicated human relationships, and the spread of infectious diseases, making it an increasingly stressful society. Even if they don't go as far as mental illness, there are many people who are unknowingly accumulating stress.
We prevent ourselves from getting sick and review our lifestyle habits. In the same way, you can maintain your mental health. That method is positive psychology. Positive psychology doesn't go as far as mental illness, but various factors, problems, and worries can make you stressed and depressed. We aim to improve such a vulnerable state of mind to a better and more energetic state. Also, by learning positive psychology, not only will you prevent mental illness, but you will also gain the courage to choose your own way of life.
◆In this course, you will learn from two perspectives.
Lecture 1: Coping with Anxiety and Stress ~Maintaining Mental Health~
How do you pick yourself up when you fall? Through work, you will learn skills such as resilience (resilience) and ways to reduce stress. While discussing with everyone, we will think about a better and happier way of life.
Lecture 2: How to live without regrets ~Find a better way of life that suits you~
Look back on your usual actions and face yourself. Then, think about what kind of life you really want and find a way of life that suits you. Creating a life may be a bit of an exaggeration, but let's work together to fulfill your desires to become better, grow, and live a fulfilling life.
◆ Aim of this course
● You can find the standard of behavior
You can get a rich way of life for yourself
● Learn how to perceive and think about things so as not to regret
– Be able to act with confidence
● Free from confusion
You can have confidence in your decisions
● You can find what you really like and what makes you happy
◆ It is such a course!
●We will proceed while carefully listening to each person's story. Our course is a course, but it has a counseling effect! It has been well received. Please feel the effect.
●After taking this course, you will become bright and positive and motivated. Please join us even if you are feeling tired, unmotivated, or not feeling well lately.
●There is cafe time on the way, and it is a relaxed space with a small number of people.
for mental health
100 people learned "positive psychology" in health education training
Here are some of the impressions of the participants
●First of all, I would like to thank you for having a lot of conversations with the teacher and having a great time. thank you. I take care of my world, and I spend my days looking back so that I can feel even happier than I am now. Little by little, I feel like I'm making progress. I also keep a daily diary. I am also very interested in how to communicate with people and Adler psychology, and I would like to meet you again.
●When I think about the people who have helped me in the past, the people who support me, and the people who support me, I realized once again that there are so many people who support me. At first, I thought it was important to support someone. I wanted to take care of what I like and what I like, and take care of myself.
●The words, "Don't hesitate to take care of yourself," left an impression on me. I believe that everyone has the right to respect themselves.
● I want to decide by myself little by little. Instead of thinking negatively, I tried to think positively. While interacting with many people, some people say bad things and I get depressed, but I wanted to live with the feeling that there were no such people. I want to cherish what I thought was important.
●Recently, I've been frustrated and feeling uneasy about my actions, so this time I wrote down my feelings on a piece of paper and found out what was frustrating and what made me feel uneasy. I wanted to put an end to my frustration. I've had a lot of stress before, but I found out in this course that it has increased recently. I know my desires and I know what to do, so I want to act.
●I learned that the accumulation of small successes and failures lead to my self-confidence in order to achieve my goals. Even if I fail, I will remember that it is necessary to achieve my goals, and I would like to think positively and positively. From now on, I would like to cherish what I truly love and think is important.
◆ Useful for things like this
・You can learn how to deal with anxiety
– Know how to get back on your feet when you're down
・I can do well in any situation! creates a sense of self-efficacy
Be positive and positive, increase happiness
・You can feel peace of mind along with a feeling of gratitude.
・Life becomes easier
・Very effective in improving mental health
What is positive psychology?
Conventional psychology focused on mental illnesses and worries and tried to get rid of the negative parts of the mind. The purpose of positive psychology is to help the mind, which has been weakened or stressed by various stresses, to regain a healthy state. Although it is not a disease such as depression, it may progress to a disease if left untreated. If you feel uncomfortable with your state of mind or find it difficult to live, why not take this opportunity to maintain your mind? This is a course where you can understand the true meaning of happiness.
Techniques to become who you want to be [2 consecutive lectures]
Each time: 13:30-16:30
1st February 23rd (Thursday/Holiday) Coping with Anxiety and Stress ~Maintaining Mental Health~
2nd March 19th (Sun) How to live without regrets ~Find a better way of life that suits you~
●Venue: Yahaba-cho Yaha Park *Participants will be contacted directly for details.
● Participation fee: 16,000 yen (tax included) Includes two participation fees, textbooks, and drinks
Lecturer Miwako Iwaizumi, Human Resources and Organizational Development Office m-SMILE
​● Application Office m-SMILE Hosted Course Participation Application Form
*Detailed payment instructions will be sent to the email address you entered when you applied. Please make settings so that you can receive our emails.
*Currently, we ask that those who are in the same industry as training instructors, counselors, business coaches, etc., and those who are planning to work in the future refrain from participating.
I am the main character of my life
Aim for a richer life in the future
Holding period
2023/2/23~2023/3/19
Open time
13:30~16:30



Another schedule
2022/1/26
Venue

Yahaba Activity Exchange Center Yaha Park

Address
1-12-1 Ekihigashi, Yahaba-cho, Shiwa-gun
Parking
Yes (free)
Price
Text/Practice participation fee 16,000 yen (tax included)
Contact
office.m.smile@gmail.com Iwaizumi
HP
Click here for official website and other related sites

※Event information is subject to change. Please see the official website for details.