[Online] 7/25 (Sun) Children's Tetsugaku Cafe (accommon x Iwate Philosophy Cafe)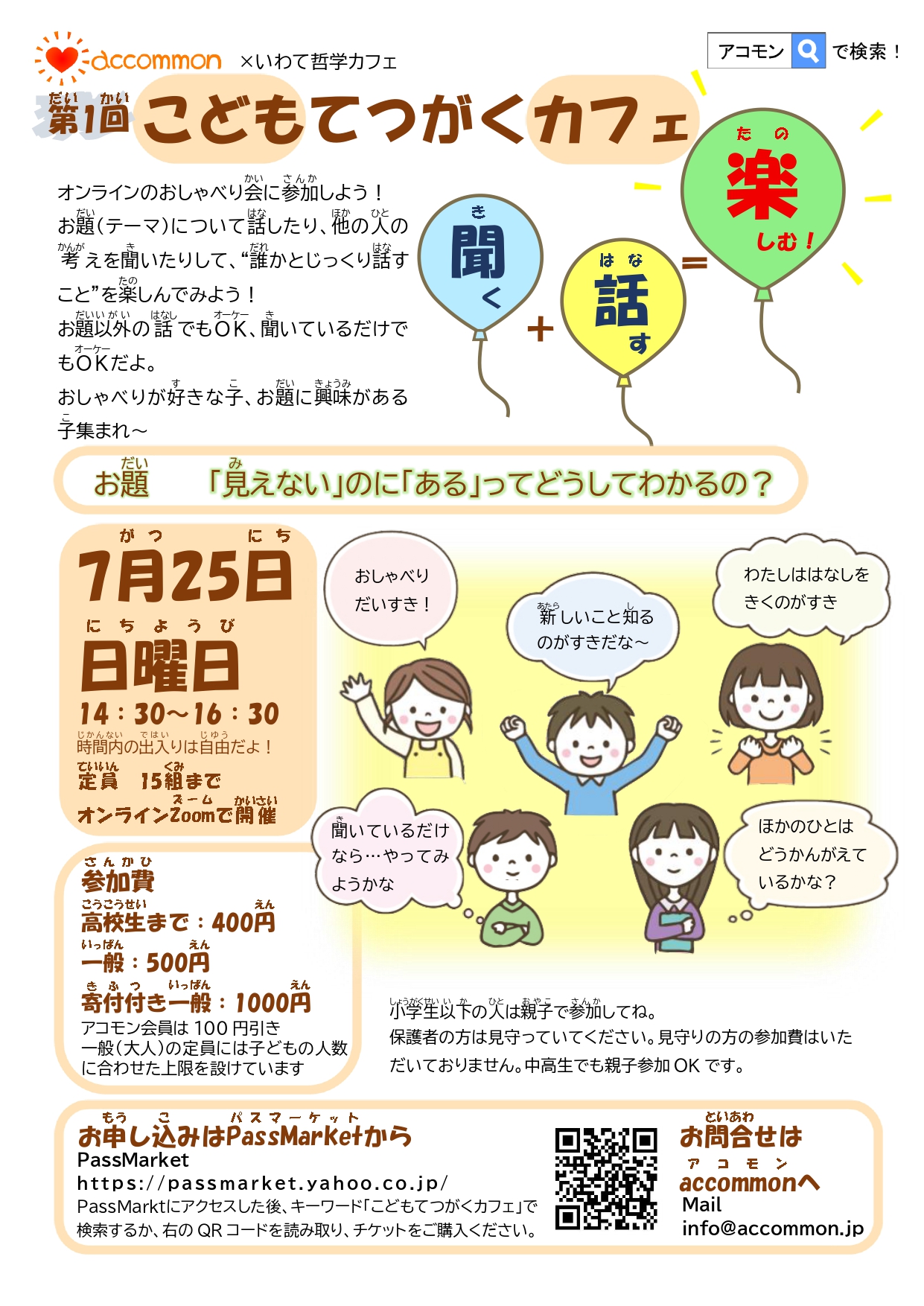 Organizer: accommon × Iwate Philosophy Cafe
* The following information is provided by the owner of "Iwate Philosophy Cafe"
It is posted.
The 1st Children's Philosophy Cafe
Participating in an online chat and "dialogue"
Why don't you have a "fun!" Experience with your parents?
It's not difficult to say "dialogue".
"Dialogue" is "talking with someone" by talking about a theme or listening to other people's thoughts.
The theme this time is
How do you know that you can't see it but you have it?
Of course, the theme may be a different topic, and just listening to it is OK.
If you like chatting or are interested in the theme, please join us!
Children under elementary school age should participate as parents and children. Of course, even junior and senior high school students can participate in parent and child. Parents should keep an eye on their children. There is no entry fee for attendants.
Outline of the event
[Date and time]
Sunday, July 25, 2021 14: 30-16: 30
* Please do not click the Zoom meeting screen until about 15 minutes (around 14:15). This is because once you enter the meeting room, you may not be able to enter it again.
Apply from the event page linked below ☟
1st Children's Tetsugaku Cafe (accommon x Iwate Philosophy Cafe) –Pass Market (yahoo.co.jp)
[Flow until participation on the day]
(1) After the application deadline, the organizer will send you an email with a URL that allows you to participate in the event with just a click.
* If you are new to Zoom, it will be smooth if you install the Zoom app in advance. You can also participate on your smartphone, but we recommend that you use a computer with a large screen.
(2) When it's time, click the URL to launch a Zoom meeting and join us.
The email with the invitation URL will also include how to use the Zoom meeting.
Email delivery is scheduled for Saturday, July 24, 2021 from 13:00.
【Entry fee】
・ Children up to high school: 400 yen
・ General: 500 yen
・ General with donation: 1000 yen
* Accommon members will get a 100 yen discount.
* Participation fee is not required for parents who attend with children up to high school.
[Application deadline]
Saturday, July 24, 2021 12:00
[Capacity]
15 pairs (first-come-first-served basis)
* We will limit the number of general participants so that the number of general participants (adults) does not exceed the number of children.
[Minimum number of participants]
3 pairs
[Cancellation]
If you are unable to participate by the day before, please contact us by email below.
We will cancel the purchased ticket.
MAIL: info@accommon.jp
If you pay the fee by convenience store payment, or if you contact us for cancellation after the application deadline, you cannot cancel from the system. If a refund is required, the organizer will respond directly.
Holding period
2021/7/25
Open time
Available time to enter Zoom meeting URL

14: 15 ~



Event start time: 14:30

Event end time: 16:30
Venue

online

Address
Since it is held online, you can participate in the entire Iwate prefecture (even from outside the prefecture).
HP
Click here for official website and other related sites

※Event information is subject to change. Please see the official website for details.