[Wind and flood damage 24] Workshop experience session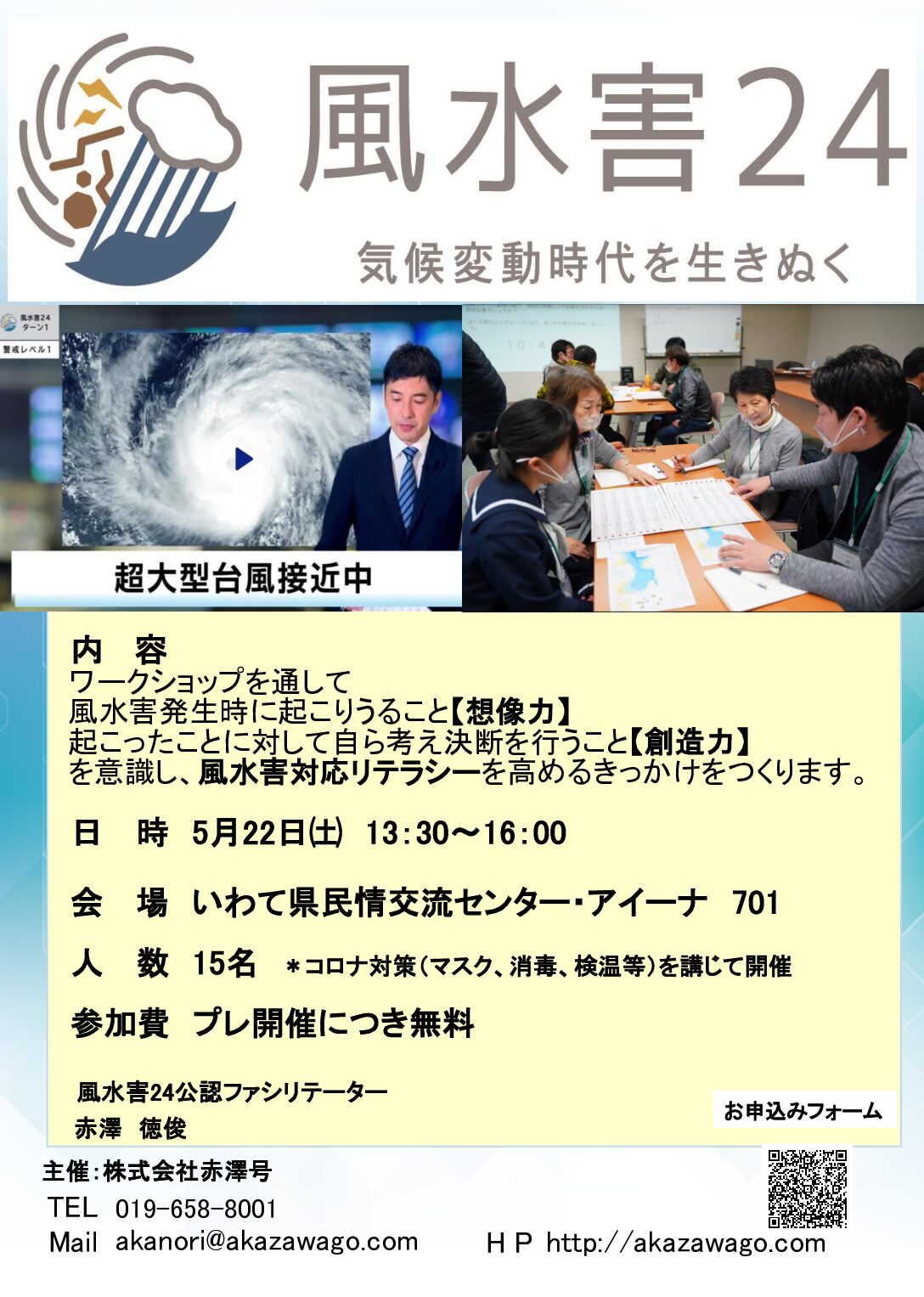 What is "Wind and Flood Damage 24"?
"It seems that a typhoon will hit directly this weekend."
I think the frequency of hearing such stories is increasing. Due to global climate change, there are clearly increasing opportunities for disasters caused by heavy rains and strong winds, including typhoons, to hit the Japanese archipelago.
Are you, your loved one, well prepared for large-scale storms and floods?
Wind and flood damage 24 is a program that enhances wind and flood damage literacy so that you can learn the knowledge necessary when a wind and flood damage occurs and make appropriate decisions and actions by experiencing the 24 hours from the approach of a large-scale wind and flood damage to direct hit and passage. is.
In addition to providing training content to local governments, schools and other organizations, and individual businesses that are working to strengthen local disaster prevention measures, this program is a "Flood and Flood Damage 24 Facilitator" that works to disseminate and enlighten wind and flood damage countermeasures throughout Japan. We aim to contribute to the creation of a prosperous and happy life and society in Japanese society and local communities in the age of climate change.
Date and time
May 22nd 13: 30-16: 00
place
Aina 7F 701
Capacity 15 people Free participation
Holding period
2021/5/22
Open time
Start 13:30

End 16:00
Venue

Iwate Prefectural Information Exchange Center Aina 7F 701

Address
1-7-1 Nishidori, Morioka Station, Morioka City
Price
Free for pre-holding
Contact
Akazawa Co., Ltd.

Person in charge: Akazawa

Tel: 019-658-8001

Mail: n21.akazawa@gmail.com
HP
Click here for official website and other related sites

※Event information is subject to change. Please see the official website for details.