Adler Psychology Elm Encouragement Course to Live Yourself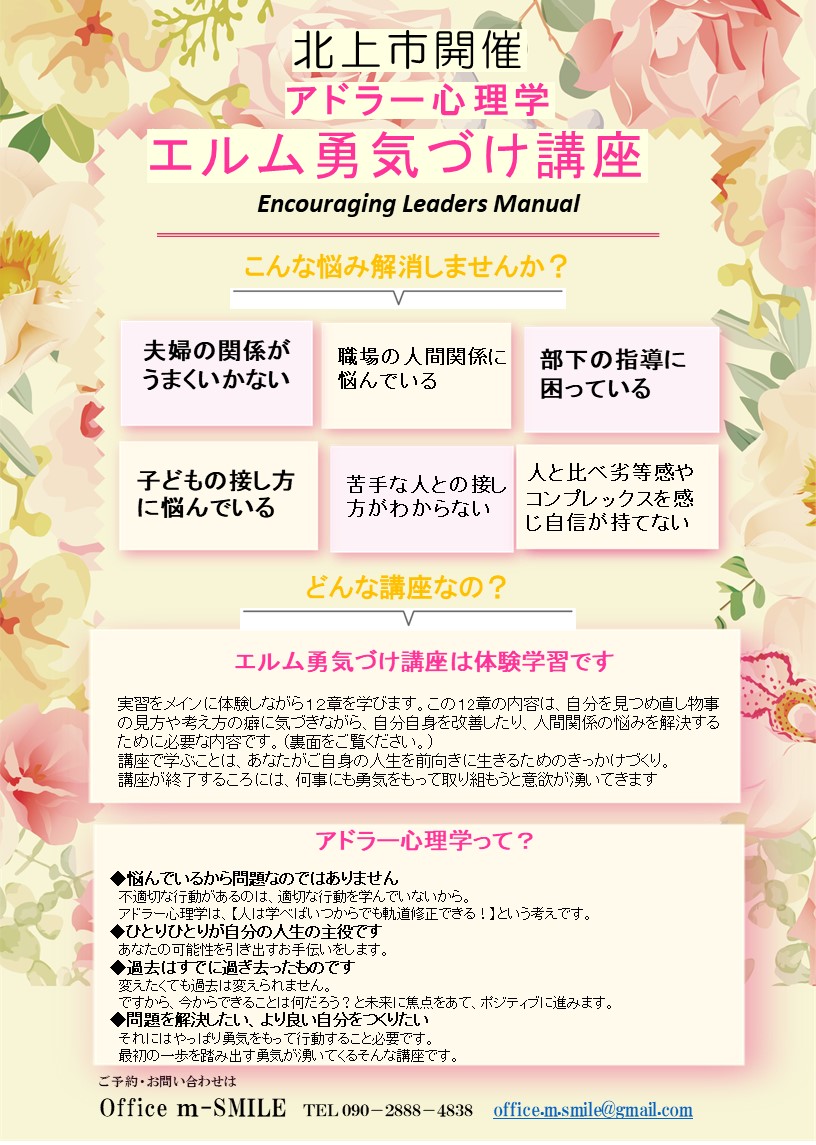 Will be swayed around
I can't express my opinion
I feel inferiority complex and complex compared to people, and I am not confident
I'm worried about relationships in the workplace
I'm having trouble teaching my subordinates 
Marital relationship does not go well
Suffering to the way we treat children
I don't know how to deal with people who are not good at it
What kind of course is it?
For example, people who cannot express their intentions or who decide their actions based on others tend to regard their value as low.
Too much adaptation to others can lead to loss of personality, addiction to others, and gradual loss of self-confidence, and such communication patterns become a habit. So why does that happen?
This is because "the habit of thinking" interferes with behavior, and also affects relationships with others and one's way of life.
Since the input is repeatedly input to the brain to use the "habit of thinking", it becomes difficult to solve the problem because the "habit of thinking" is unknowingly used.
So how can you have your own axis without being swung around? How do you convey what you need to convey, even in situations where it is difficult to convey? Is it possible to create an open organization that allows equal exchange of opinions regardless of hierarchy?
It's about changing your thinking habits. To that end, incorporating new ways of thinking, perspectives, and perspectives that I do not have now will lead to problem solving.
This course will proceed while thinking from various angles through 12 themes through work and discussion. By coming into contact with various ways of thinking, you will be able to find clues to solve problems.
Adler psychology gives us a "new perspective" to solve our worries.
Please use this course as an opportunity to reconsider yourself, learn new ways of thinking and perspectives, and live positively.
What is Adler Psychology?
◆ It's not a problem because I'm worried
Inappropriate behavior is due to not learning proper behavior
Adler psychology is [People can correct their trajectory at any time if they learn! ] Is the idea
◆ Each person is the protagonist of his life
Your life can decide how you live
We will help you unlock your potential
◆ The past is already gone
Even if you want to change, you cannot change the past and others
What can we do now? What can I do?
Focus on the "future" and "self" and proceed positively
◆ I want to solve problems and make myself better
To do that, we still need to act with courage.
Feel the courage to take the first step for yourself
-Impressions of everyone who participated in the first year of Reiwa and January 2nd year of Reiwa-
◆ We are now in an era where personal dignity is considered more important than in the past. I think that the era of encouraging individuals with warm words, which is the exact opposite of "Please train your strong mental strength through strict language and experience," is expanding. What impressed me this time was the work of "getting out". By exchanging pleasant words with each other, I realized that my goodness and the happy evaluation from the other party improved my self-affirmation. I would like to be conscious of increasing the number of "Yoi" while refraining from "No".
◆ This course is, it was good to tell me Ikaseru so in easy to understand real life by increasing the illustration. I would like to practice it so that I can understand it more deeply. Before changing other people, I wanted to review my own way of thinking and be able to take a positive view of anything. The stories of everyone who participated in the course were fun, and I feel that the time passed in no time. I'm really thankful to you.
◆ After taking this course, I was able to reconsider the way of thinking when interacting with people. I want to make use of what I have learned so that I can build better relationships at work and at home. I also want to be a person who can encourage those who are worried, in need, and depressed. There was a time when I myself was dragging a failure. By changing the way of thinking and perspective, we will cultivate the ability to think positively. Thank you, sensei.
◆ By taking the Adler Psychology course, I learned a lot about how to grasp things and how to think about things that I had never noticed before. I want to make use of it in my daily life. It's important to be encouraged. I thought it was very important for me and the people around me. I will practice it. Thank you for your warm, kind and enthusiastic guidance.
◆ It was great to learn about Adler's encouragement through various practical trainings. Not only can I change my mind, but I can also give it to the other person, so I want to incorporate it into my real life. Thank you for all the help you have given me. Thank you very much.
◆ Adler psychology is very deep, and I have learned it by repeating it, feeling that it is a really good way of thinking. From now on, I want to be a person who can encourage myself well when I am at a loss for something, when I feel uncomfortable on my own, or when others are depressed. I would like to accept the negative habits of my own way of thinking and act and put it into words so that I can think positively. It was a really good opportunity.
◆ "their actions decide for yourself," Thank you for encouraging a lot "now there is the future". I hope I can practice encouragement for the people around me.
◆ failure remains in the impression word challenge of testimony. I would like to encourage myself and the other person without fear of failure.
◆ It was good to apply. The teachers, Mr. 〇〇, and Mr. 〇〇 were all really good people, and every time I came to learn, it was a lot of fun and it was a refreshing day for me. I wanted to learn more about Adler psychology than I am doing now. I think it's really useful for raising children, so I'm glad I learned now that my children are small.
◆ I thought it was very difficult to sympathize with my own glasses because they were too strong. I would like to slowly look back at myself and live positively. I'm glad I was able to participate in the course. Thank you very much.
◉ This course is full. Thank you very much.
The 10th Adler Psychology Elm Encouragement Course (3 consecutive courses)
Venue: Sakura Hall, Kitakami City * Detailed venues will be announced to participants.
13:10 to 16:50 each time
[ 1st ] June 13, 2021 (Sun)
[Chapter 1] Be aware of the existence of various perspectives and ways of thinking
[Chapter 2] Become a good listener
[Chapter 3] Let's devise a way of saying
[Chapter 4] Dealing with emotions well
[ 2nd ] July 11, 2021 (Sun)
[Chapter 5] Clarify your style
[Chapter 6] Be aware of self-talk
[Chapter 7] Be aware of the purpose
[Chapter 8] Take on your own life
[ 3rd ] August 22, 2021 (Sun)
[Chapter 9] Rediscover your goodness
[Chapter 10] Recognize the value of course
[Chapter 11] Take things positively
[Chapter 12] Encourage
Lecture: Adler Psychology Human Guild Certified
ELM Encouragement Trainer Miwako Iwaizumi
Work / theory sheet, training participation fee 3 times 18,000 yen (tax included)
Feel and notice yourself while experiencing
Aim for mental health while slowly staring at yourself
This course is full. Those who wish to take this course will be notified on a different schedule.
For inquiries and questions, please contact us using the form below.
We will contact you by e-mail for details, so please let us know the e-mail address you can receive.
https://officemsmile.wixsite.com/homepage/blank-1
Holding period
2021/6/13~2021/8/22
Open time
13:05 Reception starts

13:10 start
Venue

Kitakami City Sakura Hall

Address
2-1-1, Sakuradori, Kitakami-shi
Parking
Yes (free)
Contact
office.m.smile@gmail.com Iwaizumi
HP
Click here for official website and other related sites

※Event information is subject to change. Please see the official website for details.