Communication course Technology to convey difficult things to say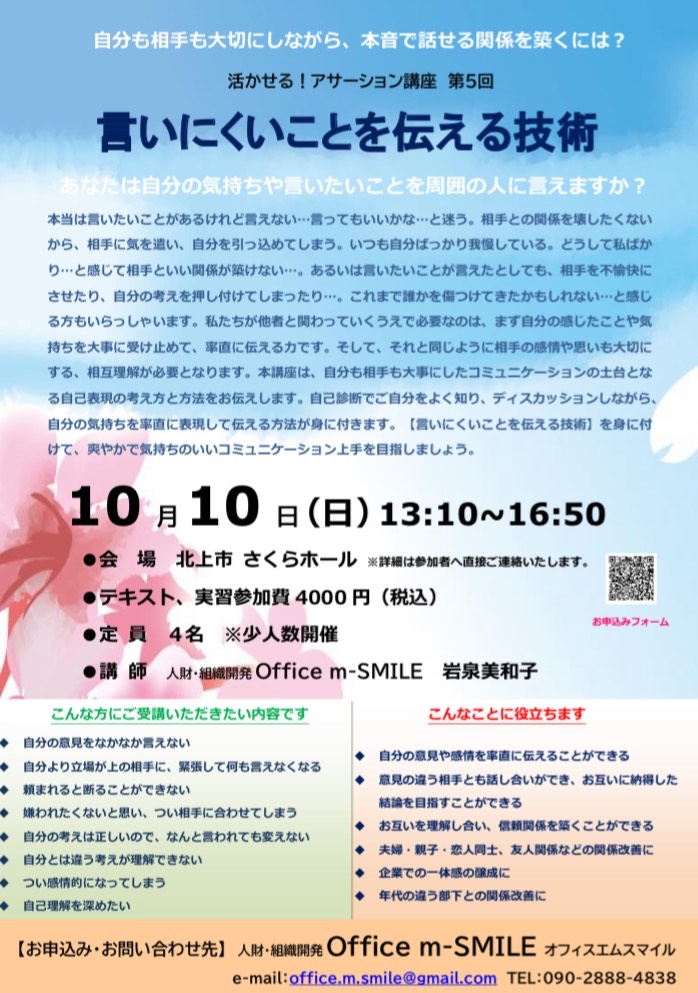 Because it is now in the online era
Learn the basics of communication "assertions"
Deepen ties with the people around you while valuing yourself and the other person
Learn about communication
Are you worried about something like this?
It's hard to say different opinions

I can't refuse when asked to have a plan

I'm nervous about people who think I'm in a higher position than myself and can't say anything

I can't refuse a solicitation that I don't need

I don't want to be disliked

My idea is correct, so no matter what I say, I won't change it

I get emotionally angry with people who think differently from me
Can you tell the people around you what you feel and what you want to say?
I have something I really want to say, but I can't say it … I wonder if I can say it …
I don't want to be disliked by the other person, so I care about the other person and withdraw myself.
I always put up with myself.
Why can't I feel like I'm the only one and build a good relationship with the other person?
Even if you can say what you want to say, it makes the other person uncomfortable
I've pushed my thoughts.
You may have hurt someone so far …
Some people feel that way.
What is important for us to interact with others
First of all, it is the ability to take care of your feelings and feelings and convey them frankly.
In the same way, it is important to be considerate of each other, valuing the feelings and thoughts of the other person.
However, we humans may see what is happening in front of us distorted.
It is due to various beliefs and misunderstandings of yourself
It greatly affects communication with others.
In this course, you will learn the characteristics of your own way of thinking and understanding through self-diagnosis.
Through deep reflection on how to communicate with others
Learn how to express yourself frankly.
Through real-life self-diagnosis and practical training as online progress
This is your chance to learn a comfortable way to communicate.
It will be the "foundation of communication" that both you and the other party cherish
Learn the way of thinking and method together
Create better relationships with people close to you.
Useful for such things
You can know the characteristics of your own way of looking at things and thinking

Learn how to express and convey your feelings frankly

You can talk with people who disagree with you and know how to reach a conclusion that is convincing to each other.

For improving relationships such as couples, parents and children, lovers, and friendships

To foster a sense of unity in the company

For improving relationships with people with different job titles and positions
Impressions of those who participated in this course / training
■ I was not good at telling things that were difficult to say by myself, but in today's course, I was able to confirm that this was the case with the habit of thinking that I had already noticed. Instead of thinking it was difficult, I wanted to simply use assertive words. The DESC method was briefly introduced in the training of care managers, but it was not well understood. In the future, it seems that we will be able to organize our minds and work on difficult cases. I learned a lot.
■ It was a good opportunity to look at my own way of thinking, and I learned the words (assertions) I heard for the first time, and I felt that it was important to forgive myself more loosely with the belief that I was too strict with myself. Depending on the content, I thought it might be a little difficult. I am grateful that the event was held locally and I was able to take it without going to Morioka, and I want to cherish today's relationship (encounter), and it seems that I also took other courses.
■ I was able to deepen my understanding of the basics of communication and assertions. I would like to make use of it in the future by telling me concretely what was "somehow" until now. I hope that compassionate communication will spread throughout the company in the future. Thank you very much.
■ It was a quick time, but it was a lot of fun and noticeable to me. I will tell you something that is difficult to say in the future. On the contrary, I thought it was okay to say something that was difficult to say, so I thought that was the biggest thing.
■ I'm a little shocked that I have a lot of my beliefs, but I realize that communication isn't working because of that, and I think it's difficult right away, so I'd like to be able to improve my beliefs.
■ It is very helpful and practical today, so I will go home and try it. I was talking to the person next to me, but now that I'm no longer frustrated, I have the image of getting better. The atmosphere was very nice and it was an instant time. thank you.
■ I strongly felt that it is very meaningful for all staff members to attend and discuss the same theme, unlike training by rank. I think that harassment represented by power harassment is occurring frequently in society (inside the company). I think that taking this training without any hierarchical relationship and establishing communication will lead to solving various problems.
"Technology to convey difficult to say"
Sunday, October 10th, 13: 10-16: 50
Meeting place Kitakami City Cultural Exchange Center Sakura Hall
Lecture Office m-SMILE Miwako Iwaizumi
Textbook, self-diagnosis sheet, training participation fee 4,000 yen (tax included)
Capacity 4 people The event will be held with a small number of people.
Application destination Office m-SMILE sponsored course participation Application Form
About measures to prevent the spread of infection in our training and lectures
* We will inform you about the application details and tuition fee to the e-mail address you entered at the time of application. Therefore, please make settings so that our address can be received.
* Please refrain from participation by those who are currently working as human resources consultants, training instructors, counselors, those who are planning to work in the future, or those in the same industry.
Holding period
2021/10/10~2021/6/20
Open time
Opening 13:05

Opening 13:10
Venue

Kitakami City Cultural Exchange Center Sakura Hall

Address
2-1-1, Sakuradori, Kitakami-shi
Parking
Yes (free)
Price
Textbook, self-diagnosis sheet, training participation fee 4,000 yen (tax included)
Contact
office.m.smile@gmail.com Iwaizumi
HP
Click here for official website and other related sites

※Event information is subject to change. Please see the official website for details.