Corona Immunity LIVE part2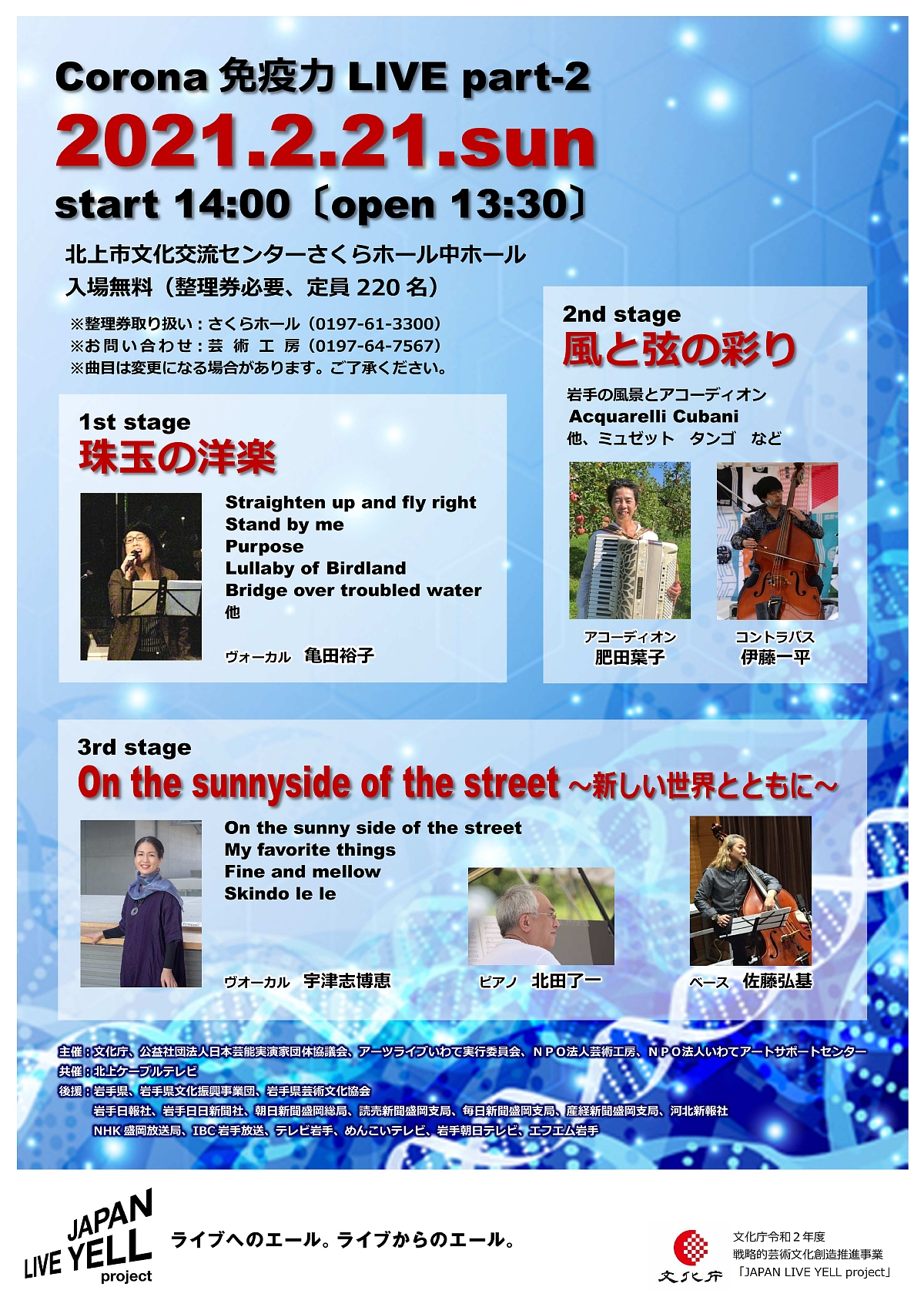 Various LIVEs by Iwate artists
Sending LIVE activities by Iwate artists!
Popular Western music and duo performance of accordion + contrabass,
We will deliver a variety of songs such as jazz standard numbers.
Enjoy powerful performances by local artists.
Song
▼ 1st stage (vocal Yuko Kameda)
Straighten up and fly right
Stand by me
Purpose
Lullaby of Birdland
Bridge over troubled water
other
▼ 2nd stage (Accordion Yoko Hida, Contrabass Ippei Ito)
Acquarelli Cubani
Musette tango and others
▼ 3rd stage (vocal Hiroe Utsu, piano Ryoichi Kitada, bass Hiroki Sato)
On the sunny side of the street
My favorite things
Fine and mellow
Skindo le le
* Songs are subject to change. Please note.
Holding period
2021/2/21
Open time
Opening 13:30

Start at 14:00
Venue

Kitakami City Cultural Exchange Center Sakura Hall (Middle Hall)

Address
2-1-1 Sakuradori, Kitakami City
Parking
Yes (free)
Price
Free admission (numbered ticket required, capacity 220 people)
Contact
<Handling of numbered tickets> Sakura Hall: 0197-61-3300

<Inquiries> Art Studio: 0197-64-7567
HP
Click here for official website and other related sites

※Event information is subject to change. Please see the official website for details.