Positive psychology seminar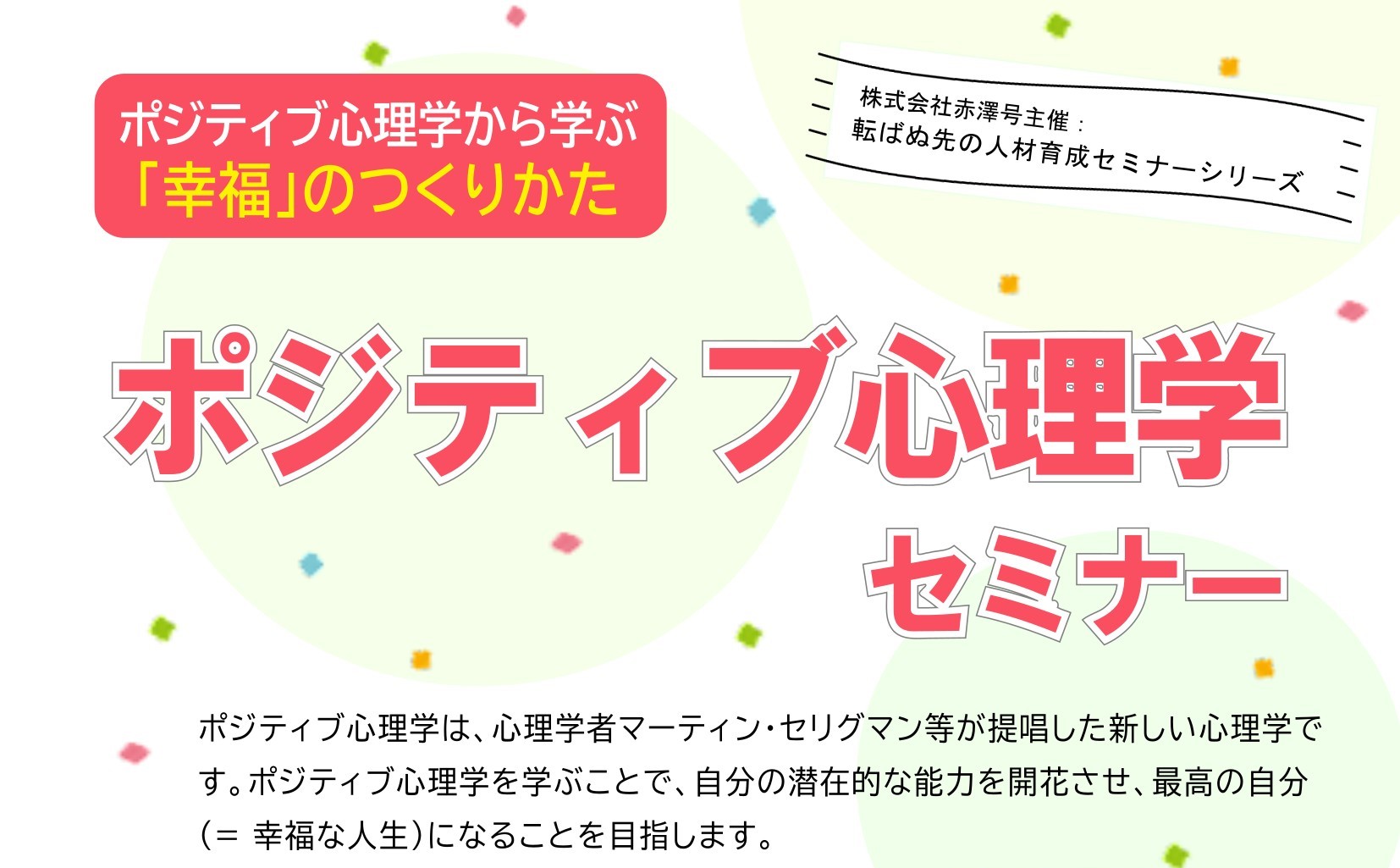 Positive psychology seminar
Positive psychology is a new psychology proposed by psychologist Martin Seligman. By learning positive psychology, you will develop your potential and aim to become your best self (= a happy life).
Contents /What is positive psychology?
・People succeed because they are happy ・You can control your own happiness ・Increase positivity
・Dealing with negativity
Venue <br />Iwate Prefectural Information Exchange Center Aina 701
subject
12 people
Date and time <br />Sunday, November 12, 2020 13:30-16:30
Entry fee
2,000 yen (tax included)
I recommend this hotel!
・I tend to think negatively and worry ・I don't feel happy every day ・I want to live my life positively
Lecturer introduction <br /> Akazawa Co., Ltd. Noritoshi Akazawa
PHP Institute Certified Business Coach Positive Psychology Practical Instructor Presents more than 100 times a year at government and corporate meetings, focusing on communication training in Tohoku.
Representative of Katari Bar, a childcare support project.
Contact Us <br /> Akazawa Co., Ltd. Telephone: 019-658-8001
Holding period
2023/11/12
Open time
13:30~16:30
Venue

Iwate Prefectural Information Exchange Center Aina 701

Address
1-7-1 Morioka Station Nishi-dori, Morioka City
Price
2,000 yen
Contact
Akazawa Co., Ltd.

Noritoshi Akazawa

Phone: 019-658-8001
HP
Click here for official website and other related sites

※Event information is subject to change. Please see the official website for details.