[Free] 8/12 Iwate Talk Event "Let me hear your passion!"-What are the secrets of making dreams come true, as told by brilliant local people? ~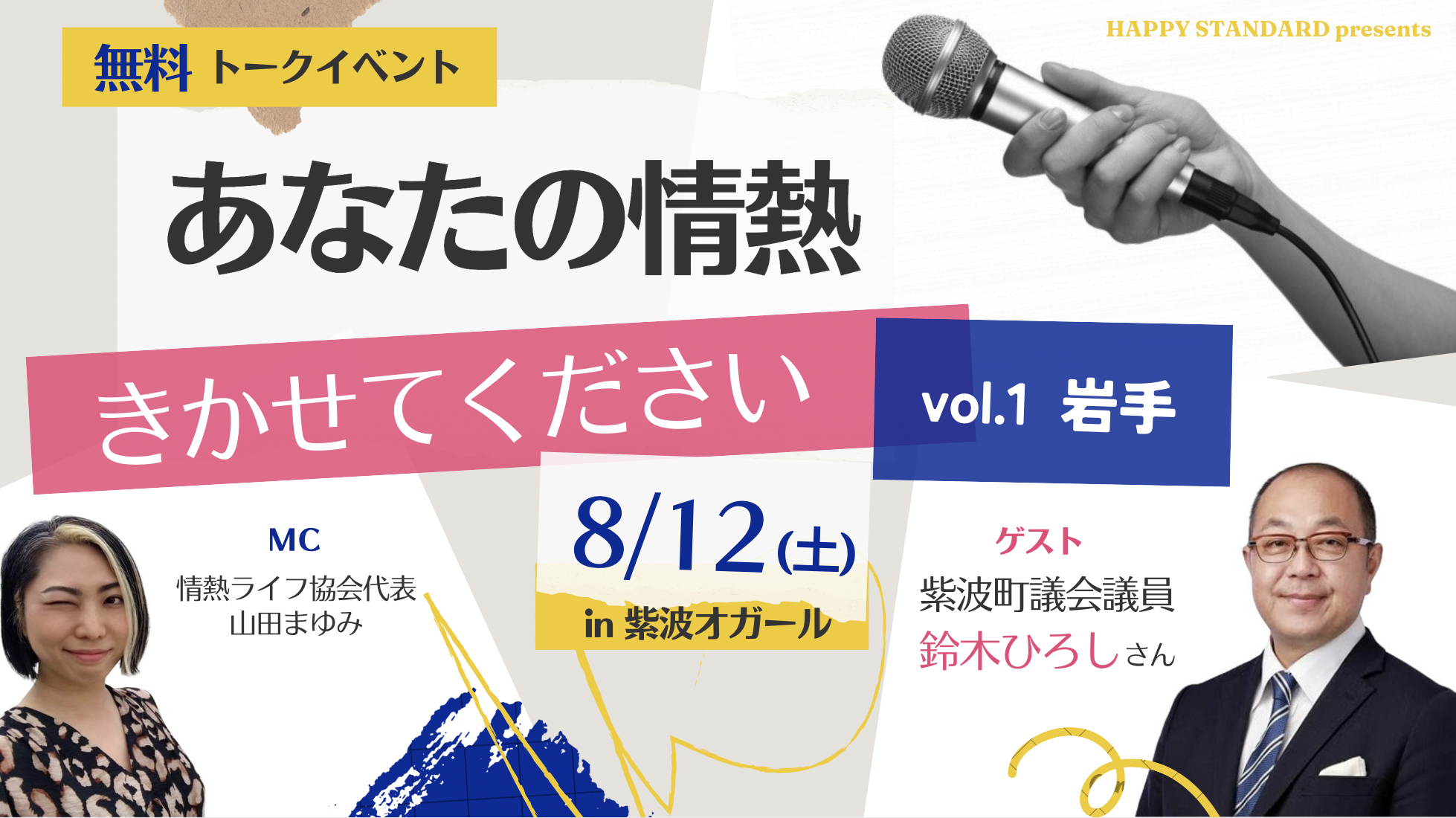 [Free] 8/12 (Sat) Iwate Talk Event
"Let me hear your passion!"
~ What is the secret to making your dreams come true, talked about by local people who shine? ~
---
We will be holding a touching talk show, "Please listen to your passion," which will approach the real face of local people who shine!
Recommended for such people! /
  
・ I want to find what I want to do and my passion
・I want to break out of my shell
・I want to go one step further
・I have a dream that I want to fulfill someday
・ I want to get a success mindset
・ I want to touch the energy of passionate people
・I like to support people
This event is for local people who are passionate about making their dreams come true, people who are doing what they love, and people who are making something successful.
By releasing a valuable place where you can know the real intentions and episodes such as
Ignite your pure thoughts and passions,
I want to help you realize your own way of life and dreams!
It will be held for the purpose of
The memorable first guest is
Mr. Hiroshi Suzuki, who was elected to the Shiwa town councilor just the other day.
He has a vision to make Shiwa Town even better,
With passion in my heart, I have been taking on challenges for several years.
His passion is his driving force,
It's inspiring to see how you've overcome so many obstacles.
And what a company employee (sales office manager of a financial institution) and a member of the Diet,
It is also an interesting point that they are active with two pairs of straw sandals.
On the day,
What kind of passion did you have that made you want to make it come true?
・The hardest thing
・Failure episodes that make you laugh
・The secret to fulfilling your dreams and goals
We will hear valuable stories in an interview format.
Of course, questions from participants are also very welcome!
Hiroshi Suzuki is a unique character and star,
It's like the sun that makes the surroundings bright and whirlwind of laughter.
His talk show is guaranteed to keep you laughing!
You can feel his passion and powerful energy,
You will find new motivation.
We are looking forward to your participation!
---
[Profile of Hiroshi Suzuki]・Born in Shiwa-cho, Shiwa-gun, Iwate Prefecture in July 1976 ・Member of the Shiwa-cho council ・Head of group financial institution sales office
・Certificate: Level 2 Certified Skilled Worker of Financial Planning ・Hobbies: Reading, dancing, walking under waterfalls, wine
Click here for details
https://suzuki-hiroshi-iwate.com/
[Profile of Mayumi Yamada in charge of MC] HAPPY STANDARD Co., Ltd. Representative Director /
Passionate Life Association Representative / Mental Trainer / Seminar Lecturer
Social phobia from childhood, two divorces, depression, eating disorders,
After experiencing the suicide of his father and co-workers and the earthquake, he decided to change his life.
Study psychology to improve self-esteem
Utilize the subconscious mind and the law of attraction to realize almost all desires.
Guidance and support experience for more than 6000 people in Japan and overseas.
Although he is a junior high school graduate, he has experience as a part-time lecturer at a university and a seminar at a government agency.
The child passed Keio University active duty without cram school.
By clarifying "what you really want to do" and increasing your self-esteem,
Many clients have changed their lives for the better, such as self-fulfillment, ideal entrepreneurship, marriage, and significant increase in income.
"Creating a society where everyone can live happily in their own way"
To achieve this vision, we hold seminars all over the country.
The motto is "Life is a self-produced drama! It's okay anyway!"
---
[Holding schedule] Saturday, August 12, 2023
11:00-12:00
【place】
Shiwa Town Information Exchange Center "Citizen Exchange Stage" in Shiwa Town Ogar
http://studio.town.shiwa.iwate.jp/guidemap
access:
2-3-12 in front of Shiwa Central Station, Shiwa Town, Shiwa District, Iwate Prefecture
https://ogal.info/access/
[Capacity] Chair seats: about 20 people Standing seats: free
【Entry fee】
free
【way to participate】
Please come to the venue by 11:00 on the day.
(There is no application form or reception)
Holding period
2023/8/12
Open time
Start 11:00

Finish 12:00
Venue
Inside Ogar, Shiwacho

Shiwa Town Information Exchange Center "Citizen Exchange Stage"
Address
2-3-12 in front of Shiwa Central Station, Shiwa Town, Shiwa District
Access
https://ogal.info/access/
Price
0 yen
Contact
HAPPY STANDARD Co., Ltd.

happystandard.mail@gmail.com
HP
Click here for official website and other related sites

※Event information is subject to change. Please see the official website for details.