<Reception Closed> Atelier of Tsunoko [Dendero Slime (Dairatancy)]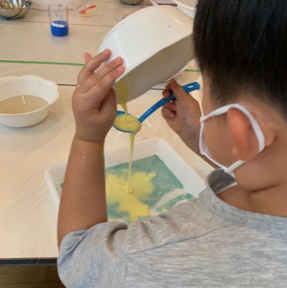 Held on Sunday, August 27, 2023
~Dendero Slime (Dairatancy)~
It's a dilatancy play like slime with a denderoline feel that you'll get addicted to once you play.
Is it solid with only potato starch and water used to thicken dishes? Is it liquid? What is this~? ! You can do strange things that make you want to scream unintentionally.
Well, can you make rice balls with Dendero Slime?
Let's add paint and enjoy the color together!
*I will also tell you the points to clean up when you want to do it at home.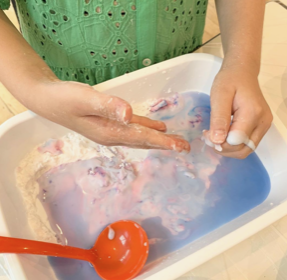 [Materials] Katakuriko, water, paints, containers, etc.
[Recommended effects of children's art therapists] Tactile sensory experience, curiosity, observation, discovery, action, independence, satisfaction, satisfaction, and the ability to play thoroughly.
There are no role models or correct answers for play, so if you create an environment where children can leave things up to them, they will be able to have fun with their interests and curiosity and accumulate experiences and experiences.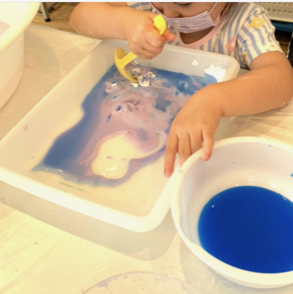 ● Target: 3 to 9 children
What to bring: None
*Both parents and children should come in a style that doesn't bother them to get dirty.
* There is also a "When you get bored, it's over" option.
*For applications, please use Instagram DM or LINE.
Holding period
2023/8/27
Open time
①09:30-10:30 (parent-child 7th group level)

②11:00-12:00 (parent-child 7th group level)
Venue
Kitakami City Cultural Exchange Center Sakura Hall

2nd floor small atelier 2
Address
2-1-1 Sakuradori, Kitakami City, Iwate Prefecture
Parking
Yes (free)
Price
500 yen per child (free for children under 3 years old)

Limited time vegetable discount!
Contact
How to apply

① LINE https://lin.ee/d1s98Ei

② Instagram DM https://instagram.com/tunoko._.no._.atelier



Click here for other inquiries

Tsunoko's Atelier (Yoshiko Shimada)

withcolorshimada@gmail.com

080-5570-8140
HP
Click here for official website and other related sites

※Event information is subject to change. Please see the official website for details.