Magic School 1-Day Experience Enrollment ~The Magic of Relationships~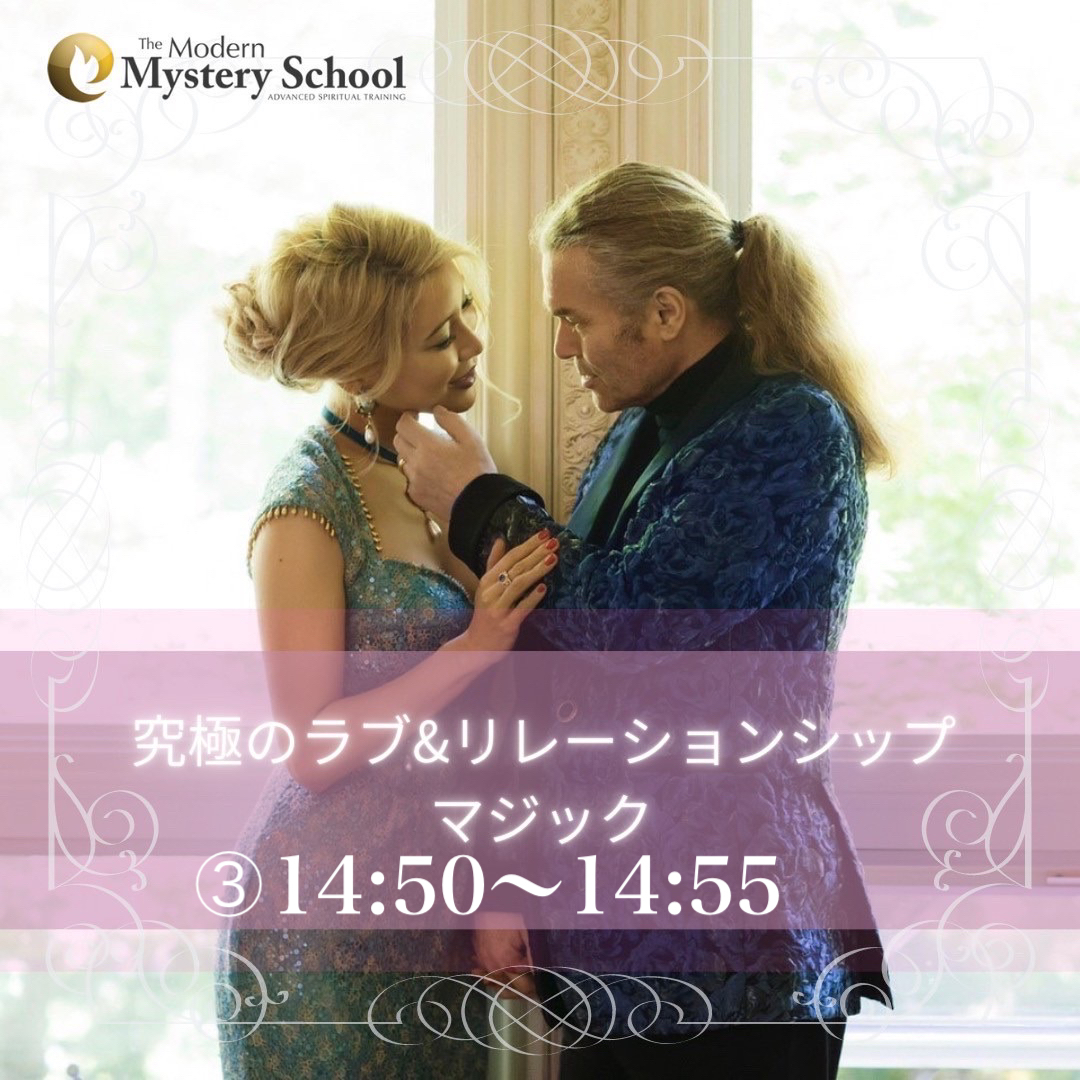 August 6 , 2023 (Sun) Sun 🇯🇵 Korea 🇰🇷 Held simultaneously
https://ameblo.jp/yukarin8momoko/entry-12800292826.html
◆◆◆ ◆◆◆ ◆◆◆ ◆◆◆ ◆◆◆ ◆◆◆
"Magic Festival 2023 " Online Event
spark of life
Burst, my self! just once this summer
https://mmsjapan.jp/p/mms-event-summer23/
◆◆◆ ◆◆◆ ◆◆◆ ◆◆◆ ◆◆◆ ◆◆◆
Online experience 14 : 50-15 : 00
◎Founder Goodnig Donason
Ipsimus DIVINA by Eiko Gudnason
Ultimate Love & Relationship Magic!
Regardless of age, gender, region, country or culture.
I just want to love you in front of me …
Why does the simple relationship of loving and being loved become so difficult? There shouldn't be anyone who doesn't want to build a good relationship with their loved ones. But I was swayed and worried. Would you like to stop struggling in the opposite storm?
The core of ultimate love is always in the truth and energy of the unseen world.
A royal couple who practices a golden relationship every day,
Modern Mystery School Founder
with Goodny Gudnason
Neophyte Ipsis mass
DIVINA Eiko Gudnason,
We will deliver the ultimate love magic to you this summer.
Touching the energy of supreme love that accepts, respects, and enhances each other, all your relationships will be healed and leveled up.
Legendary Psychic, World's Highest Magician
Lineage Holder Modern Mystery School
Founder Main Ipsismus
Goodney Gudnason
GUDNI GUDNASON
A legendary psychic from Iceland.
He lost his twin brother shortly after he was born, and since then, through his brother's existence, he has come to live in the invisible world of the other side and this world at the same time.
Invited to a mystery school in England since his teens, he studied all kinds of magic and metaphysics such as Kabbalah, Hermes, Ancient Egypt, Celts, Vikings, and Druid magic, and became a magician of the highest rank .
In 1997 , it inherited the Modern Mystery School (the name was Rocky Mountain Mystery School at the time).
Under " No More Secret ", the true metaphysical teachings that have been kept secret until now are revealed.
Doctor of metaphysics, actor, poet, martial arts master, humanitarian activist, music label owner, film and media producer … Through his multidimensional way of life, he continues to express all the possibilities and joys of life.
Currently living in Japan, expanding the school to 60 countries around the world and working energetically.
modern mystery school
Neophyte Ipsismas
ipsis mass of royal art
EIKO GUDNASON
Eiko Gudnason
Profile
From an early age, she was fascinated by beautiful things, and grew up having a spiritual connection with fantasy beings such as fairies. Studied abroad in Europe while studying at Sophia University. Cultivate international sensibilities such as art, fashion, and colors from living in a different cultural area. After returning to Japan, he began studying metaphysics and healing at the Modern Mystery School, an esoteric school with a tradition of over thousands of years, and developed a sense of even the invisible world. While continuing to explore myself and the world, I encountered natural stones and started making handmade accessories.
From there, he started his career as a designer, and now offers high-quality clothes and jewelry in a completely bespoke style. Many celebrities also have customers.
In addition, his talent is evaluated in many genres, such as a fashion show at a special dome outside the National Stadium and designing stage costumes for famous artists. Despite being completely self-taught, the miracle of creating a brand in just a few years is said to be "just like magic."
He advocates art not only as a creative activity, but as a way of life itself. Together with her husband, the founder of Modern Mystery School, she is also active in the world of lectures and entertainment.
◆◆◆ ◆◆◆ ◆◆◆ ◆◆◆ ◆◆◆ ◆◆◆
"Magical Festival 2023 " Information
I wonder when it began.
It's easy to give up on your dreams.
I wonder when it began.
think about your position
What made you act?
I dreamed of it when I was little
The future me and the present me.
In the form I really wanted, now
I wonder if he's alive
Love, play, friends, family, abundance
life too. I want to be more greedy.
I want to be even more excited.
Be yourself more and more.
I want to love me more and more
Beyond limits, more this summer
fall in love with yourself
A life full of flutter, glitter, and excitement
The opportunity to start is now here.
Far beyond the bounds of everyday life
On a galactic scale,
"Magic" that moves things.
To the real me that I don't know yet
will turn it on,
"Miracle" this summer.
Magic School/Modern Mystery School
The best experience awaits
"Magical Festival 2023 "
Harness the secret powers of the Magic School
supreme magician
Founder Goodny Gudnason
Mr. Hideto Nakagome, Sovereign Ipsimus
Azusa Yoda from Ipsismus
Show off a special magic only for this day.
Mysterious, deep, powerful and magical
By touching the real magic of the world's highest peak
so that you can challenge yourself.
May your dreams come true.
for you to move.
Come get some magic!
We are looking forward to your participation!
"Magical Festival 2023 "
spark of life
~Burning, Myself! Only once this summer
Sunday , August 6 , 2023
* The time varies depending on the participation method.
Please check below.
[Event content]
Online experience 13 : 30-14: 00
◎ By Ipsis Mass Yoda Azusa
Midsummer frenzy! spark joy
Voodoo Tarot!
Online experience 14 : 20-14 : 50 _ _
◎Sovereign Ipsimus by Hideto Nakagome
Good luck & financial luck spark!
An Esoteric Buddhism Ceremony with Golden Richness !
Online experience 14 : 50-15 : 00
◎Founder Goodnig Donason
Ipsimus DIVINA by Eiko Gudnason
Ultimate Love & Relationship Magic!
◎ Open today for one day only!
Secret talk live broadcast from Ginga Snack !
………………………………………………………
[You can choose from the following two ways to participate]
① Participate in broadcast event venues all over the country
② Participate by watching online at home
………………………………………………………
① Participate in broadcast event venues all over the country
◆ Date and time
( Meditation session 11 : 00-12 :00 / Participation fee 1000 yen )
8/6 ( Sun ) 10-16 : 30
* Finishing time according to request
It may be extended.
◆ Venue Aina
Prefectural Plaza 4F Event Experience 4F
Online experience 8th floor 803 meeting room
1-7-1 Morioka Station Nishi- dori , Morioka City
◆ Admission fee 1500 yen
◆ Benefits ◆ Online viewing (13 : 00-16 : 00 )
Together with the broadcast of the "Magic Festival",
Proud of Mystery School
A trial version of the powerful magic menu
You can receive it at each venue!
Leading to an Anshin Ritsumei way of life and liberating mind and body
Enhance immunity and self-healing ability
① Ensophic Reiki®️
Experience price 10 minutes 1000 yen [Price 60 minutes 10,000 yen]
Promote realization with the finest power charge
Recover Invincible Mental
② DNA Activation®️ _
Experience price from 3,500 yen for 20 minutes
[Price: 15,000 yen for 60 minutes *with wave water]
https://youtu.be/L3xGe3SdBWg
Those who want to know themselves, those who want to know their families
For those who want to balance their minds!
③ Horoscope reading
Experience price from 3,500 yen for 20 minutes
[List price 60 minutes 10,000 yen]
TRUE Tarot to guide your life in the right direction
④ Tarot reading
Experience price from 3,000 yen for 20 minutes
[List price 60 minutes 10,000 yen]
* Rider version of tarot cards used
Higher Dimensional Light Master Virgin Mary
⑤ Channeling message
Experience price 3500 yen for 20 minutes
■ Holding time, price, offer menu
Application deadlines and other details differ for each national broadcast event venue, so please check with the host guide in advance.
Please confirm.
Nationwide broadcast event venue information
https://mmsjapan.jp/p/mms-event-summer23/place.html
■ How to apply for nationwide relay events
Please apply and pay directly to the organizer of the relay event near you from the list of relay event venues nationwide .
■ Deadline for application and payment
Online participation : Thursday , July 13 , 15:00 _ _
application form
#Iwate #soulmate #way of life #meditation #autism spectrum #partnership #love luck #divorce #channeling #astrology #withdrawal #beloved woman #self love #love yourself #healing #love yourself #harmony #truancy _ _ _ _ _ _ _ _ _ _ #morioka #Health #Immune power #Good luck #Magic school #Stress #Magic #Miracle #Witch #Love #Make dreams come true #More happy moments in the world
Holding period
2023/8/6~2023/8/6
Open time
Opening 10:00~

start the show
Venue
Aina

Prefectural Plaza 4F

Online venue 803 conference room 8th floor
Address
1-7-1 Morioka Station Nishi-dori, Morioka City
Parking
Paid
Access
5 minutes walk from Morioka Station West Exit
Price
Prefectural Plaza 4F Admission Free

803 conference room 8th floor Entrance fee 1000 yen

With bonus online viewing



option

Large prayer card 500 yen
Contact
Leading to a dimension that cannot be reached on its own

Light Center Nefer (during domestic and international business trips)

~For those who want to create a future beyond their expectations~

Individual (face-to-face/remote) session

various metaphysical classes

Ensophic Reiki Meditation Handdown

Lightworker Healer Training

Meditation and hands-on events held

(Home parties, stores, corporate dispatch, etc.)
HP
Click here for official website and other related sites

※Event information is subject to change. Please see the official website for details.