[6/14 (Tue)] Everyone's Salon "Ocarina Salon"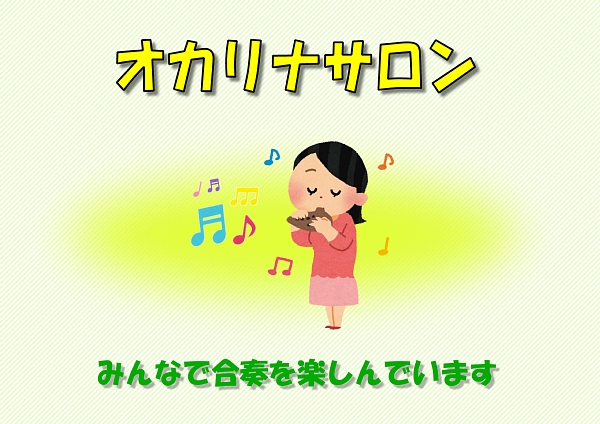 Why don't you play ocarina together?
Anyone can participate without reservation or membership registration!
It is a salon where ocarina lovers gather and enjoy the ensemble.
Let's hone Ocarina's skills together ✨
Please bring your ocarina if you want to participate.
The capacity is 6 people, so please make a reservation if you want to be sure to participate.
For reservations and inquiries, please contact here!
NPO corporation art studio
TEL: 0197-64-7567 (Responsible: Kunno)
Email: info@g-kobo.net
Holding period
2022/6/14
Open time
15:30~17:00
Venue
Kitakami City Cultural Exchange Center Sakura Hall Training Room

(Please come to the room labeled "Minna no Salon".)
Address
2-1-1, Sakuradori, Kitakami-shi
Parking
Yes (free)
Price
Participation fee: 400 yen

* Sheet music will be charged separately.
Contact
NPO corporation art studio

TEL: 0197-64-7567 (Responsible: Kunno)

Email: info@g-kobo.net
HP
Click here for official website and other related sites

※Event information is subject to change. Please see the official website for details.