[Changed to hold online] Diversity Society de SDGs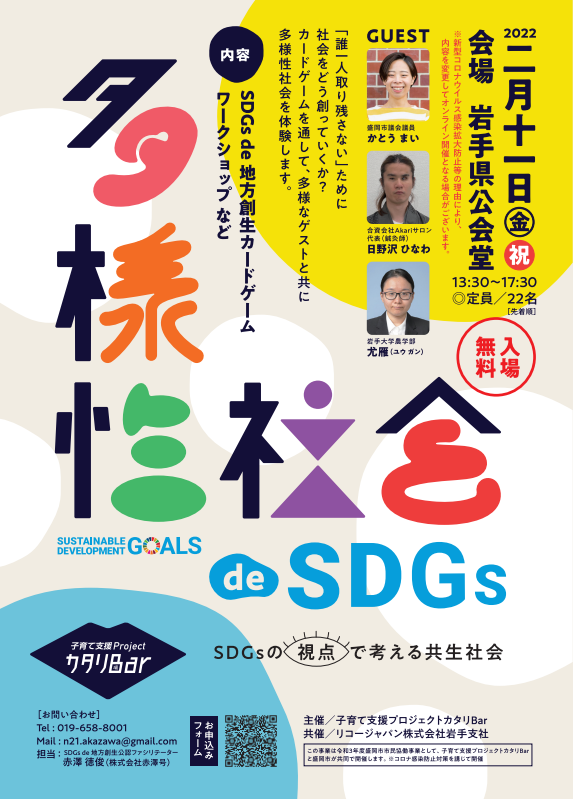 Overview How do you create a society so that no one is left behind? Experience a diverse society with diverse guests through card games
⇨ The content will be changed due to the spread of corona infection.
Contents ・ "SDGs de Regional Revitalization" card game ・ Workshop ・ Discussion with panelists
⇨ Work where guests talk according to the theme and discuss their impressions and feelings with the participants
HP
SDGs de Regional Revitalization
Date and time: February 11, 4th year of Reiwa ㈯ 13: 30-17: 30
Venue: Iwate Prefectural Public Hall Capacity: 22 people (free participation)
⇨ Date: February 11th (Friday / holiday) 13: 30-15: 30 (2 hours)
Venue: Zoom
Capacity: 12 people (free)
Holding period
2022/2/11
Open time
13:30~15:30
Venue

Iwate Prefecture Public Hall

Address
Morioka City Maru 11-2
Price
Free participation
Contact
Child-rearing support project Katari Bar Tokutoshi Akazawa (Akazawa Co., Ltd.)

Tel: 019-658-8001

Mail: akanori@akazawago.com
HP
Click here for official website and other related sites

※Event information is subject to change. Please see the official website for details.