Boost your immune system! Adler Psychology 8 Theories and Practical Courses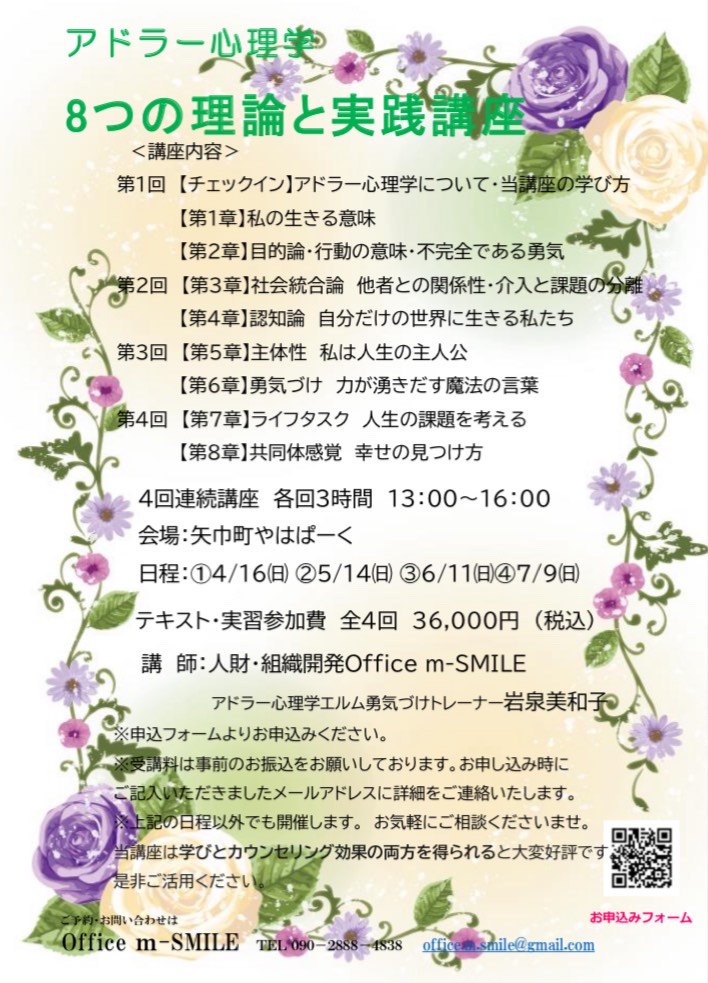 Thank you for visiting this page.
The application deadline for participation has passed.
Thank you very much.
Recommended for people like this
・I want to solve my heart troubles and interpersonal relationship troubles with my own power
・ Anxiety tends to persist
– Sensitive to trifles and easily hurt
・I can't help but worry about other people's eyes
・I want to change but I can't
・

I want to incorporate Adlerian psychology into my life
This course aims to give you hints for a new way of life.
Adlerian psychology is known as "Practical psychology," and is characterized by its ability to be immediately applied to daily life.
In this course, we will actually introduce work and deepen our understanding of ourselves while experiencing it.
Specifically, you will learn while experiencing 8 different themes, reexamine yourself through sharing, and acquire new ways of thinking and understanding.
It will be a big step towards the resolution of human relations and various troubles.
We would like to introduce some of the impressions of the participants.
■Hello. Thank you for the wonderful lecture yesterday. Recently, I've been depressed and not feeling well, but yesterday's lecture and the work in it fit me perfectly, and I felt that my heart was gradually recovering. Thank you very much for arranging the course for me. thank you very much. I would like to do my best not to work too hard this week.
■A few years ago, I was overwhelmed by a job that didn't suit me, and I was tired of comparing myself to the people around me. I was tormented by an inferiority complex in a bad sense, I only listened to other people's complexions, and I had no sense of self-affirmation. In the midst of all this, I went to seminars to somehow establish myself, but although I understood the logic, there were many things that I didn't understand. Since the knowledge I gained was not linked to real life, it was a barren day to search for "something else". I had a strong desire to rebuild myself, but it took me quite a while to find your company's website. Taking the course made me feel like I was able to regain myself again, and I was deeply moved. The content of the course was also private, so I was able to stay with you until I understood what was going on, which was great. I feel like my way of thinking has become a little simpler because I received words that can be said to be the starting point when I act.
■Each content was very rich, but the time flew by. I had a lot of important thoughts that I need now. By visualizing through the work, I became aware of myself, learned new ways of thinking and understanding, and became more comfortable. I didn't feel tired from the lecture and was able to get well. I would like to make use of what I have learned in my daily life. I'm really thankful to you.
■I feel that what I learned in this course will slowly become my flesh and blood from now on. Through Adler psychology, I feel that the axis of my life from now on is being made. I believe that this was all possible because of the instructor's personality and enthusiasm. Thank you again.
A

deep

sense of fulfillment
I feel from the bottom of my heart

that it's okay to be who I am
I think I should try

again
Deep and rich awareness and learning are born
face your problems together
First of all, please let us know your concerns.
We will arrange the content to help you solve the problem and provide a lecture.
What kind of psychology is Adlerian psychology?
Positive, future-oriented, psychology for practice
Adlerian psychology does not search for the past or causes
Practical and very positive psychology that focuses on the future .
It's not a problem because you're worried
Inappropriate behavior exists because we have not learned the appropriate behavior.
Adler psychology is [People can correct their trajectory at any time if they learn! ] is the idea

◆Each person is the main character of their own life
your life can decide how you live it
We help you unlock your potential so you can move forward

The past is already past
You can't change the past even if you want to
What can we do now?
With that in mind, we will focus on the future and move forward.

◆I want to solve problems, I want to be a better me
It takes courage to act
In this course, you can learn and acquire practical methods

Adler Psychology 8 Theories and Practical Lectures (4 Consecutive Lectures)
[Course content]
check in
Introduction How to learn this course
Chapter 1 The meaning of my life
Chapter 2 Teleology The Meaning of Action The Courage to Be Imperfect
Chapter 3 Social Integration Theory Relations with Others Separation of Issues
Chapter 4 Cognitive Theory Virtual Theory We live in our own world.
Chapter 5 Subjectivity I am the hero of my life
Chapter 6 Encouragement Magic words that give strength
Chapter 7 Life tasks Thinking about life tasks
Chapter 8 Sense of community Contribution How to find happiness
*We will proceed carefully while listening to the participants' stories for each two chapters.
* We will ask you about your concerns and issues in advance and arrange the contents according to the participants.
[Venue] Yahaba Activity Exchange Center Yaha Park
[Holding time] 13: 00-16: 00
[Schedule] 1st: April 16th (Sun) 2nd: May 14th (Sun) 3rd: June 11th (Sun) 4th: July 9th (Sun)
[Lecturer] Office m-SMILE Miwako Iwaizumi
[Course fee] 36000 yen ( textbook, worksheet, training participation fee included )
[Participation application] Please apply from this form ⇒ Office m-SMILE sponsored course participation application form
●We have received feedback that both learning and counseling effects can be obtained.
●Please pay the tuition fee in advance. Details will be sent to the email address you entered when you applied.
● Those who are currently working as human resource development consultants, training instructors, or counselors, those who are planning to work in the future , or those in the same industry, please refrain from participating.
Please also see our homepage. https://officemsmile.wixsite.com/homepage
Holding period
2023/4/16~2023/7/9
Open time
13:00~16:00
Venue

Yahaba Activity Exchange Center Yaha Park

Address
1-12-1 Ekihigashi, Yahaba-cho, Shiwa-gun
Parking
Yes (free)
Price
36,000 yen (including textbook, worksheet, and training participation fee)
Contact
office.m.smile@gmail.com Iwaizumi
HP
Click here for official website and other related sites

※Event information is subject to change. Please see the official website for details.