Special exhibition "Architecture and roof tiles at Kunimiyama Abandoned Temple" now being held!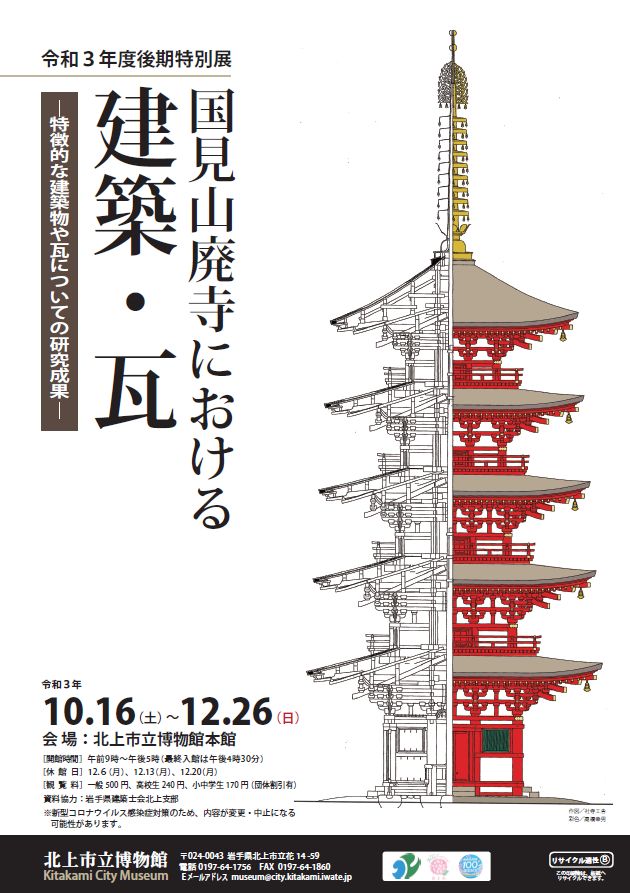 The Kitakami City Museum Main Building is holding a special exhibition "Architecture and roof tiles at Kunimiyama Abandoned Temple" in the second half of this year.
About 150 years before Chuson-ji was built in Hiraizumi, there was a temple in the mountains of Inase, Kitakami City, which was prosperous in the northeastern part of the country. Nowadays, only the cornerstone remains, and the official name of the temple is unknown, so it is called "Kunimiyama Abandoned Temple".
The existence of this temple was revealed in 1945 when a fragment of an ancient roof tile was found while scraping the mountain surface for road construction. Already in the Edo period, there was a legend that there was a large temple on this mountain that was once regarded as the "head of every temple". The tiles found had patterns that were only used in ancient government offices and temples, so wasn't there really a legendary large temple? Will be noticed.
What kind of temple was it?
With the cooperation of the Kitakami Branch of the Iwate Prefectural Architects Association, which has challenged this mystery for many years, this special exhibition will showcase all the restoration maps of the abandoned temple of Kunimiyama. Professor Masaji Hamashima, an emeritus professor at the National Museum of Japanese History, who is an expert in ancient architecture, is instructing and supervising the creation of this restored map.
Imagine the appearance of the abandoned Kunimiyama temple in the past at this special exhibition!
* * *
Special exhibition "Architecture and roof tiles at Kunimiyama Abandoned Temple"
Please check the official website and Twitter for details.
Holding period
2021/10/16~2021/12/26
Open time
Museum opening hours 9 am-5pm

Last admission time until 4:30 pm
Venue

Kitakami City Museum Main Building

Address
Kitakami City Flower 14-59
Parking
Shared with Michinoku Folk Village (18 units)
Access
10 minutes by taxi from JR Kitakami Station. In the case of a private car, it is right next to "Tenshochi" along Prefectural Road 14.
Price
General 500 yen, high school students 240 yen, elementary and junior high school students 170 yen
Contact
Kitakami City Museum

Phone 0197-64-1756
HP
Click here for official website and other related sites

※Event information is subject to change. Please see the official website for details.