Parent-child disaster prevention Marche 2021 (online)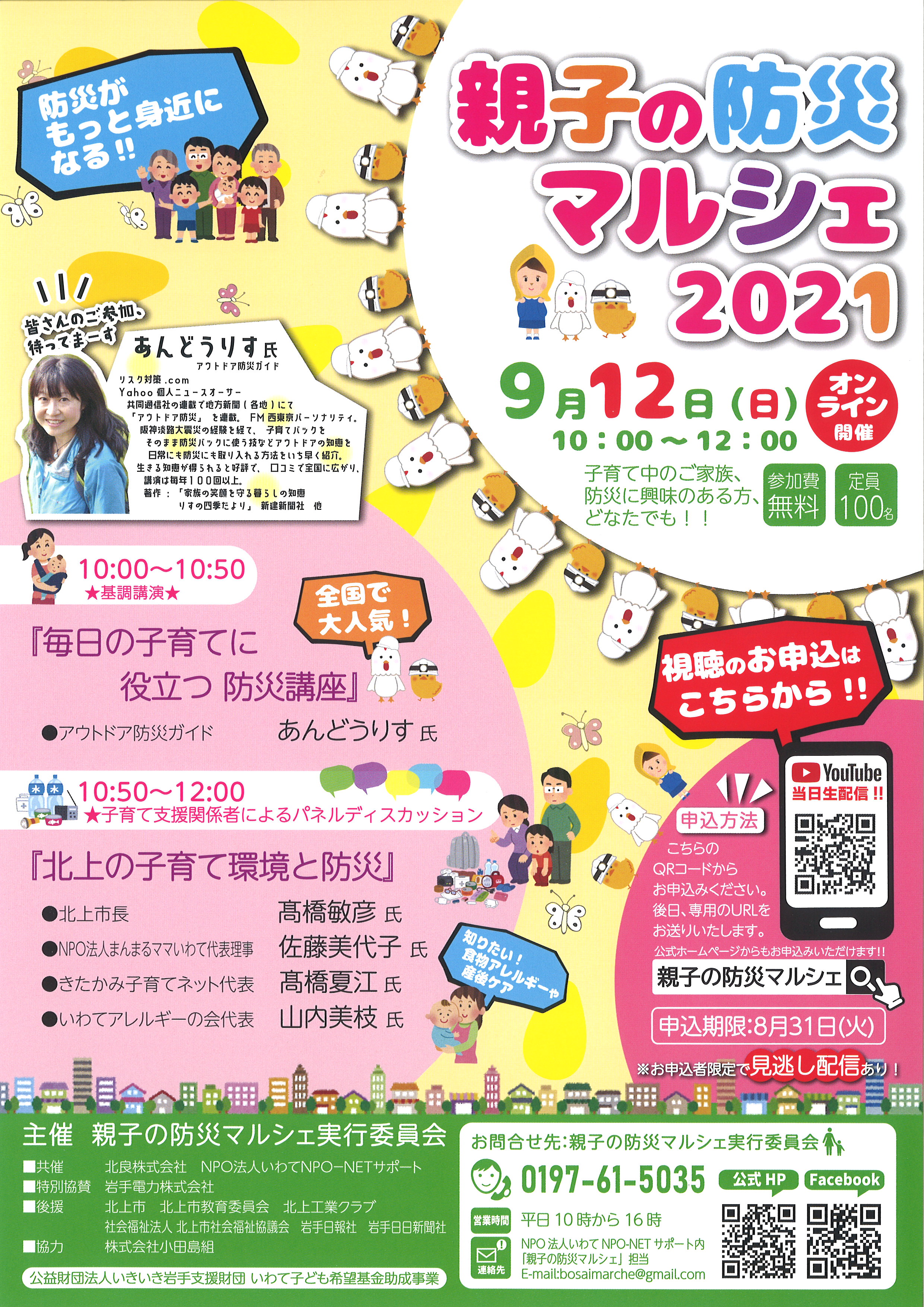 Parent-child disaster prevention Marche 2021
A disaster prevention lecture by Mr. Andorisu, an outdoor disaster prevention guide who is very popular all over the country, and a discussion about the child-rearing environment and disaster prevention with the mayor and people involved in child-rearing. We will broadcast the pattern live on Youtube. Why don't you think about what to do in case of emergency?
Keynote speech
Disaster prevention course useful for daily child-rearing Outdoor disaster prevention guide Mr. Andorisu
panel discussion
Theme "Kitakami Child-rearing Environment and Disaster Prevention"
Paneler
Mayor of Kitakami Toshihiko Takahashi
Miyoko Sato, Representative Director of NPO Manmaru Mama Iwate
Mr. Natsue Takahashi, Representative of Kitakami Parenting Net
Ms. Mie Yamauchi, Representative of Iwate Allergy Association
Application form (Please apply for missed delivery from here)
https://forms.gle/Rbd6ajiSAfMgxQP36
* The personal information we receive will be used only for sending URLs.
The questionnaire will be processed into a form that does not identify the individual and will be used within the event.
Holding period
2021/9/12~2021/10/16
Open time
9/12 (Sun) 10: 00-12: 00 Live streaming

(In addition, it will be overlooked and delivered only to applicants until 10/16)
Venue

youtube (online, advance application required)

Address
Kitakami City (online delivery)
Parking
can be
Price
free
Contact
Executive Committee bosaimarche@gmail.com

(Telephone window: In charge of "Parent and Child Disaster Prevention Marche" in NPO Iwate NPO-NET Support

Weekdays from 10:00 to 16:00 Phone 0197-61-5035)
HP
Click here for official website and other related sites

※Event information is subject to change. Please see the official website for details.