Special project for the 10th anniversary of the Great East Japan Earthquake "Memories of the Great East Japan Earthquake, Rikuzentakata"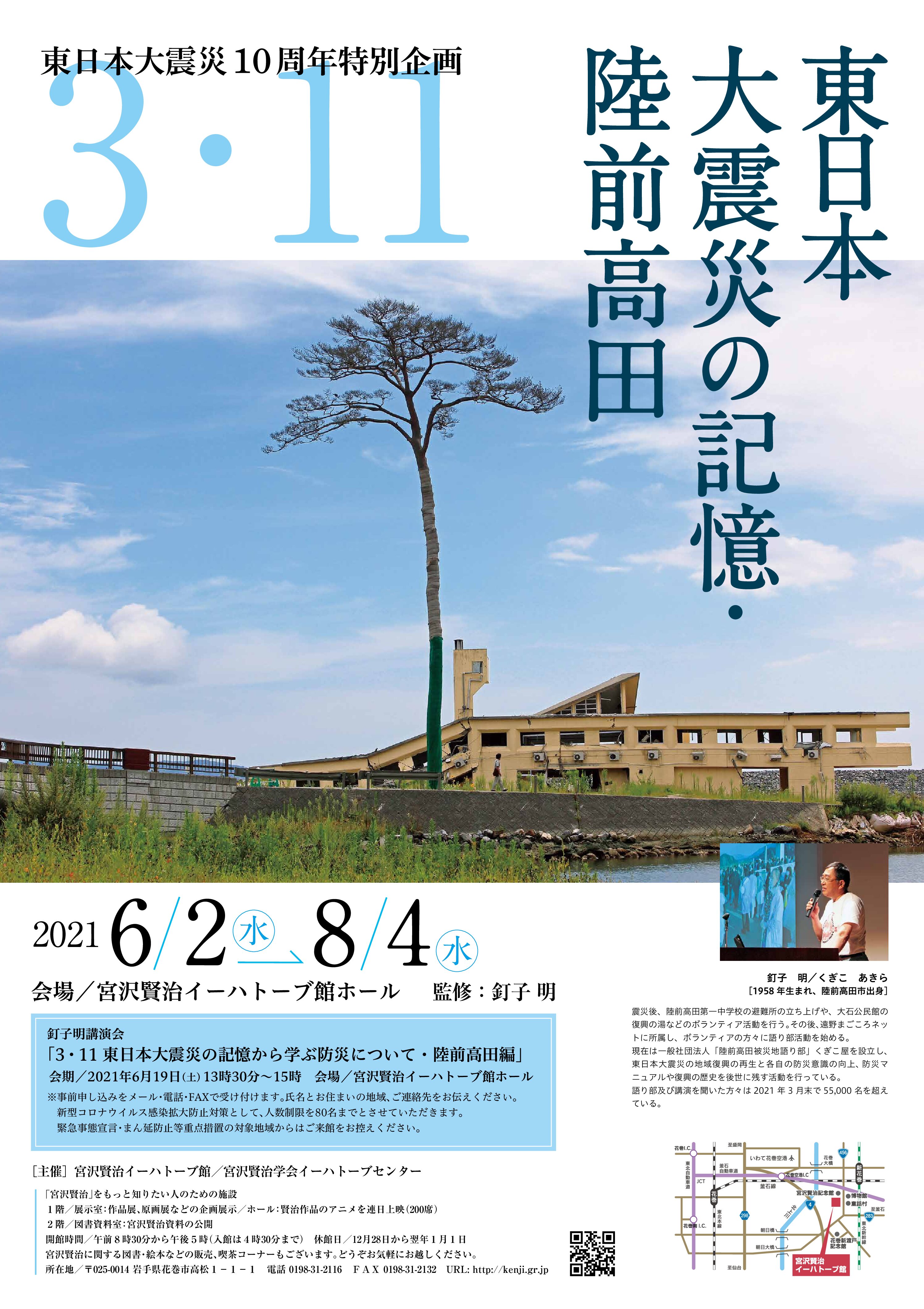 Supervision: Akira Naiko (Kugikoya, Rikuzentakata Disaster Area Narrative Department)
Kenji Miyazawa was born in August 1896 (Meiji 29). Two months before that, there was the Meiji Sanriku Earthquake (a large tsunami occurred). Kenji died in September 1933 (Showa 8). About half a year before that, there was the Showa Sanriku Earthquake (a large tsunami occurred). Kenji's life was 37 years between these two earthquakes (tsunamis), and he survived the times when he faced the disaster.
From this, I believe that Kenji and disasters are inseparable. In the Showa Sanriku earthquake that occurred half a year before his death, the condition was already severe, and we could not do anything without being able to leave the bed, and we now hear about Kenji's thoughts that he could only pray for reconstruction. I think we have to go.
In this exhibition, many photographs of the town and rescue of Rikuzentakata City immediately after the Great East Japan Earthquake that occurred on March 11, 2011, the life of evacuation shelters, and the progress of reconstruction will be exhibited. It conveys the importance of thinking about disasters as one's own affairs.
Holding period
2021/6/2~2021/8/4
Open time
From 8:30 am to 5 pm (admission is until 4:30 pm)
Venue

Kenji Miyazawa Ihatov Hall Exhibition Hall

Address
1 Chiwari Dai 1 Chiwari, Takamatsu, Hanamaki City
Parking
21 units (free)
Access
Approximately 2km from Shin-Hanamaki Station on the Tohoku Shinkansen, 3 minutes by car, 4 minutes to Iwateken Kotsu Ito-Yokado, 5 minutes on foot after getting off at "Kenji Memorial Hall Exit"
Price
free
Contact
Kenji Miyazawa Ihatov Hall

Phone: 0198-31-2116

Fax: 0198-31-2132
HP
Click here for official website and other related sites

※Event information is subject to change. Please see the official website for details.