Organic lemon & fresh cream soap making WS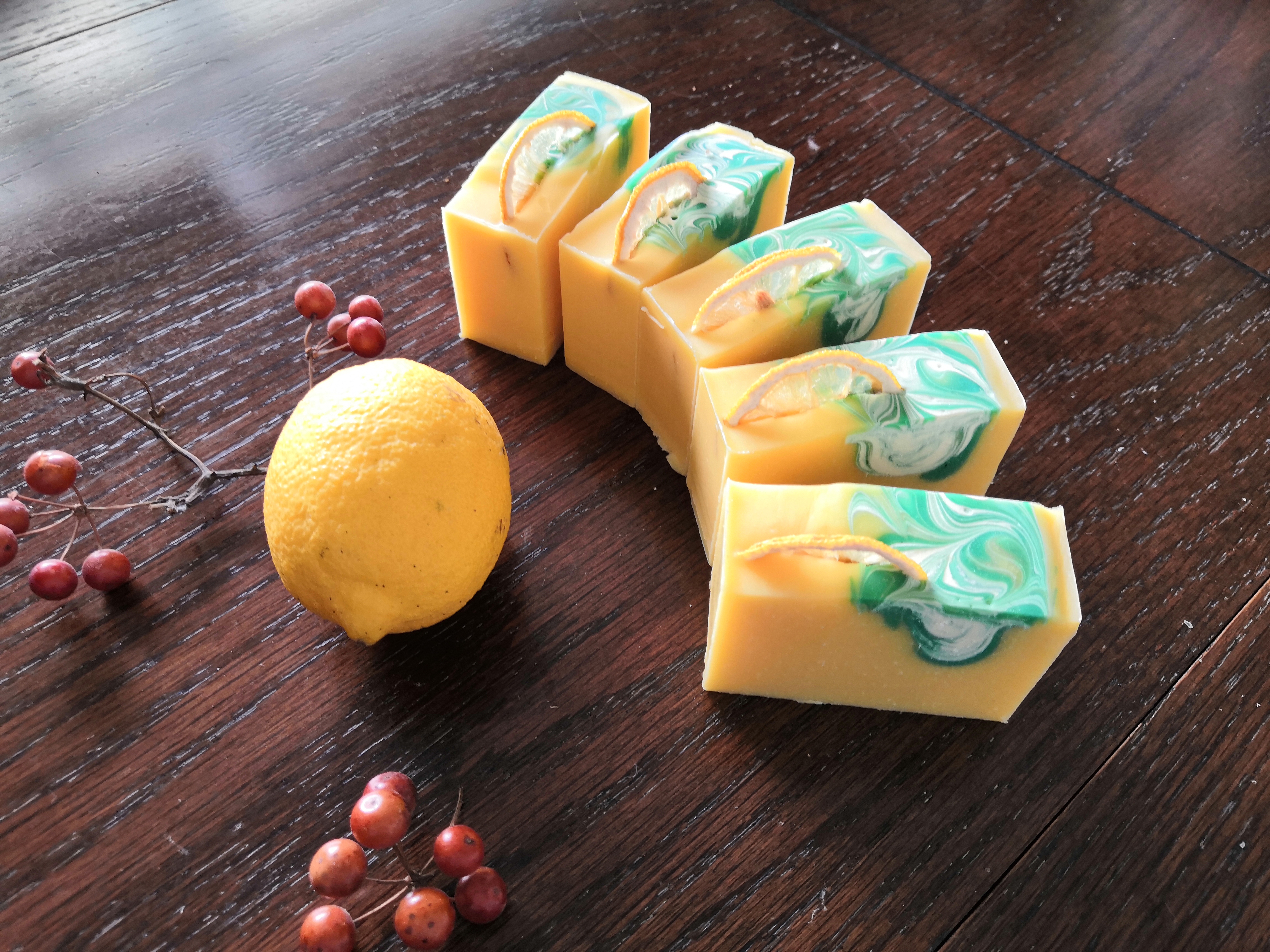 Make skin care soap using organic lemon with plenty of vitamins and fresh cream 🍋
👉 Please apply by the method described below.
◇ Organic lemon & fresh cream soap
Lemon is said to have a high antioxidant effect and a high anti-aging effect on the skin due to its abundant vitamin C and eriocitrin (a type of polyphenol). Vitamin C, in particular, helps collagen synthesis and helps prevent wrinkles, sagging, and melanin pigmentation. In addition, it has anti-stress and relaxing effects.
Fresh cream is high in Vitamin A and is even more effective in creating healthy skin without wrinkles and dullness. The fatty acids contained in the cream can also be expected to protect and moisturize the skin.
◇ Soap is made by the cold process method that leaves glycerin and oils and fats. It is a good quality soap that is gentle on the skin and has good foaming because it leaves the active ingredients of the oil as it is.
◇ Add a scent with your favorite essential oil. When used, the gentle scent of nature spreads. (Use about 50 drops to leave a strong scent)
Date and time: Saturday, February 20, 2021 from 14:00 to 16:00
Location: necco 202 store
Capacity: 4 people
(The capacity will be reduced to prevent corona)
Material cost & course fee: 4000 yen
⚪︎ With tea after the course (Please note that tea time may not be provided depending on the corona situation)
⚪︎ With extra skin care goods
* Experienced soap makers can make double the size. → Please let us know when you apply, as we have some preparations.
* Since we use chemicals, we are sorry but we cannot bring small children.
Children over the upper grades of elementary school can be accompanied. (Please let us know your age if you join us)
* Please measure the temperature on the morning of the day and wear a mask at the venue.
If you feel unwell near the date of the event, please refrain from participating. (No cancellation fee)
If you have been out of the prefecture within 2 weeks and have interacted with people outside the prefecture, please let us know when you apply.
* When applying, please provide your name, address, email address, and emergency contact information (mobile number).
Application & Inquiry:
・ Oleatrees.soap@gmail.com (Miki Hall)
・ To necco 202 store (Tel. 019-601-8643)
* We will contact you about your belongings and the venue at a later date.
Holding period
2021/2/20
Open time
Start at 14:00

Start at 16:00
Venue

necco 202 store

Address
1-4-1-202 Saien, Morioka City Saien General Building 202
Parking
No on the day
Access
5 minutes by bus from the direction of Morioka Station Take the Morioka downtown circulation bus "Dendemushi" or take the bus pool ⑯ in front of Morioka Station → Get off at "Morioka Castle Ruins Park" and walk for about 1 minute
Price
Material cost & course cost 4000 yen
Contact
Hall Miki

Tel. 090-8907-0899

Email: oleatrees.soap@gmail.com



Or

necco 202 store

Tel. 019-601-8643

(Closed on Wednesdays)
HP
Click here for official website and other related sites

※Event information is subject to change. Please see the official website for details.