Listening course "Hone your listening power" that can be used immediately 3rd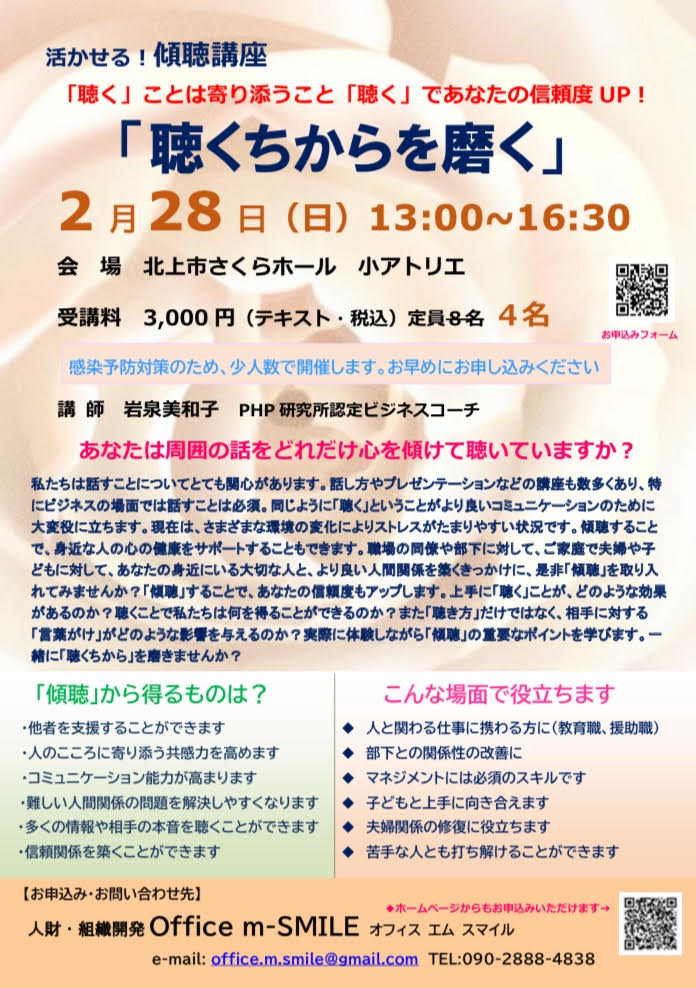 There are 2 seats left (as of February 23, 3rd year of Reiwa )
If you would like to participate, please apply as soon as possible.
---
How carefully do you listen to the stories around you?
We are very interested in speaking.
There are many lectures on how to speak and presentations, and it is essential to speak , especially in business situations .
Similarly, "listening" is very helpful for better communication.
Currently, stress is likely to accumulate due to various changes in the environment.
By listening, you can also support the mental health of people close to you.
For colleagues and subordinates at work, for couples and children at home
An opportunity to build better relationships with loved ones close to you
By "listening", your credibility will increase.
What is the effect of "listening" well?
What can we get by listening?
Also, not only "how to listen" but also "wording" to the other party
What kind of impact will it have?
You will learn the important points of "listening" while actually experiencing it.
Would you like to improve your "listening power" together?
◆ Advantages of "listening"
・ You can support others
・ Improve empathy to be close to people's hearts
・ Communication skills will improve
・ It will be easier to solve difficult relationships
・ You can listen to a lot of information and the true intentions of the other party.
・ You can build a relationship of trust
◆ Useful in such situations
For those who are involved in work related to people (education, support)
To improve relationships with subordinates
It is an essential skill for management
You can face your child well
Helps restore marital relationships
You can get along with people who are not good at it
◆ Impressions of taking the listening course "Hone the power of listening"
● I thought it was important to communicate by speaking, but I realized that my listening ability increased my understanding and trust in the other person, and that I could communicate better. From now on, I would like to continue listening with a little consciousness. Thank you very much.
● It's very helpful and practical today, so I'll go home and try it. I was talking to the neighbor, but I wasn't frustrated when I was in Anger, so I got the image that it would get better again. The atmosphere was very nice and it was an instant time. thanks you.
● Great listening ability. I was able to understand the need to listen and interact with each other while keeping pace with the other party. I would like to use it not only for my family but also as a communication tool.
"Listen" is to snuggle up "Listen" to increase your reliability!
Learn the basics of listening!
"Hone your listening skills"
Sunday, February 28, 13 : 00-16: 30
Meeting place Kitakami City Sakura Hall Small Atelier
Lecturer PHP Institute Certified Business Coach Miwako Iwaizumi
3000 yen (tax included) as textbook fee and training participation fee
Capacity 4 Name * 2 seats left
* A small number of people will be held to prevent infection. Please apply as soon as possible
Lecture Miwako Iwaizumi PHP Institute Certified Business Coach
About measures to prevent the spread of infection in our training and lectures
Application form Office m-SMILE sponsored course participation application form
Deadline: Until 17:00 on Saturday, February 27
* We will send you information about the application details and tuition fees to the email address you entered when you applied .
Therefore, please make settings so that our address can be received.
* Please refrain from participation by those who are currently active as human resources consultants, training instructors, counselors, those who are planning activities in the future, or those in the same industry.
Holding period
2021/2/28
Open time
Opening 12:50

Opening 13:00
Venue

Kitakami City Cultural Exchange Center Sakura Hall

Address
2-1-1, Sakuradori, Kitakami-shi
Parking
Yes (free)
Price
3,000 yen (text / tax included)
Contact
Office.m.smile@gmail.com Iwaizumi
HP
Click here for official website and other related sites

※Event information is subject to change. Please see the official website for details.