Are you in trouble with harmful birds and beasts?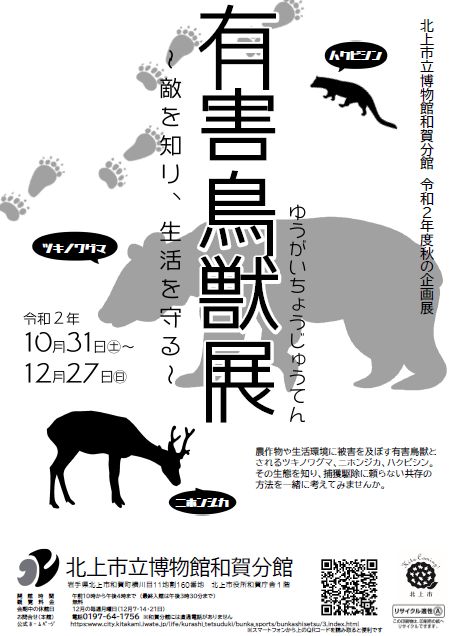 The Kitakami City Museum Waga Annex is holding a special exhibition "Harmful Birds and Beasts: Knowing the Enemy and Protecting Your Life".
The crops in the fields have been devastated, the attic has been dung … As humans have expanded their living sphere, the damage to the lives of wild animals has become more noticeable. Recently, personal injury caused by bears has been reported one after another.
In this special exhibition, we will introduce the ecology of "Asiatic black bear", "Sika deer" and "Masked palm civet", which are considered to be harmful birds and beasts, and introduce an example of measures to keep them away from fields and houses.
Both humans and animals are desperate for each other's lives. We hope that you will think about how to coexist well through this exhibition.
Holding period
2020/10/31~2020/12/27
Open time
Opening from 10 am to 4 pm (last admission is 3:30 pm)
Venue

Kitakami City Museum Waga Annex

Address
11-160 Yokokawame, Waga-cho, Kitakami City Kitakami City Hall Waga Government Building 1st floor
Parking
Yes, free
Access
11 minutes walk from "Yokokawame" station on the JR Kitakami line. In the case of a private car, it is about 10 minutes from the "Kitakami Nishi" interchange. Aim for a brown three-story building near the intersection of National Route 107 and Prefectural Road 37.
Price
free
Contact
There is no outside line telephone in the Waga Annex. Please contact the museum main building.

Phone 0197-64-1756

You can also check the latest information on the official website.
HP
Click here for official website and other related sites

※Event information is subject to change. Please see the official website for details.