[10/21 (Sat)] Asobi Raising School "Exciting Gaku-san is coming"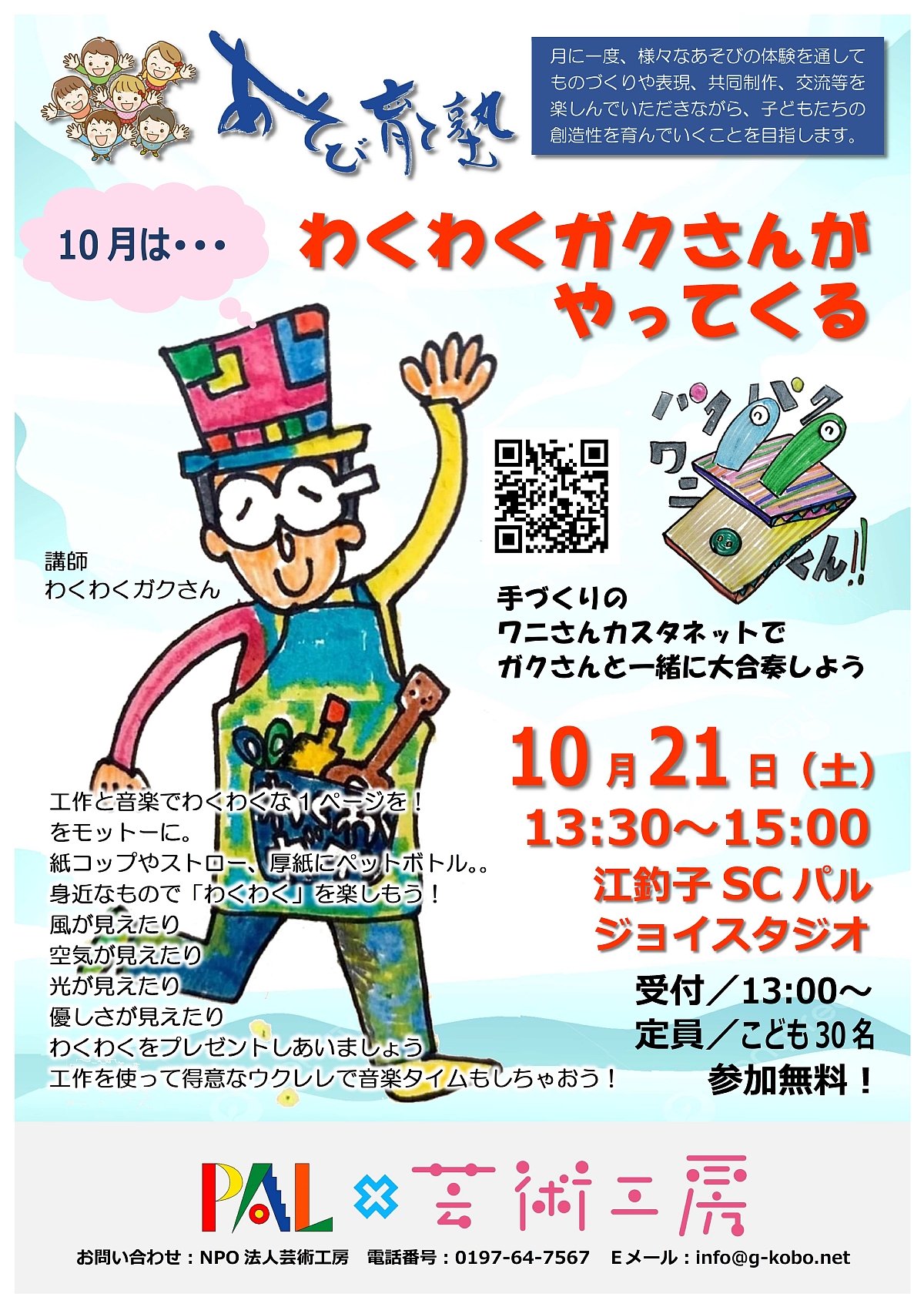 Have a big ensemble with Gaku-san using handmade Wani-san castanets!
At the "Asobi Ikurejuku'' once a month, we aim to foster children's creativity while having them enjoy making things, expressing themselves, collaborating, and interacting through a variety of play experiences.
The theme for October is " Waku Waku Gaku is Coming ".
We will welcome Mr. Tsuji Yamagaku, who produces excitement through crafts and music, as our instructor, and we will make crocodile castanets and enjoy an ensemble performance with Mr. Gaku.
Date and time : October 21 (Sat) 13:30-15:00 (reception from 13:00)
Venue : Ezuriko Shopping Center Pal Joy Studio
Capacity : 30 children (please participate in parent and child)
Participation fee : Free
For further information, please contact us!
NPO Art Studio
TEL: 0197-64-7567
Email: info@g-kobo.net
Holding period
2023/10/21
Open time
13:30~15:00 (Reception 13:00~)
Venue
Inside Ezuriko Shopping Center Pal

joy studio
Address
19-68 Kitakami Yanagi, Kitakami City
Parking
Yes (free)
Price
Participation fee: Free
Contact
NPO art studio

TEL: 0197-64-7567

Email: info@g-kobo.net
HP
Click here for official website and other related sites

※Event information is subject to change. Please see the official website for details.