Museum of Ruins "Morioka Historic Sites and Ruins Tour for Elementary and Junior High School Students Morioka Castle Ruins"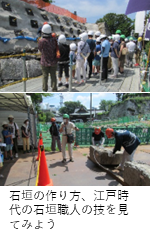 Let's take a look at the secrets of making stone walls in the Edo period.
Let's see how the stone walls are made, how the large stones were split, see the actual restoration site, and find out the secrets of the stone walls of the Edo period.
Currently, at the Morioka Castle ruins, the stone wall that was built by the people of the Edo period more than 300 years ago has been damaged and is being repaired.
In the restoration of stone walls, we investigate the wisdom and techniques of our predecessors through excavations, reproduce them as much as possible using modern technology, and pass them on to the next generation.
You can learn about the techniques and ingenuity people used in the Edo period to pile up large stones.
This time, for elementary and junior high school students, we planned a tour of the restoration site, exchanges with stone wall craftsmen, and an experience of breaking stone.
This is a once-in-a-lifetime opportunity to see and experience stone wall techniques from the Edo period.
I would like children, who will be responsible for the future, to come into contact with the long history of stone walls and the skills of the people of the time.
Pre-registration is required to participate. Please see the website for details. https://www.city.morioka.iwate.jp/event/bunka/1043767.html
*In addition, briefings on the stone wall restoration site and the excavation site for the general public will be held separately. (Schedule undecided)
Holding period
2023/9/2
Open time
10 am to noon
Venue

Morioka Castle Ruins Sannomaru stone wall restoration construction site, etc.

Address
Morioka City Maru 1-37 and others
Parking
Please use the pay parking lot in the surrounding area.
Access
Bus: Approximately 10 minutes from JR Morioka Station, get off at Morioka Castle Ruins Park bus stop / Car: Approximately 20 minutes from Tohoku Expressway Morioka IC
Price
28 yen per person (insurance premium)
Contact
Morioka Ruins Museum Tel: 019-635-6600
HP
Click here for official website and other related sites

※Event information is subject to change. Please see the official website for details.