Magic school one day experience entrance ~ VOODOO Tarot ~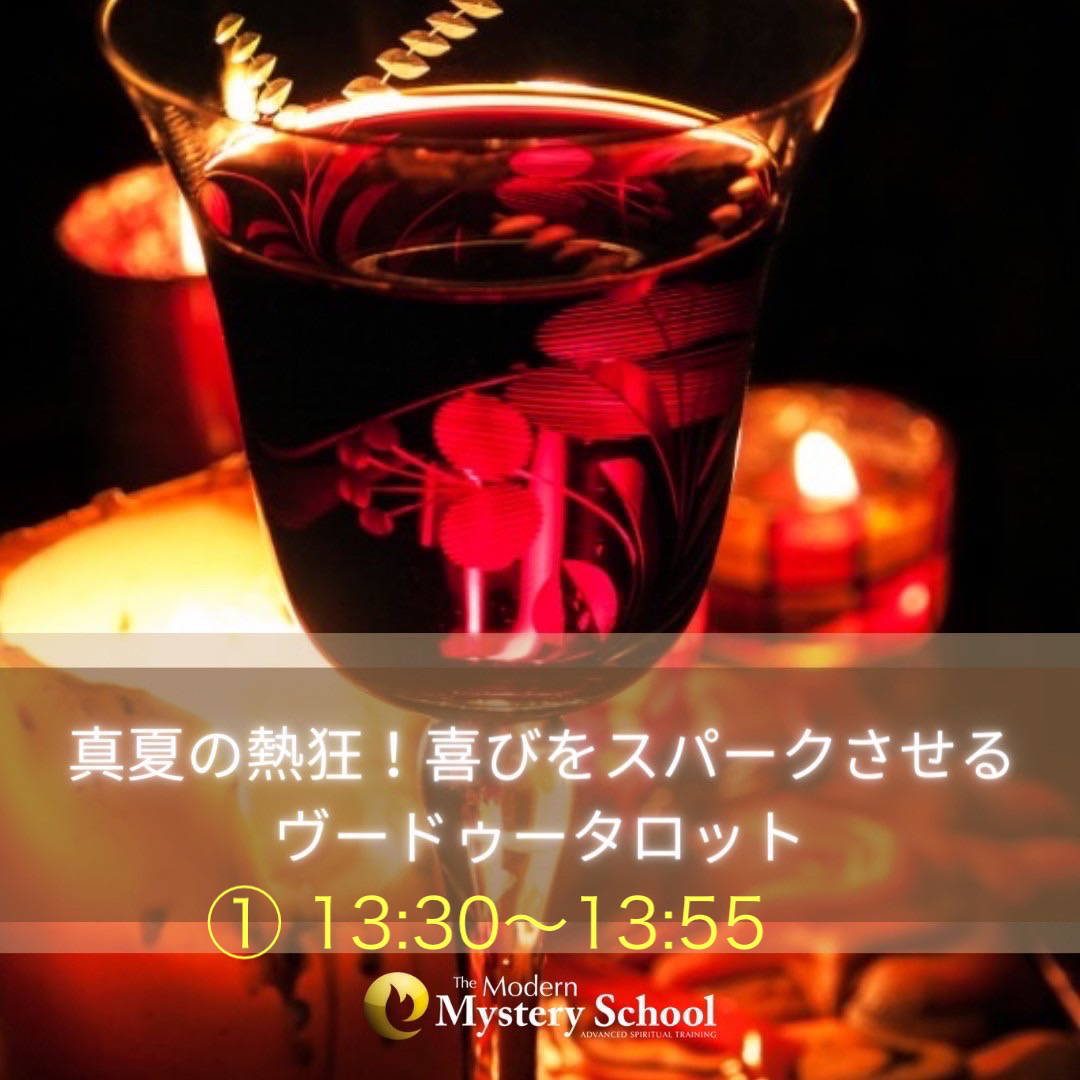 August 6 , 2023 (Sun) Sun 🇯🇵 Korea 🇰🇷 Held simultaneously
https://ameblo.jp/yukarin8momoko/entry-12800292826.html
◆◆◆ ◆◆◆ ◆◆◆ ◆◆◆ ◆◆◆ ◆◆◆
"Magic Festival 2023 " Online Event
spark of life
Burst, my self! just once this summer
https://mmsjapan.jp/p/mms-event-summer23/
◆◆◆ ◆◆◆ ◆◆◆ ◆◆◆ ◆◆◆ ◆◆◆
Online experience 13 : 30-14: 00
Midsummer frenzy! Spark joy [Voodoo Tarot] August 6 , 2023 ( Sun) Sun 🇯🇵 Korea 🇰🇷 simultaneous online event
Although there are things I want to do
For some reason I can't take a step forward.
Voodoo Tarot at times like that!
for you to make a wish
Explosive "joy" is the booster!
Originating in Haiti, voodoo is widely practiced in West Africa. Enjoy a dance dedicated to the voodoo god Loa and get yourself in a good mood.

Powerful and passionate shamanic energies dance within you through the Tarot!
Showing off this special tarot reading is the world's highest level of tarot handling
The charisma of the modern mystery school
Ipsimus Grand Oracle Azusa Yoda.
In public reading only for this event
I will tell you the keywords for your future.
what you need in life
Only hope, joy and abundance! !
In the midsummer festival mood
Meet yourself in the best mood,
Receive guidance on the way forward.
Manifest the flash of mystery and beauty and fascinate
charismatic magician
modern mystery school
Neophyte Ipsismas
Ipsimus Grand Oracle
Divination Master
AZUSA YODA
Azusa Yoda
Profile
The world's best channeler who gives off overwhelming charm with his charisma and bewitching. In addition to her natural ability to channel, she was personally trained by Mr. Goodney at the Mystery School and appointed as a Prophet/Grand Oracle with access to all dimensions. Over 40 years of astrology experience . Tarot, astrology, palmistry, onmyodo, Kimon Tonko, and other genres are well-versed. Leads and teaches the Divination section of the Modern Mystery School. Easy-to-understand explanations, magical atmosphere, high-level reading, and unique lectures are unique to top-notch magicians. As a leader and vocalist of the symphonic metal band " DRACULEA ", he continues to fascinate people in the field of music.
◆◆◆ ◆◆◆ ◆◆◆ ◆◆◆ ◆◆◆ ◆◆◆
"Magical Festival 2023 " Information
I wonder when it began.
It's easy to give up on your dreams.
I wonder when it began.
think about your position
What made you act?
I dreamed of it when I was little
The future me and the present me.
In the form I really wanted, now
I wonder if he's alive
Love, play, friends, family, abundance
life too. I want to be more greedy.
I want to be even more excited.
Be yourself more and more.
I want to love me more and more
Beyond limits, more this summer
fall in love with yourself
A life full of flutter, glitter, and excitement
The opportunity to start is now here.
Far beyond the bounds of everyday life
On a galactic scale,
"Magic" that moves things.
To the real me that I don't know yet
will turn it on,
"Miracle" this summer.
Magic School/Modern Mystery School
The best experience awaits
"Magical Festival 2023 "
Harness the secret powers of the Magic School
supreme magician
Founder Goodny Gudnason
Mr. Hideto Nakagome, Sovereign Ipsimus
Azusa Yoda from Ipsismus
Show off a special magic only for this day.
Mysterious, deep, powerful and magical
By touching the real magic of the world's highest peak
so that you can challenge yourself.
May your dreams come true.
for you to move.
Come get some magic!
We are looking forward to your participation!
"Magical Festival 2023 "
spark of life
Burst, my self! just once this summer
Sunday , August 6 , 2023
* The time varies depending on the participation method.
Please check below.
[Event content]
Online experience 13 : 30-14: 00
◎ By Ipsis Mass Yoda Azusa
Midsummer frenzy! spark joy
Voodoo Tarot!
Online experience 14 : 20-14 : 50 _ _
◎Sovereign Ipsimus by Hideto Nakagome
Good luck & financial luck spark!
An Esoteric Buddhism Ceremony with Golden Richness !
Online experience 14 : 50-15 : 00
◎Founder Goodnig Donason
Ipsimus DIVINA by Eiko Gudnason
Ultimate Love & Relationship Magic!
◎ Open today for one day only!
Secret talk live broadcast from Ginga Snack !
………………………………………………………
[You can choose from the following two ways to participate]
① Participate in broadcast event venues all over the country
② Participate by watching online at home
………………………………………………………
① Participate in broadcast event venues all over the country
◆ Date and time
8/6 ( Sun ) 10-16 : 30
( Meditation session 11 : 00-12 :00 / Participation fee 1000 yen )
* Finishing time according to request
It may be extended.
◆ Venue Aina
Prefectural Plaza 4F Event Experience 4F
Online experience 8th floor 803 meeting room
1-7-1 Morioka Station Nishi- dori , Morioka City
◆ Admission fee 1500 yen
◆ Benefits ◆ Online viewing (13 : 00-16 : 00 )
Together with the broadcast of the "Magic Festival",
Proud of Mystery School
A trial version of the powerful magic menu
You can receive it at each venue!
Guide to an Anshin Ritsumei way of life and liberate your mind and body
Enhance immunity and self-healing ability
① Ensophic Reiki®️
Experience price 10 minutes 1000 yen [Price 60 minutes 10,000 yen]
Promote realization with the finest power charge
Recover Invincible Mental
② DNA Activation®️ _
Experience price from 3,500 yen for 20 minutes
[Price: 15,000 yen for 60 minutes *with wave water]
https://youtu.be/L3xGe3SdBWg
Those who want to know themselves, those who want to know their families
For those who want to balance their minds!
③ Horoscope reading
Experience price from 3,500 yen for 20 minutes
[List price 60 minutes 10,000 yen]
TRUE Tarot to guide your life in the right direction
④ Tarot reading
Experience price from 3,000 yen for 20 minutes
[List price 60 minutes 10,000 yen]
* Rider version of tarot cards used
Higher Dimensional Light Master Virgin Mary
⑤ Channeling message
Experience price 3500 yen for 20 minutes
■ Holding time, price, offer menu
Application deadlines and other details differ for each national broadcast event venue, so please check with the host guide in advance.
Please confirm.
Nationwide broadcast event venue information
https://mmsjapan.jp/p/mms-event-summer23/place.html
■ How to apply for nationwide relay events
Please apply and pay directly to the organizer of the relay event near you from the list of relay event venues nationwide .
■ Deadline for application and payment
Online participation : Thursday , July 13 , 15:00 _ _
application form
#Iwate #tarot #way of life #meditation #good luck #heart fulfillment #love luck #aspiration achievement #channeling #astrology #spiritual #peace #mystery experience # self – realization #divination #possibility #evolution #growth #morioka #Health #immune _ _ _ _ _ _ _ _ _ Power # Good luck # Magic school # Stress # Magic # Miracle # Witch # Business luck # Dream come true # Love to work
Holding period
2023/8/6~2023/8/6
Open time
10 o'clock

start the show
Venue
Aina

Prefectural Plaza 4F

Online venue 803 conference room 8th floor
Address
1-7-1 Morioka Station Nishi-dori, Morioka City
Parking
Paid
Access
5 minutes walk from Morioka Station West Exit
Price
Prefectural Plaza 4F Admission Free

Online venue entrance fee 1000 yen

Benefits Online viewing 13:00-16:00

option

Great Ajari Prayer Card 500 yen
Contact
Leading to a dimension that cannot be reached on its own

Light Center Nefer (during domestic and international business trips)

~For those who want to create a future beyond their expectations~

Individual (face-to-face/remote) session

various metaphysical classes

Ensophic Reiki Meditation Handdown

Lightworker Healer Training

Meditation and hands-on events held

(Home parties, stores, corporate dispatch, etc.)


HP
Click here for official website and other related sites

※Event information is subject to change. Please see the official website for details.