Ready to use! Assertion Course "Techniques for Conveying Things That Are Difficult to Say"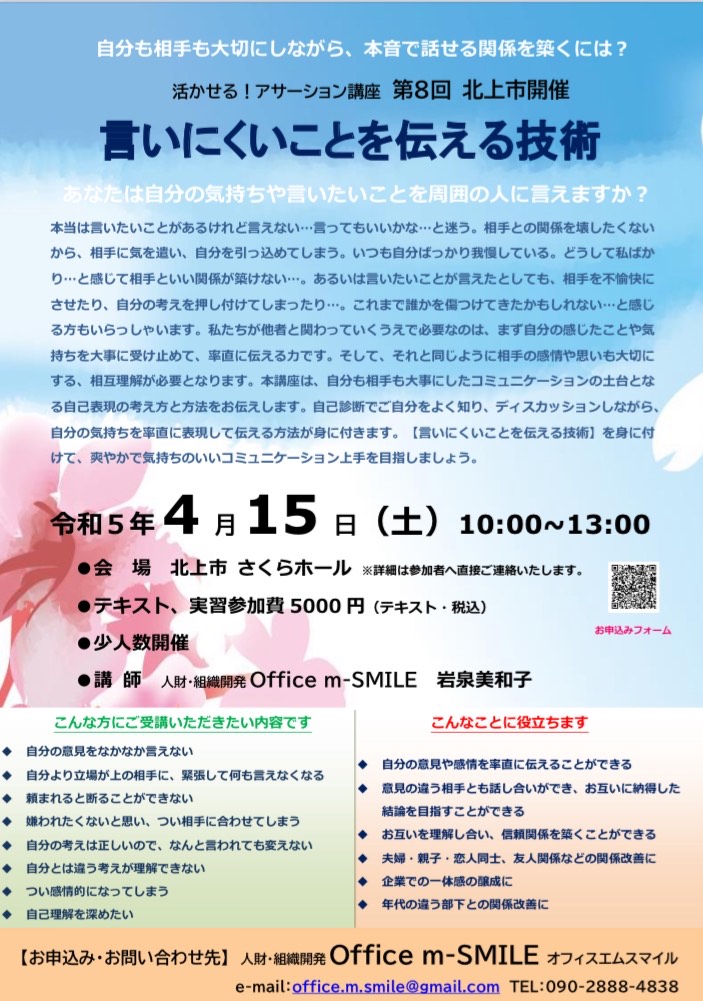 Thank you for visiting our page.
The application deadline for this course is closed.
Thank you very much.
Now in the online age
Acquire the basics of communication "assertion"
Deepen ties with people around you while taking care of yourself and others
Learn about communication
Are you having trouble with this?
Difficulty expressing opinions that differ from those around them

I can't say no when asked

I get so nervous that I can't say anything to people who I think are in a higher position than me

I can't turn down invitations I don't need

I don't want to be hated, so I adapt to the other person

My opinion is correct, so I won't change it no matter what you say

I get emotionally angry with people who think differently than I do
Can you express your feelings and what you want to say to the people around you?
It is important for us to interact with others
First of all, it is the ability to take your feelings and feelings seriously and convey them frankly.
It is also important to be considerate of each other, valuing the feelings and thoughts of others in the same way.
However, we tend to perceive the events that are happening right in front of us negatively.
It is caused by your own misconceptions and misunderstandings.
Because it affects how you communicate with others.
In this course, you will learn about the characteristics of your own way of thinking and understanding through self-diagnosis.
Through a deep reflection on how we communicate with others
Learn how to express yourself openly.
Become a "foundation for communication" that is important to both yourself and others
Acquire the concept and method of assertion together
Build a good relationship with the people around you while communicating what you want to convey.
Something like this helps
You can know the characteristics of your own way of looking at things and thinking

Learn how to express and communicate your feelings openly

You can discuss with people who have different opinions from you, and you can understand how to aim for a mutually agreeable conclusion.

For improving relationships such as couples, parents and children, lovers, and friendships

Fostering a sense of unity in the company

To improve relationships with people in different positions and positions
Comments from those who participated in this course/training
■I used to feel that I was not good at conveying things that were difficult to say by myself, but in today's lecture, I was able to confirm that I had already noticed the quirks of my way of thinking. Instead of thinking that it is difficult, I decided that I would like to simply use assertive words. The DESC method was briefly introduced in training for care managers, but it was not well understood. In the future, it seems that I will be able to organize my head and work on difficult cases. I learned a lot.
■It was a good opportunity to reflect on my own way of thinking, and I learned the words (assertions) I heard for the first time. Depending on the content, there were times when I thought it was a little difficult. I am grateful that it was held in my hometown and I was able to take the course without having to go to Morioka.
■I was able to deepen my understanding of the basics of communication and assertions. I would like to make use of what I learned in a concrete way, which I had learned "somehow" until now. I hope that caring communication will permeate the company in the future. thank you very much.
■The time flew by, but it was a lot of fun and made me realize a lot. In the future, I will try to tell you things that are difficult to say. On the other hand, even if it was difficult to say, I thought it was okay to say it, so I think that was the biggest factor.
■While I was a little shocked that I had so many preconceptions, I realized that communication was not going well because of it.
■Today's lesson was very helpful and I can put it into practice. I was talking to the person next to me, but I was no longer irritated, so I had an image of getting better again. It was a great atmosphere and the time flew by. thank you.
■Unlike stratified training, I strongly felt that it was very meaningful for all staff to attend and discuss the same theme. I think that harassment represented by power harassment is occurring frequently in society (inside companies). We believe that taking this training without hierarchical relationships and establishing communication will lead to solving various problems.
"Technology to convey difficult things"
Date and time Saturday, April 15, 2020 10:00-13:00
Venue Kitakami City Cultural Exchange Center Sakura Hall
Lecturer Office m-SMILE Miwako Iwaizumi
Textbook, self-diagnosis sheet, training participation fee: 5,000 yen (tax included)
We will be holding a small number of people.
*Please also check here About measures to prevent the spread of infection at trainings and lectures held by our company
​Application form for participating in lectures hosted by Office m-SMILE
* We will inform you about the application details and participation fee to the email address you filled in at the time of application.
Therefore, we ask that you set your email address to be able to receive emails from our company.
*Those who are currently working as human resource development consultants, training instructors, or counselors, or are planning to do so in the future.
Please refrain from participating in the same industry.
Holding period
2023/4/15
Open time
10:00~13:00
Venue

Kitakami City Cultural Exchange Center Sakura Hall

Address
2-1-1 Sakuradori, Kitakami City
Parking
Yes (free)
Price
Textbook, self-diagnosis sheet, training participation fee: 5,000 yen (tax included)
Contact
office.m.smile@gmail.com Iwaizumi
HP
Click here for official website and other related sites

※Event information is subject to change. Please see the official website for details.