Body composition measurement meeting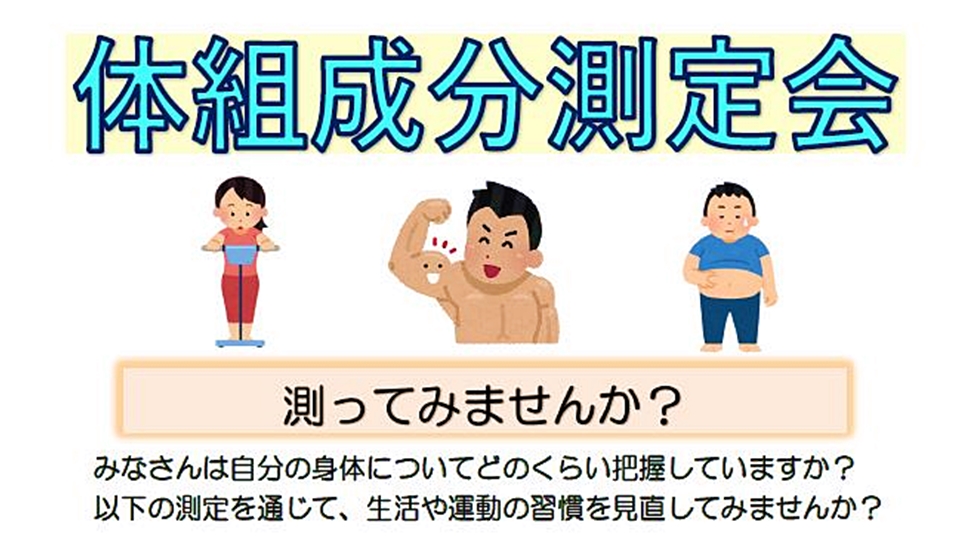 Pre-registration is not required.
Would you like to review your life and exercise habits through measurement?
---
Measurement items: muscle mass, body fat mass, abdominal fat level, visceral fat mass
Target: Elderly people, people with disabilities, general public, students
Other: Please wear clothes that allow you to go barefoot. I will omit advice on the measurement results. If you are interested, please let us know as we will respond at a later date. You may have to wait to avoid crowds.
---
When entering the building, please be sure to wear a mask and have your temperature taken with a thermography camera. If your body temperature is 37.5 degrees or higher, or if you are feeling unwell or have cold symptoms, please refrain from visiting. If you have contracted the new coronavirus infection or become a close contact person, please follow the instructions of public health centers, medical institutions, etc.
Holding period
2023/3/6
Open time
9:30~18:00 (last entry 17:30)
Venue

Fureai Land Iwate Second Table Tennis Room

Address
8-1-3 Sanbonyanagi, Morioka City
Parking
Free (general parking lot: approx. 170 cars / friendly parking lot: approx. 30 cars)
Access
0 minute walk from "Fureai Land Iwate" bus stop, 5 minute walk from "Sanbonyanagi Gongendo" bus stop, 10 minute walk from "Sanbonyanagi" bus stop, 30 minute walk from JR Tohoku Line "Iwate-Ioka Station"
Price
100 yen (as material fee)
Contact
Fureai Land Iwate Sports Guidance Group Tel.019-637-4469
HP
Click here for official website and other related sites

※Event information is subject to change. Please see the official website for details.