<Accepting> Atelier of Tsunoko [Branch Technique (Whole-Body Molding Play)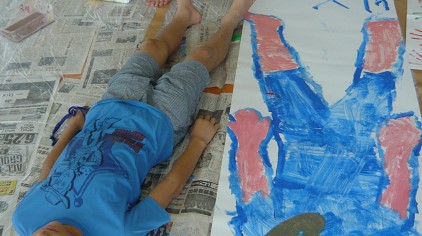 Held on Saturday, September 24, 2022
~A technique of alter ego (whole body mold play)~
After lying down on a large sheet of paper, you will get help from someone at home to draw a model around your body.
Banzai? sideways? Think about what you look like!
Paint clothes, draw a face, and create an alter ego that looks just like you!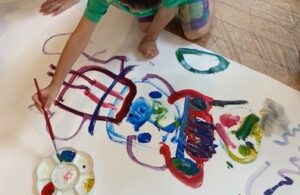 [Materials] paint, paper, scissors
[Effects recommended by children's art therapists] Parent-child contact, self-observation, interest in size, shape, and color, color mixing, expressiveness, curiosity, ability to enjoy, and ability to play thoroughly.
There are no role models or correct answers for play, so if you create an environment where children can leave things up to them, they will be able to have fun with their interests and curiosity and accumulate experiences and experiences.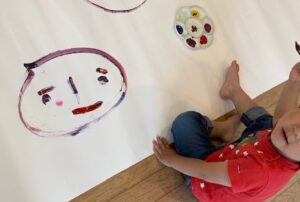 ● Target: 3 to 9 children
What to bring: towel, change of clothes
* Play in a larger room than usual.
*Please come in a style that you don't mind getting dirty.
* There is also a "When you get bored, it's over" option.
*Please take measures to prevent infection, such as wearing a mask.
Tsunoko Atelier LINE official account
https://lin.ee/d1s98Ei
Holding period
2022/9/24
Open time
10:00-11:30
Venue
Kitakami City Cultural Exchange Center Sakura Hall

1st floor large atelier 1
Address
2-1-1 Sakura-dori, Kitakami-shi
Parking
Yes (free)
Price
500 yen per child (free for children under 3 years old)
Contact
How to apply

① LINE https://lin.ee/d1s98Ei

(You can also register on LINE from the homepage)

② Instagram message

https://instagram.com/tunoko._.no._.atelier

③ Mail form from the homepage



Click here for other inquiries

Tsunoko's Atelier (Yoshiko Shimada)

withcolorshimada@gmail.com

080-5570-8140
HP
Click here for official website and other related sites

※Event information is subject to change. Please see the official website for details.