8/27 (Sat) Morning, Morioka City Cultural Lecture "I want to be a compassionate person" Buddha preaches, seven compassion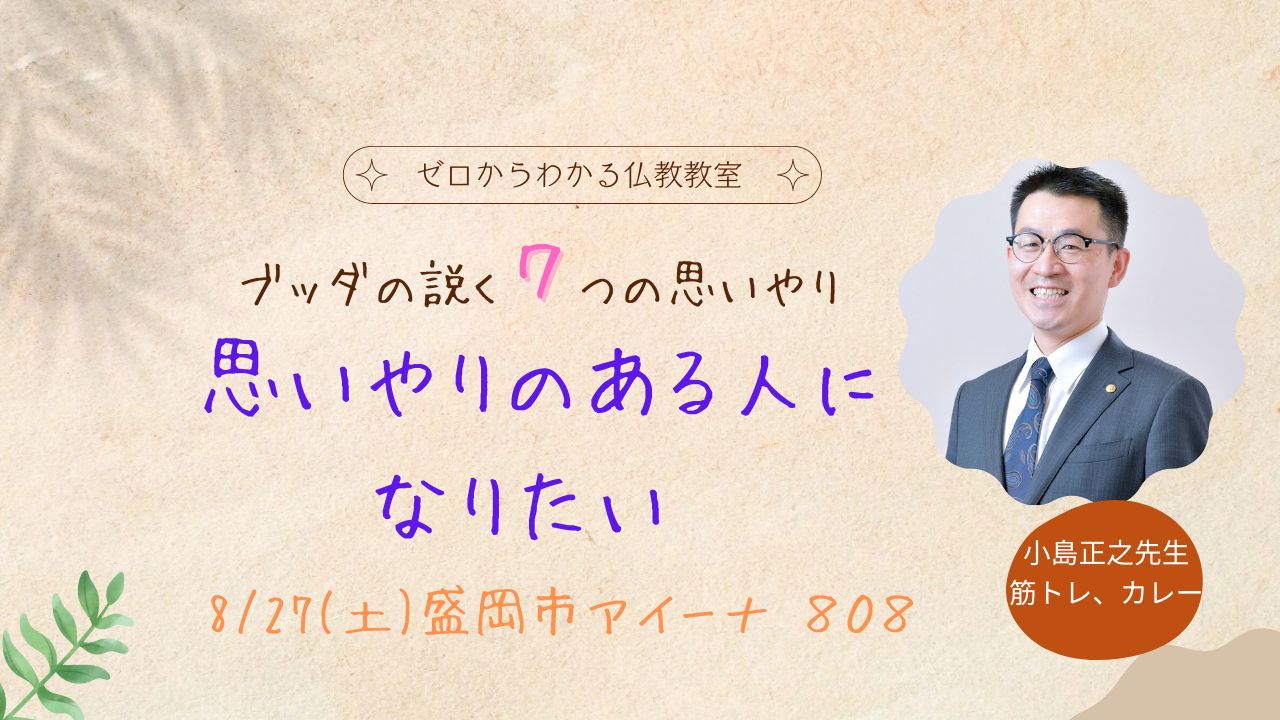 "I want to be a caring person"
Buddha preaches seven compassion
——————————————
Recently, I feel that there is a lot of disturbing news.
I think some people would like to have more compassion for each other.
Buddha is taught seven compassions.
I hope we can practice each other as much as possible.
——————————————
◆ Date and time ◆
Saturday, August 27
10: 00-12: 00
——————————————
◆ Venue ◆
Morioka City Aina 8th Floor 808
Location: 1-7-1 Nishidori, Morioka Station, Morioka City
Access: 5 minutes walk from JR "Morioka Station"
——————————————
◆ Participation fee ◆
Feel free to put in your feelings.
(Estimated from 1,000 yen)
——————————————
◆ Impressions of participants ◆
・ I knew the name Shaka-sama,
What kind of person and what kind of person was taught
I was ashamed to say that I didn't understand at all.
I would like to use this as a good opportunity to learn from now on.
(Woman in her 50s)
・ I was surprised to learn that Shaka teaches about the importance of compassion.
I was impressed. (Male in his 60s)
——————————————
◆ Lecturer Profile ◆
Professor Masayuki Kojima (Buddhist instructor)
Born in Saitama prefecture. It has been 11 years since I became a Buddhist teacher.
We hold more than 300 lectures a year in various parts of Hokkaido and Tohoku.
The motto is "easy to understand even for first-time users".
Delivered a YouTube video "Michinoku Buddhist Instructor" where you can learn Buddhism on the Internet.
——————————————
Click here for the introductory video ↓
https://www.youtube.com/watch?v=lxcQiWEocfI&t=328s
Holding period
2022/8/27~2022/8/27
Open time
10:00-12:00
Venue

Morioka City Aina 8th Floor 808

Address
1-7-1 Nishidori, Morioka Station, Morioka City
Price
Feel free to put in your feelings.

(Estimated from 1,000 yen)
Contact
Komatsu m.komatsu2@gmail.com