7/18 (Monday / holiday) Morning / Noon / Morioka City Cultural Lecture "Where does the feeling of loneliness come from?" 』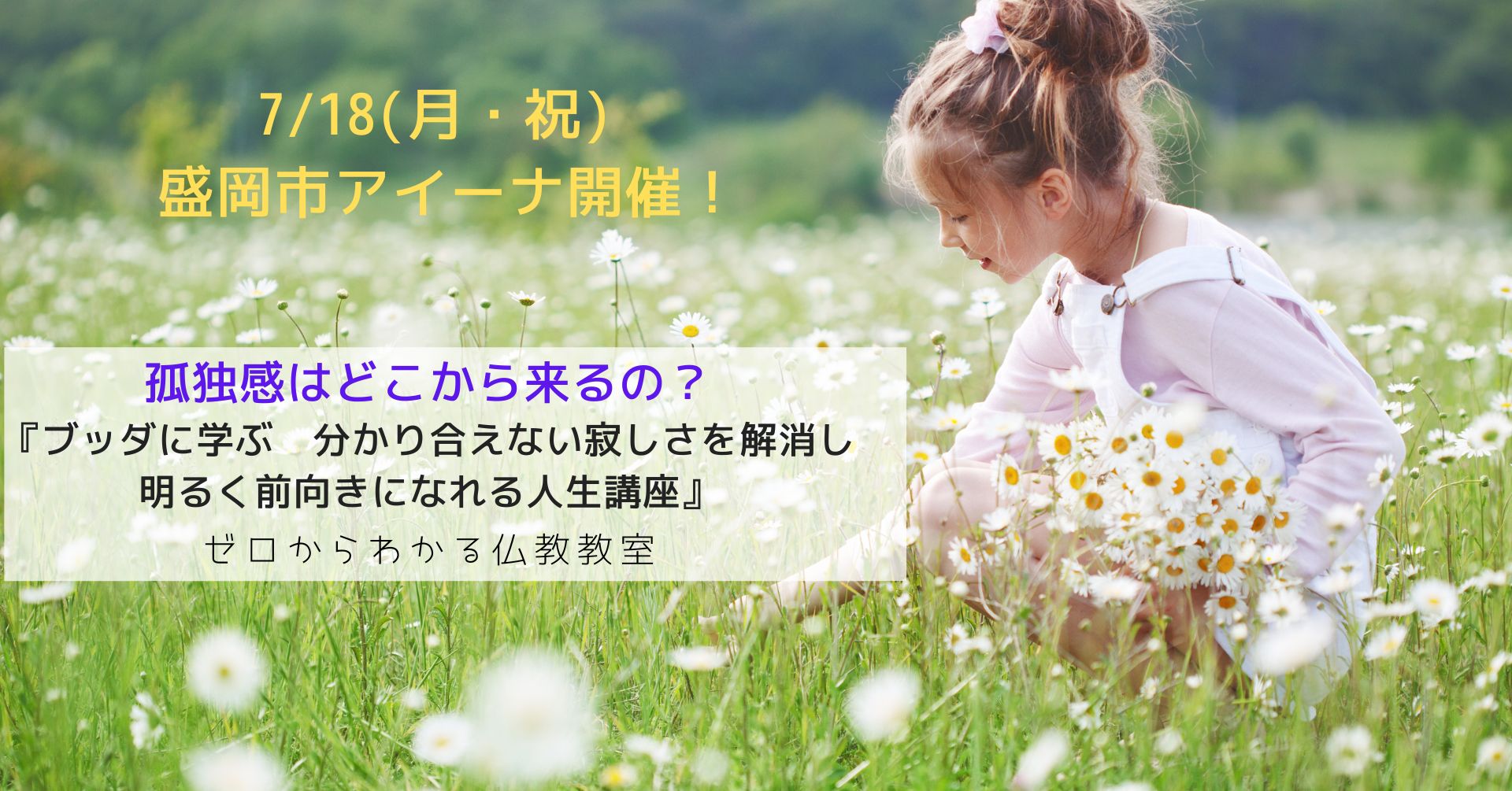 Where does the feeling of loneliness come from?
Learn from Buddha "Eliminate the loneliness you don't understand,
A bright and positive life course "
_______________________________
"I want you to understand, but I can't understand."
Don't you worry? The more you know the other person
Those who are disappointed and feel lonely when they understand the difference in values.
How can we get to know each other?
Eliminate the loneliness you don't understand,
Why don't you listen to Buddha's life course that makes you bright and positive?
_______________________________
July 18 (Monday / holiday)
10: 30-12: 00 (Part 1)
13: 30-15: 00 (Part 2)
_______________________________
◆ Venue ◆
Morioka City Aina 8th Floor 817
Location: 1-7-1 Nishidori, Morioka Station, Morioka City
Access: 5 minutes walk from JR "Morioka Station"
_______________________________
◆ Participation fee ◆
Feel free to put in your feelings.
(Estimated from 1,000 yen)
_______________________________
◆ Impressions of participants ◆
・ I was worried about human relationships and was thinking about changing jobs at one point,
I understood well that changing my mind was the first thing to do. Knowing this mindset,
In an instant, my thinking changed.
I have been able to clear up my worries about relationships and concentrate on my work.
I would love to tell my friends who are worried.
(Woman in her 50s)
・ It was very helpful in real life.
The suffering of having to meet someone you don't want to meet.
For me, I have to meet my unpleasant boss.
In order to get over this unpleasant thing without running away
I learned that it is important to keep my mind in order at three points.
I will continue to learn and practice.
(Male in his 60s)
_______________________________
・ Mr. Makoto Akashi Born in 1974, from Kurobe City, Toyama Prefecture.
It has been 21 years since I became a Buddhist teacher. Currently, mainly in Toyama,
Active in Tohoku, Niigata, Sapporo and Kyushu.
Invited from all over the country and Brazil
He has more than 300 lectures every year.
Launched "Online Buddhist Academy (OBA)"
The video is distributed with the motto of being easy to understand.
https://youtu.be/1uZSJc8OLZk
・ Professor Ai Hasegawa Born in 1989, from Hokkaido. Studied psychology at university
Encounter Buddhism while pursuing the heart. While working as a psychologist after graduation
Active as a founding member of the "Buddhist Class from Zero" in Sendai City.
Starting this year, he will hold a course as a Buddhist instructor. I'll do my best!
_______________________________
| | |
| --- | --- |
| Holding period | 2022/7/18~2022/7/18 |
| Open time | 10:30-15:00 |
| Venue | Morioka City Aina 8th Floor 817 |
| Address | 1-7-1 Nishidori, Morioka Station, Morioka City |
| Price | 1000 yen |
| Contact | Komatsu m.komatsu2@gmail.com |