Adler Psychology Elm Encouragement Lecture ~ To live as you are ~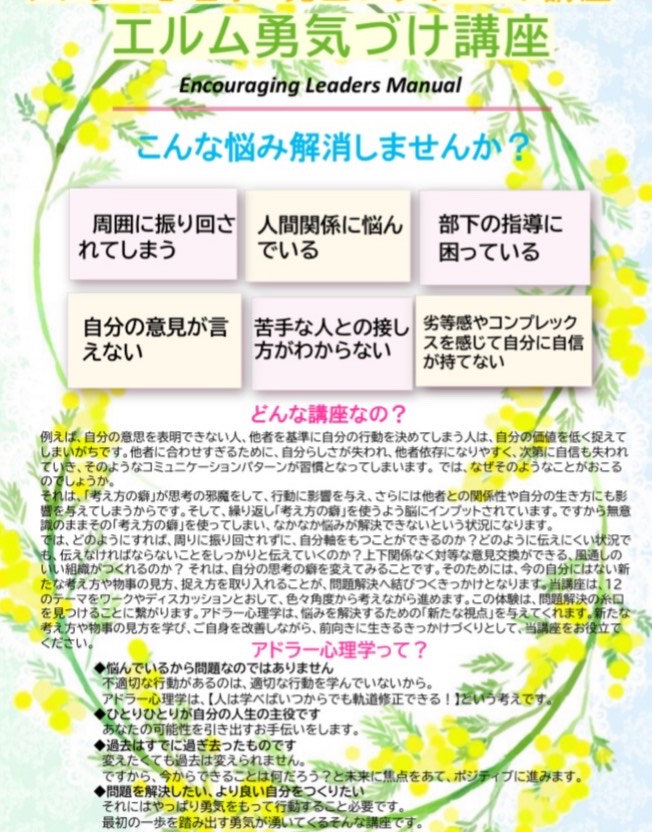 ●Yahaba Town Holidays (starting November 13th) have closed for participation applications.
Thank you very much.
●Yahaba Town Weekday event (starting on October 26th) has closed the application for participation.
Thank you very much.
●We are currently accepting applications for the event held on a holiday in Yahaba Town (starting on November 13th).
We will provide you with a valuable time to get to know yourself.
Due to the small number of participants, the reception may be closed even before the deadline.
Please apply as soon as possible.
● Announcement of changes to the date and time of the 2nd event
Before change: Sunday, December 11, 2022 → *After change: Sunday, December 18, 9:00 to 12:00


Are you having trouble with this?



​・ Painful because of past events



- Lack of self-confidence and self-denial



・Feeling inferiority complex and inferiority complex compared to other people



・For some reason, relationships with people are painful​



・Feel hard to live



・I have trouble with relationships



-Poor relationship with spouse and children



・ I am trapped in anxiety



[Let's find the source of the trouble]



For example, people who cannot express their own opinions, or who decide their own actions based on the standards of others, tend to have a low self-esteem.

Because they conform too much to others, they lose their individuality, are prone to dependence, and gradually lose their self-confidence.

And that communication pattern becomes a habit.

So why is this happening?

It is said that it is based on "the habit of thinking".

This "thinking habit" that we all have gets in the way and affects how we live and how we relate to others.

Moreover, since it is input to the brain to use it all the time, it will unconsciously use the "way of thinking" repeatedly.

That's what keeps me worried.

However, most people don't realize that it's a way of thinking that's so familiar to them that it's causing them problems.

This is the reason why your worries are not resolved, you continue to worry for a long time, and you spend your time with anxiety.





[Adler psychology that gives various perspectives]





So how do we get rid of our worries and anxieties?

It's all about changing your thinking habits.

To that end, let's learn and incorporate new ways of thinking, ways of looking at things, and ways of perceiving things that you don't have now.

For example, if you look at it from different angles, the same event will look different.

By seeing aspects that were not visible before, it leads to awareness and provides clues to problem solving.

Adlerian psychology is a practical psychology that can be used immediately in life, providing various ways of looking and understanding.

By learning in this course, you will find a new way to solve the problem.






[What kind of psychology is Adler psychology? ]



It is a positive, future-oriented, psychology for action.

Adlerian psychology is a practical, highly positive psychology that focuses on the future rather than looking into the past or causes.
 

It's not a problem because you're worried





Inappropriate behavior exists because we have not learned the appropriate behavior.

Adler psychology is [People can correct their trajectory at any time if they learn! ] is the idea.





◆Each person is the main character of their own life





Your life can decide how you live it.

Let us help you unlock your potential so you can move forward.





The past is already past





Even if you try to change the past by sticking to past events, you can't change it.

What can we do now? With that in mind, we will focus on the future and move forward.





◆ I want to solve problems, I want to create a better self





It takes courage to act.

This course offers a variety of work such as pair, group, and individual work so that you can learn while experiencing [encouragement], which is one of the theories of Adler psychology.

Through learning and sharing while experiencing different themes for each of the 12 chapters, you will acquire new ways of seeing and understanding things that you do not currently have.
Feedback from participants
​■After participating in this event, I discovered and learned a lot. It seems that I will be able to face the themes of "What kind of person am I?" and "How do I want to live?" I think that there will be various difficulties and worries in the future, but first of all, I would like to see this as an opportunity to put into practice what I have learned. I'm really thankful to you.
​■Thank you for starting the course on Adler psychology in Morioka. (There is not much to learn in Iwate.) I would like to thank you for taking the time on the final day and teaching me to the end as planned. First of all, remember the words that come out, look at things carefully, listen carefully, and tell the other person in your own words. I would like to help isolate the issue.
​◆We are now in an age where personal dignity is considered more important than in the past. I believe that we are entering an era in which we encourage individuals with warm words, which is the complete opposite of the "strengthen your mental strength through harsh words and experiences''.
What left an impression on me this time was the work of "Yoi-dashi". By exchanging pleasant words with each other, I realized that I was able to realize my good qualities and the positive evaluation of the other party, and that my self-affirmation improved. ​From now on, I would like to be conscious of and practice to increase the number of "good things" instead of "bad things".
◆I am glad that this course teaches you how to use examples in an easy-to-understand manner in your daily life. I would like to practice it so that I can understand it more deeply. Before changing other people, I would like to review my own way of thinking and be able to take everything positively. Everyone who participated in the course was having fun, and I feel like the time passed quickly. I'm really thankful to you.
◆It was great to learn about Adler's encouragement through various practical training. It's a way of thinking that not only changes one's own feelings, but also gives something to others, so I want to incorporate it into my real life. Thank you for all the help you have given me. Thank you very much.
◆Adler psychology is very deep. From now on, I want to be the kind of person who can give courage to others when they are at a loss, when they feel uneasy about themselves, or when others are depressed. Once again, I would like to accept the negative habits of my way of thinking and live my life with actions and words so that I can reconsider positively. It was a really good course.
Adler Psychology Elm Encouragement Course
[Venue] Yahaba-cho Yaha Park *Details will be communicated directly to participants.
[Holding time] 13: 00-16: 00
[Schedule] All 4 consecutive lectures
1st: November 13, 2020 (Sunday)
2nd: Sunday, December 11, 2022 → *After change: Sunday, December 18, 9:00 to 12:00
3rd: Sunday, January 15, 5th year of Reiwa
4th: Sunday, February 19, 2023
[Course content]
Check-in About Adler Psychology / How to learn this course
Chapter 1 Be aware of the existence of various viewpoints and ways of thinking
Chapter 2 Be a good listener
Chapter 3 Let's devise ways of speaking
Chapter 4 Dealing well with emotions
Chapter 5 Clarify your style
Chapter 6 Be aware of self-talk
Chapter 7 Be aware of your purpose
Chapter 8 Take charge of your life
Chapter 9 Rediscover your goodness
Chapter 10 Re-recognize the value of nature
Chapter 11: Keep things positive
Chapter 12 Encouragement
Tuition fee: 36,000 yen (including participation fee for 4 times, materials, worksheet fee, and venue fee)
* Detailed information will be sent to the email address you entered when you applied.
*If you would like a different venue or schedule, please contact us directly.
Application deadline: Friday, November 11, 2020, 17:00
<About the instructor>
We have been vaccinated against corona, inspected, and confirmed safety, and we are responding. Please rest assured.
<Infection prevention measures> Office m-SMILE infection prevention measures
* Please refrain from participating in the same industry, such as training instructors and counselors.
In the course, we will carefully listen to each person's story and recommend it.
Let's aim for mental health by feeling, thinking, noticing, and looking carefully at ourselves.
Holding period
2022/11/13~2023/2/19
Open time
Scheduled to end each time from 13:00 to 16:00
Venue

Yahaba Activity Exchange Center Yaha Park

Address
1-12-1 Ekihigashi, Yahaba-cho, Shiwa-gun
Parking
Yes (free)
Contact
office.m.smile@gmail.com Iwaizumi
HP
Click here for official website and other related sites

※Event information is subject to change. Please see the official website for details.