Reiwa 4th year nail technician training course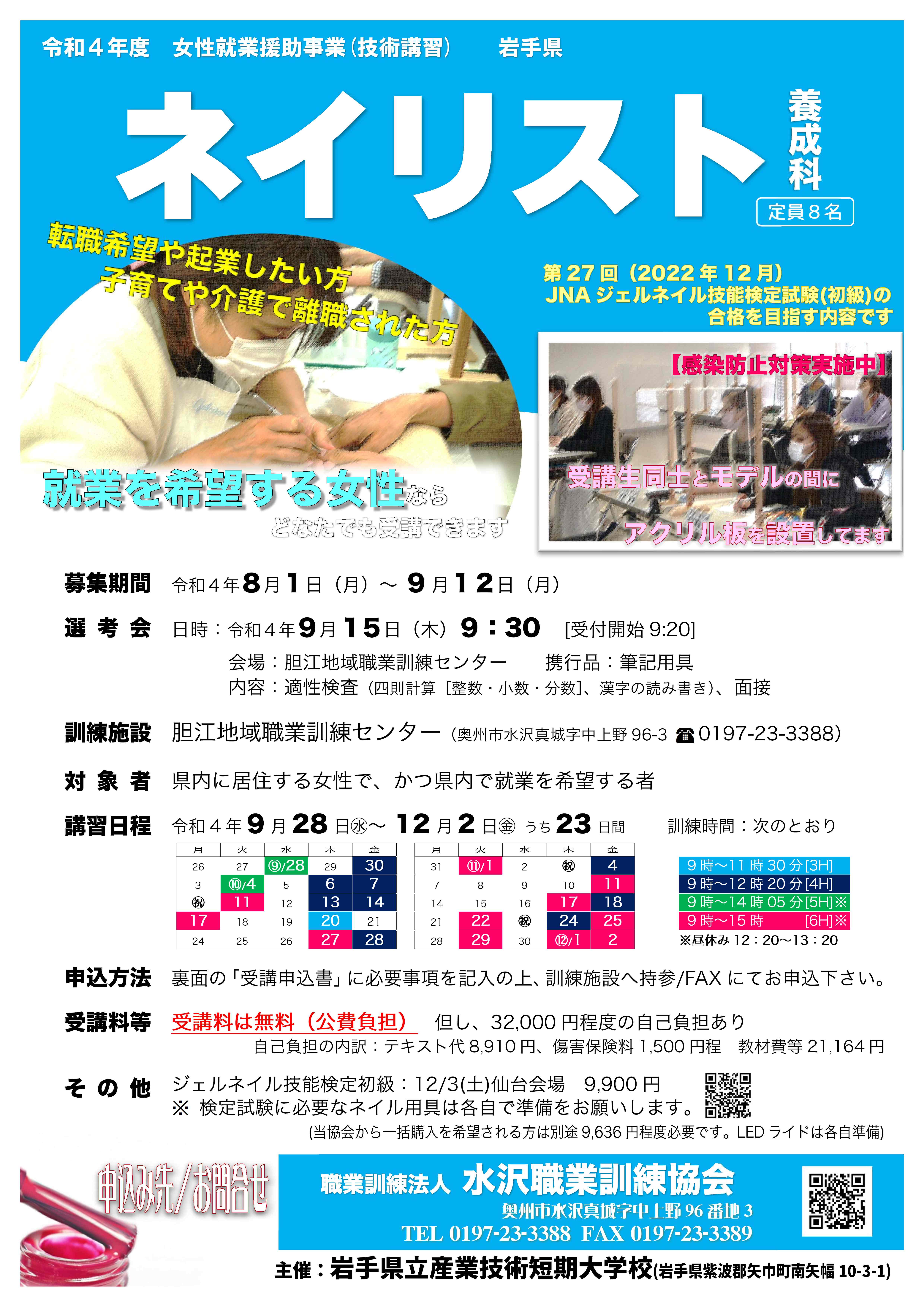 This is a nail technician training course for "Women's Employment Support Project (Technical Training)" conducted by Iwate Prefecture.
Those who wish to change jobs or start a business, or those who have left their jobs due to child-rearing or long-term care and wish to re-employ, can take this course.
The course period is 23 days from September 28th to December 2nd. Please see the leaflet for details.
There is no tuition fee, but you will be responsible for the textbook fee, exam fee, and accident insurance fee.
The application period is from August 1st to September 12th, but please feel free to contact us.
To apply, please fill out the application form downloaded from nail.pdf (ok-vts.ac.jp) and fax or bring it with you.
Please contact us for details.
Holding period
2022/9/28~2022/12/2
Open time
Class hours 9:00 am to 3:00 pm The end time will change.
Another schedule
Please see the leaflet for the time and schedule for 23 days.
Venue

Bijiang Regional Vocational Training Center

Address
96-3 Nakauwano, Mizusawaku Shinjo, Oshu City, Iwate Prefecture
Parking
100 units
Access
6 minutes walk from Iwateken Kotsu Mizusawa High School bus stop, 5 minutes by car from JR Tohoku Main Line Mizusawa Station, 6 minutes by car from Oshu Smart Change on Tohoku Expressway, 15 minutes by car from Mizusawa IC on Tohoku Expressway
Price
The tuition fee is paid by public expenses, and the textbook fee, accident insurance fee, and examination fee are paid by yourself.
Contact
Vocational Training Corporation Mizusawa Vocational Training Association Person in charge: Sato

☎0197-23-3388 FAX0197-23-3389

Email mizusawa02@noukai.com
HP
Click here for official website and other related sites

※Event information is subject to change. Please see the official website for details.