Summer Memory-The distant feelings are like a breeze in the shade of a tree-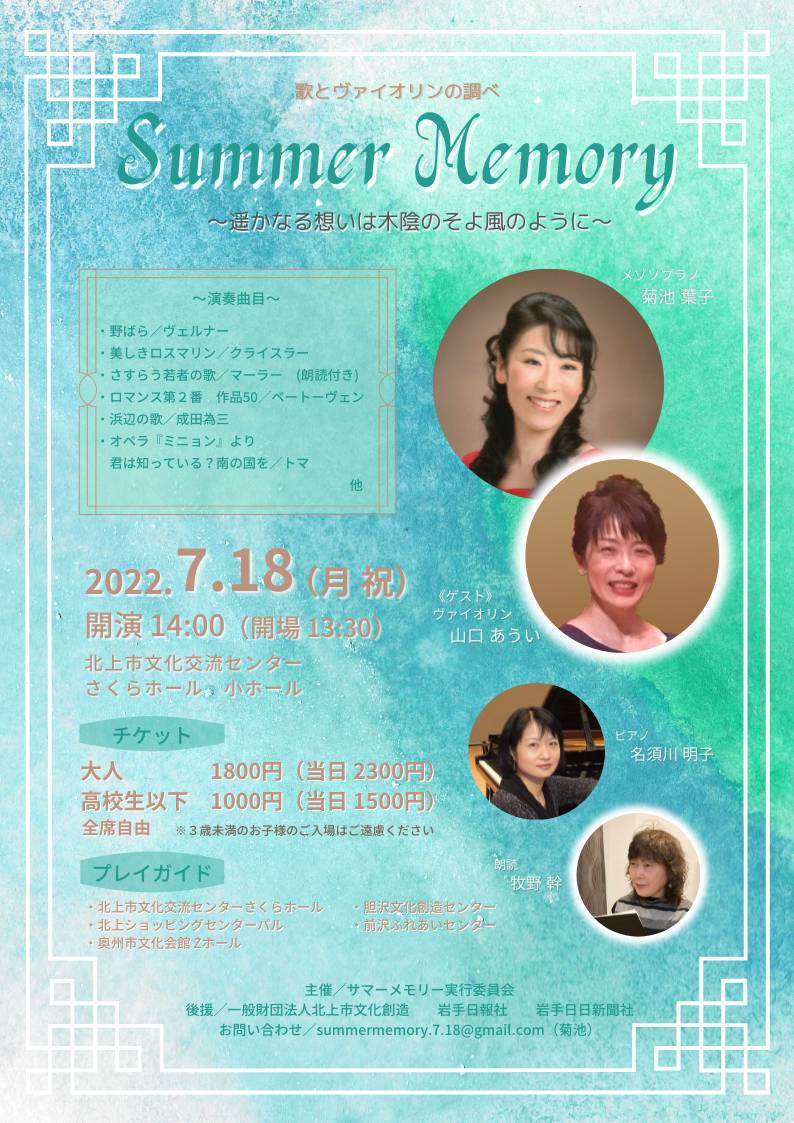 Song and violin research
Have a refreshing time on a hot summer afternoon
A concert centered on songs by mezzo-soprano Yoko Kikuchi and pianist Akiko Nasugawa.
From those who love classical music to those who are attending vocal concerts for the first time, we will deliver music that will make you feel comfortable and refreshing by the time you leave the venue.
I think that you can enjoy songs in foreign languages more closely by listening to not only the story of the performer but also the reading by Miki Makino.
In addition, we will welcome Aui Yamaguchi, a violin, as a guest to add color to the concert.
In the first half, we will deliver various patterns of love of young people, focusing on German songs.
In the second half, we will deliver songs that make you want to imagine your feelings for your hometown and various stories related to it, including familiar Japanese songs.
It's summer in Iwate, which is getting hotter every year, but why not spend a pleasant time with the sounds of mezzo-soprano and violin?
Tickets will be on sale after May 20th.
Please come visit us.
Holding period
2022/7/18
Open time
Opening at 13:30

Start at 14:00
Venue

Kitakami City Cultural Exchange Center Sakura Hall Small Hall

Address
2-1-1, Sakuradori, Kitakami-shi
Parking
Have
Price
Adult 1800 yen (2300 yen on the day)

High school students and younger 1000 yen (1500 yen on the day)

* Children under the age of 3 are not allowed to enter
Contact
Summer Memory Executive Committee

summermemory.7.18@gmail.com