Kenji Miyazawa Ihatov Museum Exhibition "Yuko Kamezawa Pressed Flower Exhibition II Scenery of Ihatov"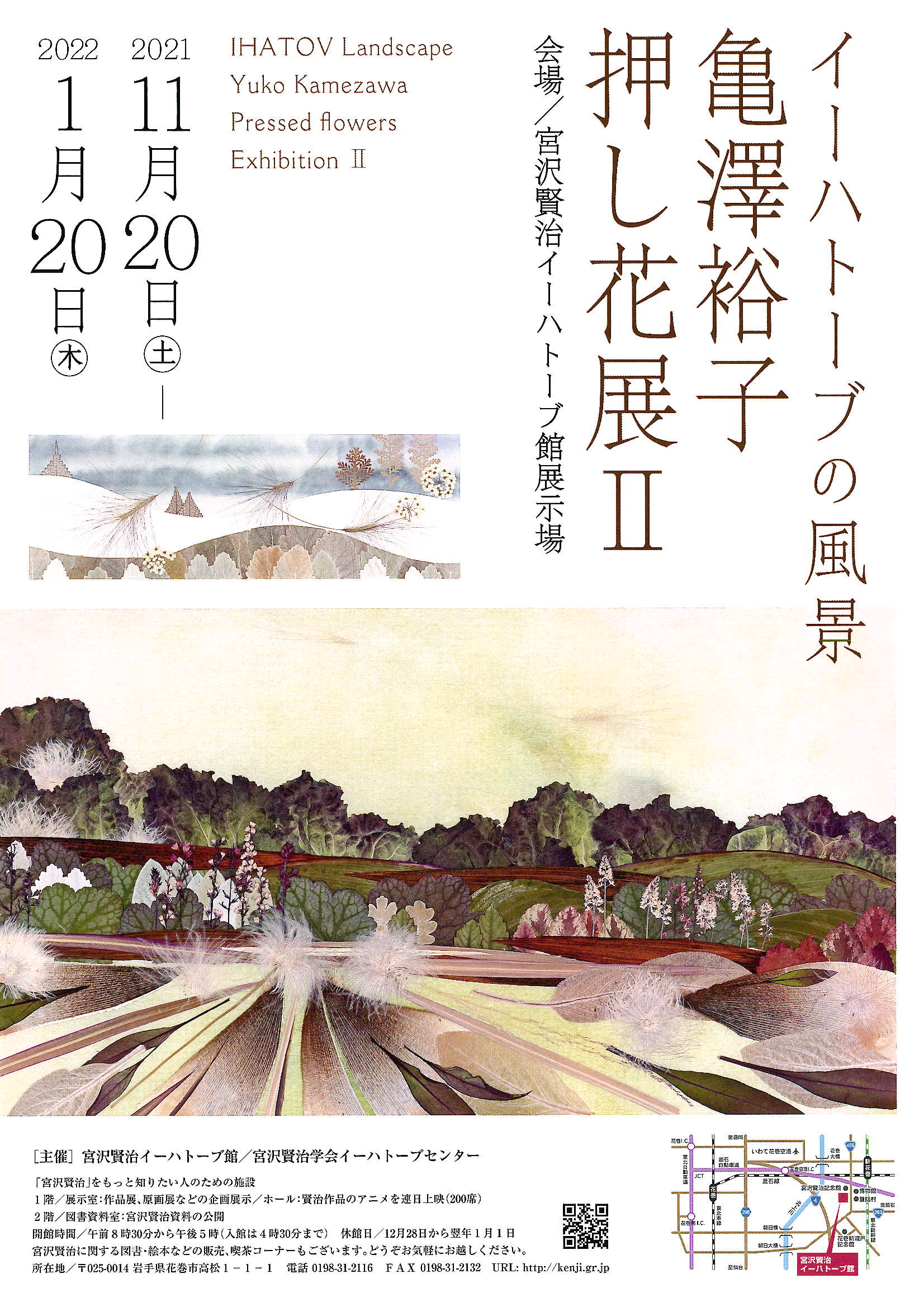 We are holding an exhibition of works as a sequel to the "Yuko Kamezawa Ihatov Scenery" Flower Owl and Pressed Flower Exhibition "held in 2005.
You can see works that express the world of Kenji Miyazawa with pressed flowers, such as "On the Fourth Day of the Narcissus" and "Footsteps of the Ten". At the venue, there is also a monument that expresses "Ihatov's view of the seasons of the world" by Yuko Kamezawa.
Please enjoy the "Kage and Hikari no Hitokusarizu" woven by flowers.
greeting
It has been 30 years since I first encountered flower design and pressed flowers.
And it has been 15 years since the exhibition was held for the first time at the Ihatokan.
We would like to express our sincere gratitude to all the people concerned for holding the second exhibition.
One leaf and one flower create various works.
Every process from sprouting to dying has its own beauty, which can be seen more clearly by making pressed flowers.
Many of the plants used in the work are familiar to us, so I'm sure there are many flowers that everyone has come across somewhere.
Yuko Kamezawa
Holding period
2021/11/20~2022/1/20
Open time
From 8:30 am to 5:00 pm (admission is until 4:30 pm)
Venue

Kenji Miyazawa Ihatov Hall Exhibition Hall

Address
Hanamaki City Takamatsu Dai 1 Chiwari 1-1
Parking
21 units (free)
Access
Approximately 2km from Shin-Hanamaki Station on the Tohoku Shinkansen, 3 minutes by car, 4 minutes to Iwateken Kotsu Ito-Yokado, 5 minutes on foot after getting off at "Kenji Memorial Hall Exit"
Price
free
Contact
Kenji Miyazawa Ihatov Hall

Phone: 0198-31-2116

Fax: 0198-31-2132
HP
Click here for official website and other related sites

※Event information is subject to change. Please see the official website for details.