Agricultural Science Museum Special Exhibition "Southern Cow Supporting the Salt Road"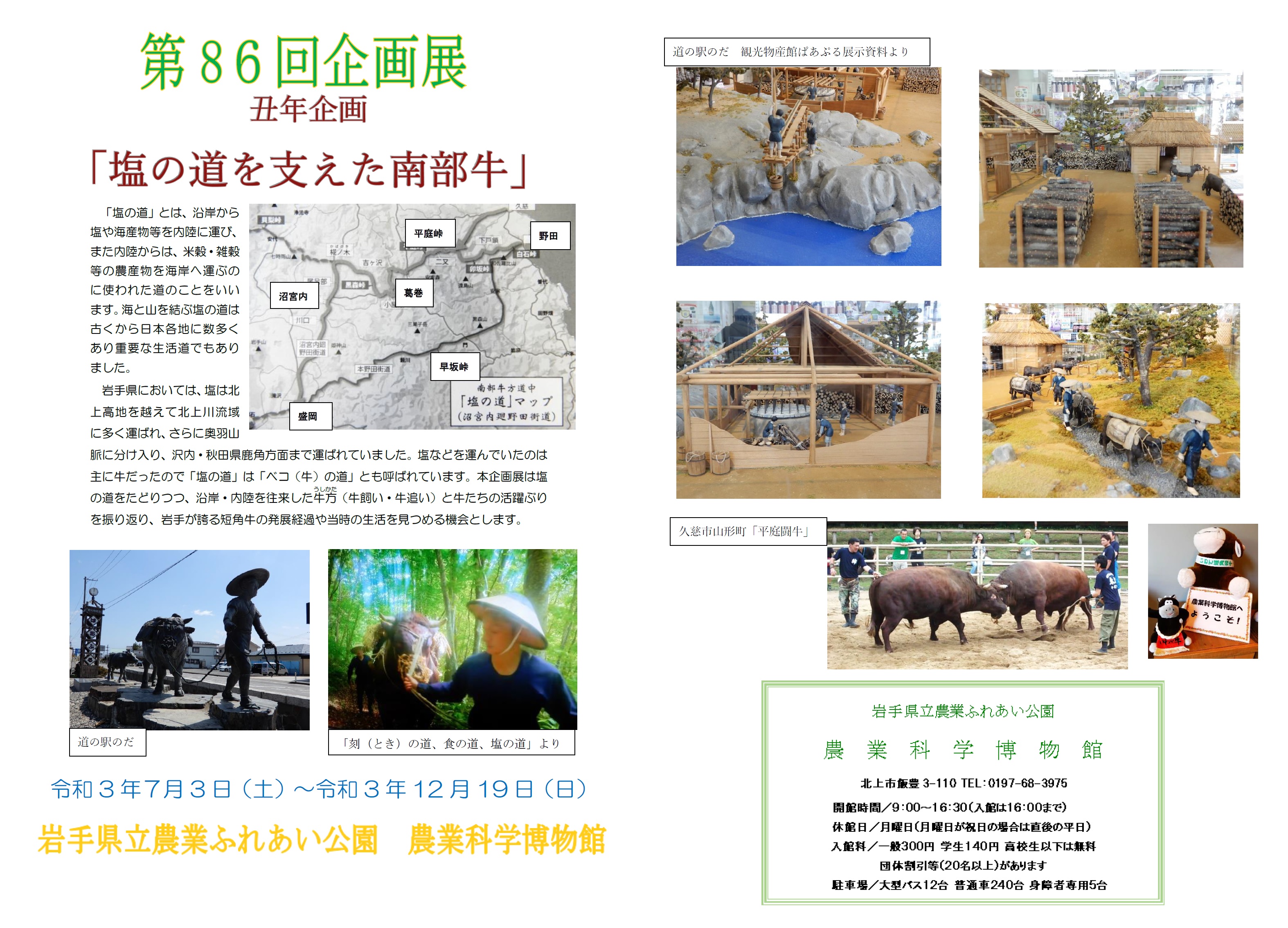 The "salt road" is the road used to carry salt, marine products, etc. from the coast to the inland, and from the inland, to carry agricultural products such as rice grains and miscellaneous grains to the coast. Since ancient times, there have been many salt roads connecting the sea and mountains throughout Japan, and they have been important lifestyle paths.
In Iwate Prefecture, a large amount of salt was transported over the Kitakami Highlands to the Kitakami River basin, further divided into the Ou Mountains, and transported to Sawauchi and Kazuno in Akita Prefecture. Since it was mainly cows that carried salt etc., "Shio no Michi" is also called "Beko (cow) road". This special exhibition is an opportunity to look back on the activities of cows (cowmen and cow chasers) and cows who came and went along the coast and inland while following the salt path, and to look at the development process of shorthorn cows that Iwate is proud of and the life at that time. will do.
* The holding period, which was held until September 30th (Thursday), will be extended to December 19th (Sunday).
Holding period
2021/7/3~2021/12/19
Open time
Opening hours: 9:00 to 16:30 (admission is until 16:00)

Closed: Monday (If Monday is a national holiday, the weekday immediately after)
Venue

Iwate Prefectural Agricultural Fureai Park Agricultural Science Museum

Address
3-110 Iitoyo, Kitakami City
Parking
12 large buses, 240 ordinary cars, 5 for the physically challenged
Price
Admission: General 300 yen, students 140 yen, free for high school students and younger

* There is a group discount (20 people or more).
Contact
Iwate Prefectural Agricultural Fureai Park Agricultural Science Museum

TEL: 0197-68-3975
HP
Click here for official website and other related sites

※Event information is subject to change. Please see the official website for details.