Kenji Miyazawa Ihatovkan Exhibition "Kenji Miyazawa and Onomatopoeia"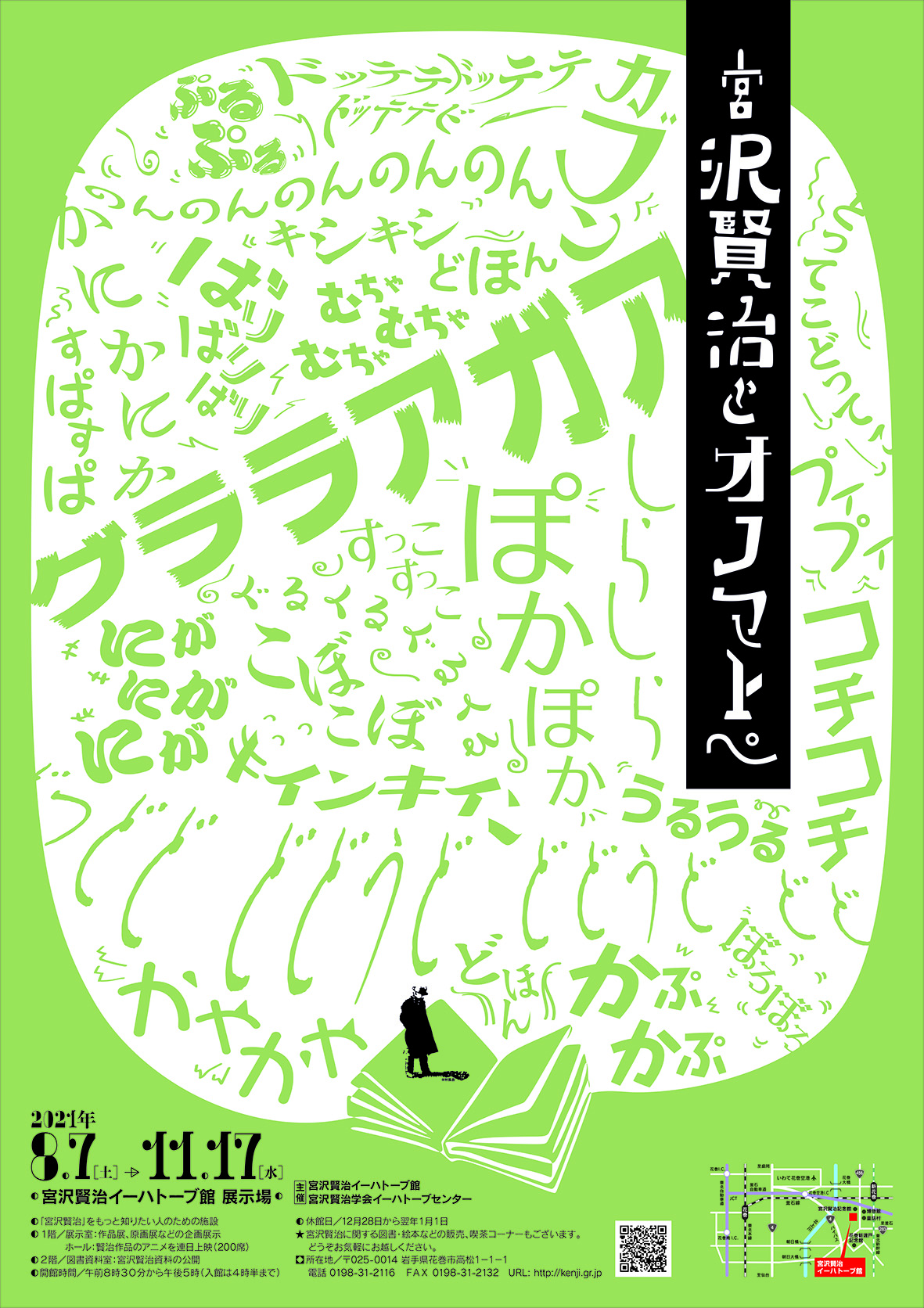 A panel display of the lecture outline of the Kenji Miyazawa Society Ihatov Center Summer Seminar held on Saturday, August 7, 3rd year of Reiwa, introduces "onomatopoeia," which can be said to be one of the features of Kenji Miyazawa's work.
Swaying Kenji Onomatopoeia- "Properly" "Jitto / Jitto"-
Masahiro Ono (Professor, Faculty of Letters, Meiji University)
Comparison of "Hearing Soshi" and Kenji's onomatopoeia expression Megumi Kawasaki (Associate Professor, Faculty of Commerce, Nagoya Gakuin University)
Comparison of dialect materials from the same period as Kenji Miyazawa's work-Focusing on onomatopoeia-
Akiko Takeda (Ferris University / Iwate University (part-time lecturer))
Kenji Miyazawa and Chuya Nakahara-Onomatopoeia-
Atsushi Kurihara (Professor Emeritus, Jissen Women's University)
Holding period
2021/8/7~2021/11/17
Open time
From 8:30 am to 5 pm (admission is until 4:30 pm)
Venue

Kenji Miyazawa Ihatov Hall Exhibition Hall

Address
1 Chiwari Dai 1 Chiwari, Takamatsu, Hanamaki City
Parking
21 units (free)
Access
Approximately 2km from Shin-Hanamaki Station on the Tohoku Shinkansen, 3 minutes by car, 4 minutes for Iwateken Kotsu Ito-Yokado, 5 minutes on foot after getting off at "Kenji Memorial Hall Exit"
Price
free
Contact
Kenji Miyazawa Ihatov Hall

Phone: 0198-31-2116

Fax: 0198-31-2132
HP
Click here for official website and other related sites

※Event information is subject to change. Please see the official website for details.