[Cancelled] Iwate Employment Matching Fair IV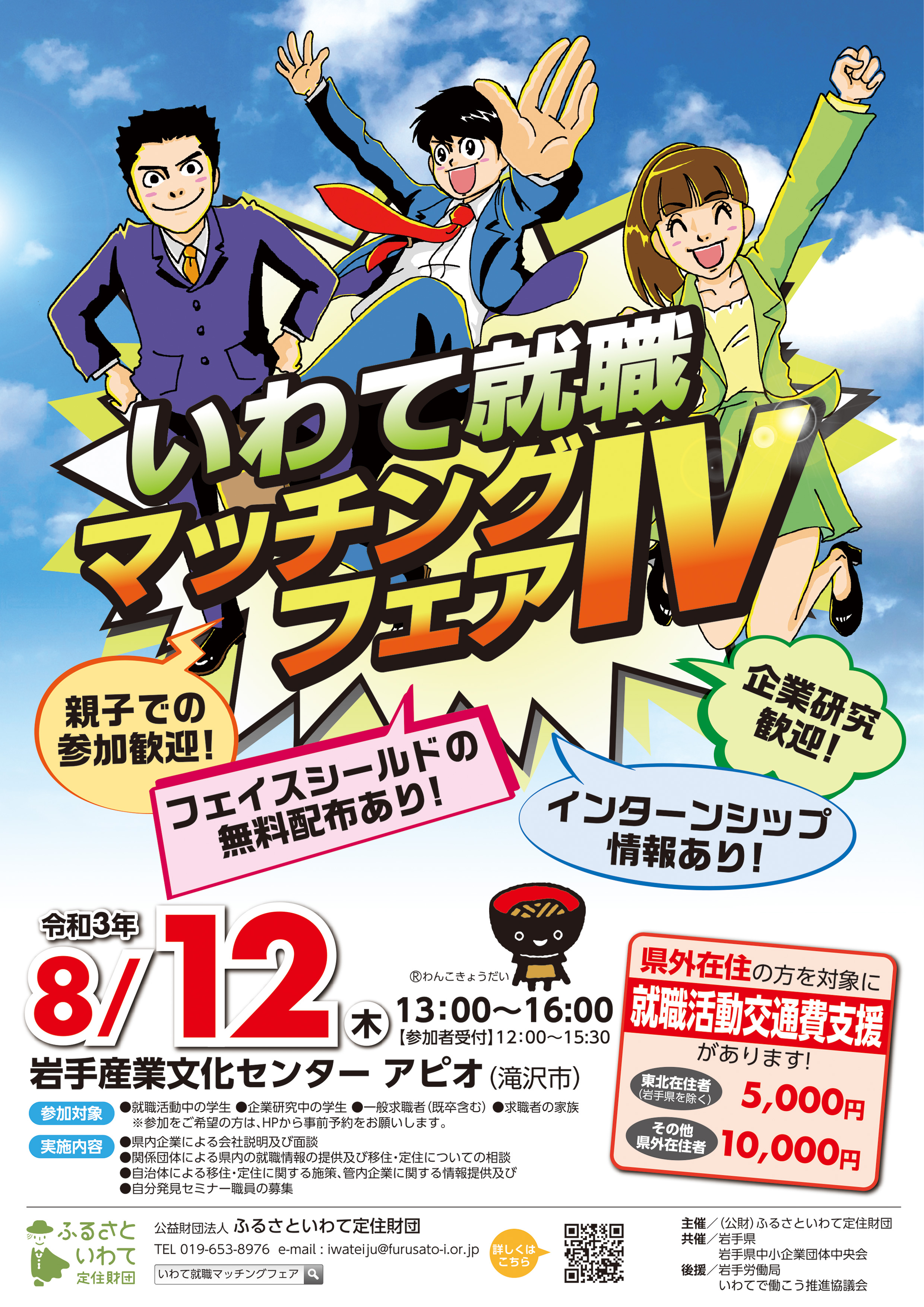 The "Iwate Employment Matching Fair IV" scheduled to be held on 8/12 (Thursday) will be canceled in light of the current situation where infection with the new coronavirus is rapidly expanding nationwide, including Iwate Prefecture, at an unprecedented rate. We will inform you that we have done so.
In addition, we are creating a booklet containing the latest job information of about 120 companies that were scheduled to exhibit at this fair. This booklet will be sent free of charge to all those who have pre-registered for this event. In addition, we will also send it free of charge to those who wish to ship it, so please contact the Foundation by email or phone. In addition, the website of the Foundation always publishes company information of about 900 companies, so please make use of it.
In addition, following this cancellation, Iwate Prefecture has introduced the following alternative measures, so please use them for your future job hunting activities.
◆ Conducting online interviews with companies by Job Cafe Iwate
Job Cafe Iwate will coordinate the opportunity for online interviews with the desired company.
If you wish, please contact us at the following contact information.
<Job Cafe Iwate "Shigotoba PLUG Secretariat">
TEL: 019-621-1171 (Reception Hours / Monday-Saturday 10: 00-18: 00) HP: https://plug.shigotoba-iwate.com/
* Both students and general job seekers are eligible.
* Companies eligible for Shigotoba PLUG are listed on our website, but even if the company you want is not on the list, we will support you as much as possible for matching.
◆ [Only for students and those who have graduated within 3 years] Online interview
On August 30, 3rd year of Reiwa, we will hold an "Iwate Company 1on1 Online Interview Meeting" where you can have an online interview with a recruiting company in Iwate Prefecture. If you are a student or have graduated within 3 years, please consider participating here.
Please contact the Job Cafe Iwate "Iwate Company 1on1 Online Interview" Secretariat (TEL: 019-621-1171) for details on participating companies and application methods.
≪Inquiries regarding cancellation of Iwate Employment Matching Fair IV≫
Furusato Iwate Settlement Foundation Tel: 019-653-8976 Mail: iwateiju@furusato-i.or.jp
If you request by e-mail regarding the shipping of the job booklet, please describe the following items. ]
·family name
·Delivery address
・ Required number of books
・ Contact information [optional]
・ Affiliation [arbitrary] (Example: 4th year college student, working person thinking about U / I turn, parent with son who is looking for a job, etc.)
* We can also ship to friends and children, so please feel free to contact us.
Holding period
2021/8/12
Open time
13: 00-16: 00 [Participant reception 12: 00-15: 30]
Venue

Iwate Industrial Culture Center Apio (Takizawa City, Iwate Prefecture)

Address
389-20 Sunakomi, Takizawa
Parking
Free parking available
Price
free
Contact
Furusato Iwate Settlement Foundation

TEL: 019-653-8976 MAIL: iwateiju@furusato-i.or.jp
HP
Click here for official website and other related sites

※Event information is subject to change. Please see the official website for details.