Agricultural Science Museum "Shellfish Hinamatsuri Exhibition"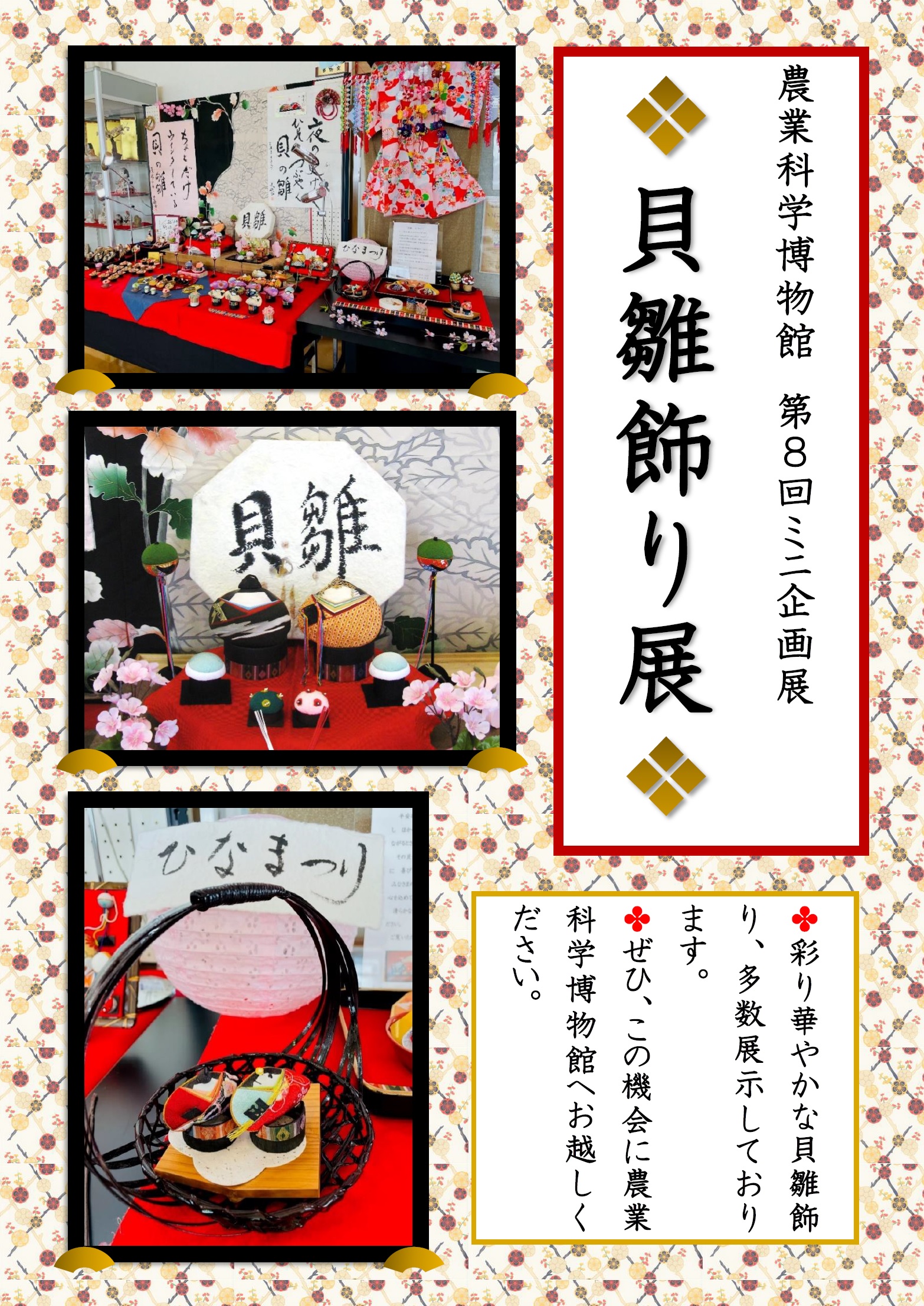 At the Agricultural Science Museum, shellfish decorations are on display before the Doll's Festival on March 3rd.
 The shellfish dolls are borrowed from "Sumiko Kobo" in Hanamaki City, and are gorgeous and cute "shellfish dolls" made from shells.
The shellfish chicks created by pasting kimono and obi fabrics on bivalves of various sizes such as surf clams and clams have
a warmth that is a bit different from the gorgeous Hina dolls.
*******
Hanamaki dolls

are also on display in the space next to the shellfish decorations.
Hanamaki dolls, which are a type of mud doll, have a history second only to Sendai's Tsutsumi dolls in Tohoku, and are counted as one of the three major clay dolls in Tohoku along with Yonezawa's Sagara dolls.
There are various types of dolls, from lucky ones such as Hina dolls, Ebisu, and Daikoku to zodiac signs, animals, and motifs that express the lives of children.
The Hanamaki dolls owned by the museum are valuable items donated by the local citizens, and showcase the inner chicks and treasure ships.
*******
"Hina dolls" that have been handed down to
each region and loved by people over time.
We hope that you will appreciate it slowly and feel the arrival of "spring" a little earlier.
Holding period
2021/2/19~2021/4/16
Open time
Opening hours: 9:00 to 16:30 (admission is until 16:00)

Closed: Monday (If Monday is a national holiday, the weekday immediately after)
Venue

Iwate Prefectural Agricultural Fureai Park Agricultural Science Museum

Address
3-110 Iitoyo, Kitakami City
Parking
12 large buses, 240 ordinary cars, 5 for people with disabilities
Price
Admission: General 300 yen, students 140 yen, free for high school students and younger

* There is a group discount (20 people or more).
Contact
Iwate Prefectural Agricultural Fureai Park Agricultural Science Museum

TEL: 0197-68-3975
HP
Click here for official website and other related sites

※Event information is subject to change. Please see the official website for details.