Artist Cafe-Let's talk with jazz singer Hiroe Utsu-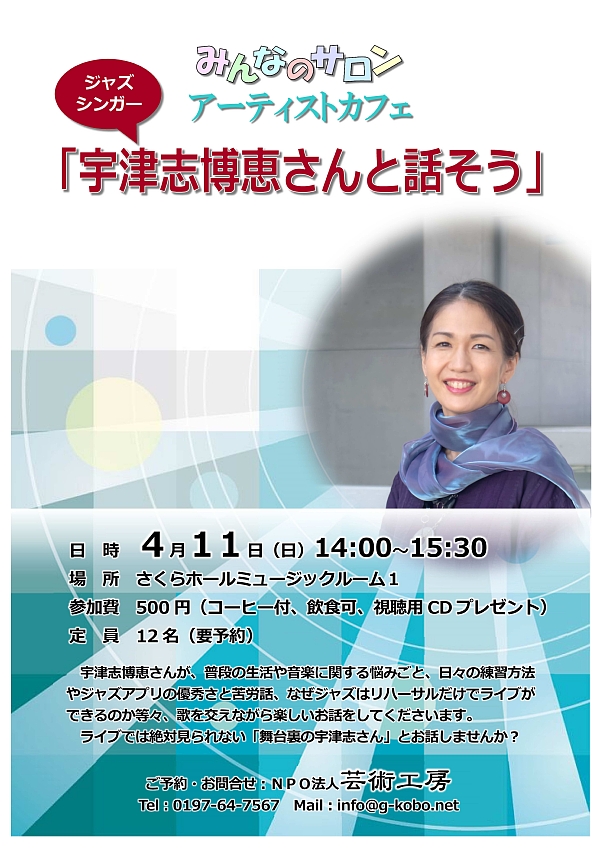 "Artist Cafe" welcomes artists who are active in Iwate and listens to their performances and stories.
The guest this time is jazz singer Hiroe Utsu.
You will talk about various things such as daily practice and life while singing.
Why don't you interact with "behind-the-scenes artists" that you can't see live?
Let's support the Iwate
artists
in the
artist
cafe!
✨ Capacity 12 people, reservation required. Click here to make a reservation ✨
NPO corporation art studio
TEL: 0197-64-7567
Email: info@g-kobo.net
Person in charge: Kunno
Holding period
2021/4/11
Open time
14:00~15:30
Venue

Sakura Hall (Music Room 1)

Address
2-1-1, Sakuradori, Kitakami-shi
Parking
Yes (free)
Price
500 yen (with coffee, food and drink, CD gift for viewing)
Contact
NPO corporation art studio

TEL: 0197-64-7567

Email: info@g-kobo.net
HP
Click here for official website and other related sites

※Event information is subject to change. Please see the official website for details.