Dual camp 2nd stage, 3rd stage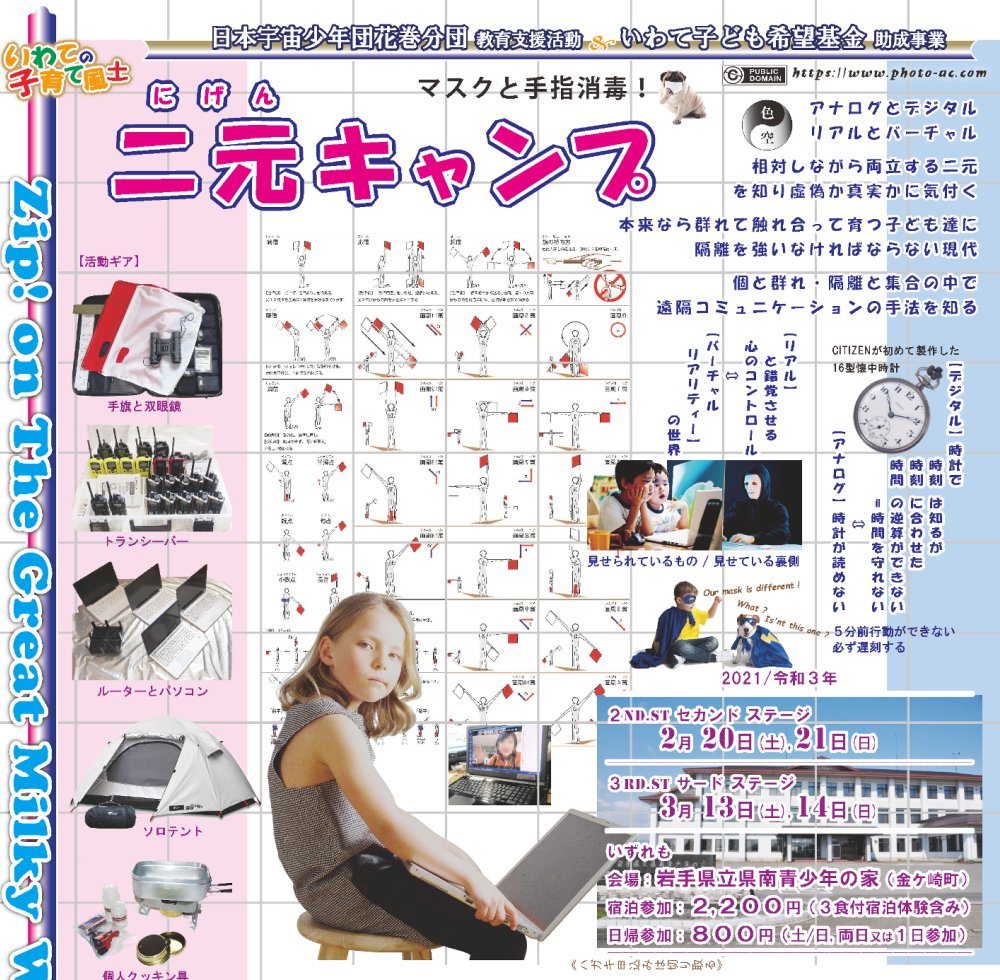 (Public interest incorporated foundation) Lively Iwate Support Foundation "Iwate Children's Hope Fund" subsidy project
Holding period 2nd.ST 2021/2/20 (Sat) 10: 00-202 1/2/21 (Sun) 12:30
3rd.ST 2021/3/13 (Sat) 10: 00-202 1/2/14 (Sun) 12:30
Holding time Opening 10:00 Opening 12:30
Day trip (Sat) 13: 00-17: 00, (Sun) 9: 00-12: 00
Venue Iwate Prefectural South Youth House Address 49-1 Nagasawa Shimodate, Kanegasaki Town
Fees Accommodation participation at each stage: 2,200 yen (including accommodation experience with half board)
Day trip participation: 800 yen (Saturday / Sunday, both days or one day participation)
* The meeting will be disbanded at the venue, and you will be responsible for the transportation costs.
* If you can bring your own PC, please bring it with you.
— Call for Participation —
○ 12 elementary and junior high school students Recruitment 3 high school students Recruitment Parents can also participate together
Holding period
2021/2/20~2021/2/21
Open time
Opening 10:00
Another schedule
3/13~3/14
Venue

Iwate Prefectural South Youth House

Address
49-1 Shimodate, Nagasawa, Kanegasaki-cho
Price
Accommodation participation: 2,200 yen (including accommodation experience with half board)

Day trip participation: 800 yen (Saturday / Sunday, both days or one day participation)
Contact
Hanamaki Space Boy Scouts

Mail: info@oitw.org

TEL: 050-3630-1003
HP
Click here for official website and other related sites

※Event information is subject to change. Please see the official website for details.