Human relationship building course through experience and dialogue Online Zoom held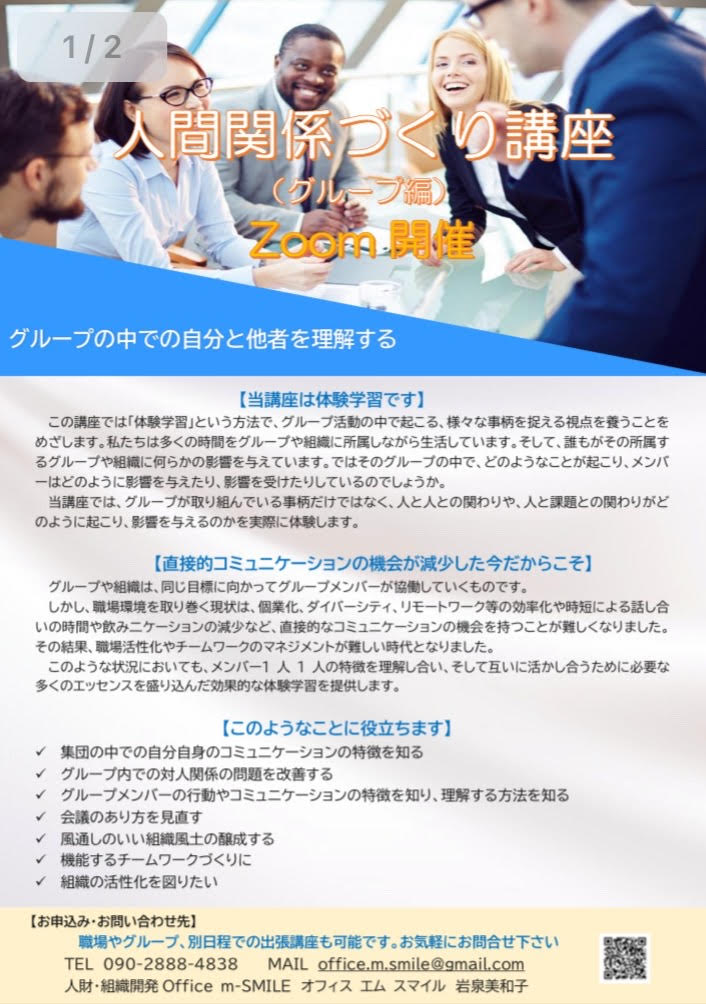 Through sharing through experience and dialogue
"Know yourself" "Know others" "Improve teamwork" "Get hints for organizational development"
It is a workshop that leads to new awareness while feeling the influence of people on each other .
[Useful for such things]
Know the characteristics of your own communication within the group

Know how to understand and understand the behavior and communication characteristics of group members

Promote smooth communication within the company and reduce mistakes and troubles

Increase dialogue within the organization and foster an open organizational culture

For improving interpersonal relationships within the group

I want to review the meeting method
[This course is experiential learning]
In this course, we aim to cultivate a perspective that captures various things that occur in group activities by a method called "experiential learning." We spend a lot of time in groups and organizations. And everyone has some influence on the group or organization to which they belong. So what happens in the group and how are the members influenced and influenced?
In this course, you will actually experience not only what the group is working on, but also how people-to-people relationships and how people-to-issue relationships occur and influence.
[Because the opportunities for direct communication have decreased]
A group or organization is one in which group members work together toward the same goal. However, in the current situation surrounding the work environment, it has become difficult to have opportunities for direct communication, such as improving the efficiency of individual work, diversity, remote work, etc., and reducing the time for discussion and drinking due to shortened working hours. As a result, it has become difficult to revitalize the workplace and manage teamwork.
Even in such a situation, we will provide effective experiential learning to understand the characteristics of each member and utilize each other.
[Aim of this course]
1. Know that "learn from experience"
2. Focus on the relationships within the group and cultivate a perspective for noticing various things that occur during group activities.
3. Be aware of the characteristics of yourself and others in the group
[Program schedule]
Small lectures: "Contents and processes", "How to see processes", "Group decision making", etc.
Practice: "Group problem-solving practice" "Consensus practice" "Production practice" "Sharing"
[How to proceed with the course]
This course will be conducted through practical training and short lectures conducted using a laboratory-style experiential learning method.
Participate in group training, look back on the training carefully, and look at what is happening by sharing with group members. First, look at yourself within the group, learn about the characteristics of communication, and deepen your self-understanding by checking your behavior. Next, while looking back on the communication of other group members, we will cultivate the ability to notice the characteristics of others and deepen mutual understanding.
Working online allows you to thoroughly experience the unique characteristics of communication that are unique to online. Let's think together about how to interact with people while feeling the difference from face-to-face communication.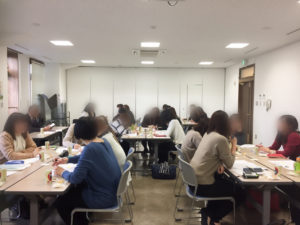 Human relationship building course through experience and dialogue
Online Zoom held
[Schedule]
1st February 20th (Sat) 9: 30-12: 30
2nd February 27th (Sat) 9: 30-12: 30
The 3rd Saturday, March 13th, 9: 30-12: 30
The 4th Saturday, March 27, 9: 30-12: 30
[Facilitator] Miwako Iwaizumi
[Tuition fee] 1 time 4500 yen All 4 times 18000 yen (text, tax included) (total time 720 minutes)
● Application: https://ws.formzu.net/dist/S18266081/
[Deadline] February 17 (Wednesday)
● Please transfer the tuition fee in advance. We will send you detailed information to the email address you provided.
● If payment of the tuition fee has been confirmed, the Zoom ID, password, and materials will be sent by email at least 3 days before the course date.
● The holding time and contents may change depending on the progress.
● We will focus on group work online. It is a condition that you participate with the video camera ON and audio ON.
Other details will be notified by the guidance email after application.
Holding period
2021/2/20~2021/3/27
Open time
9: 30-12: 30 each time


Venue

Online Zoom held

Address
Morioka City (Homepage https://officemsmile.wixsite.com/homepage)
Price
All 4 times 18,000 yen (total attendance time 720 minutes)
Contact
Human Resources / Organization Development Office m-SMILE Iwaizumi office.m.smile@gmail.com 090-2888-4838
HP
Click here for official website and other related sites

※Event information is subject to change. Please see the official website for details.