Ofunato Machimori University, 6th Machimori Studies-City Guardian, Move-
2021/1/16~2021/1/16
Ofunato
14 Views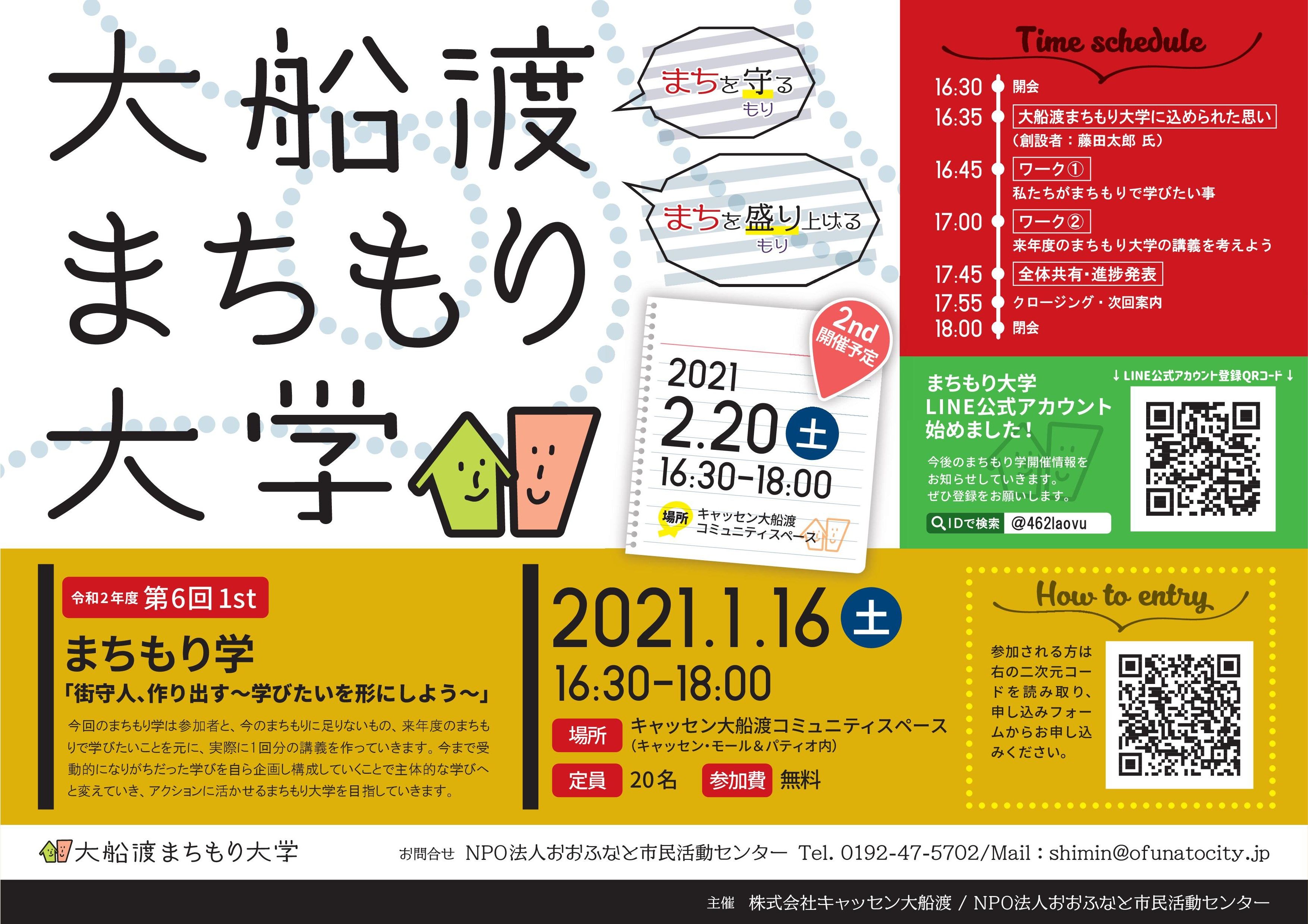 What is Ofunato Machimori University?
It is a place of learning and practice to protect the city and liven up the city, centered on the Cassen area of Ofunato City, Iwate Prefecture.
Although it is named "University", there are no entrance exams or credits.
I would like to invite people who want to make Ofunato a better city, who are interested in community development and community development, and who want connections other than companies and schools.
The 6th Machimori Gaku-City Guardian, "Let's Shape What You Want to Learn"-
In this Machimori study, we will actually make one lecture based on the participants, what is lacking in the current Machimori, and what we want to learn in the next year's Machimori.
By planning and organizing learning that has tended to be passive until now, we will change it to independent learning and aim to become a town-based university that can be utilized in action.
Outline of the 6th Machimori Study
〇 1st
Date and time: Saturday, January 16, 2021 16: 30-18: 00
Place: Cassen Ofunato Community Space (inside Cassen Mall & Patio)
Capacity: 20 people
Participation fee: Free
6th Machimori School Day Time Schedule
16:30 Opening
16:35 Thoughts put into Ofunato Machimori University (Founder: Taro Fujita)
16:45 Work ①: "What we want to learn in town"
17:00 Work ②: "Let's think about a lecture at Machimori University next year"
17:45 General sharing / progress announcement
17:55 Closing / Next Information
18:00 Closing
Application / Inquiry
If you would like to participate, please apply from the URL below.
https://forms.gle/sg4YN98bg42Q6CV3A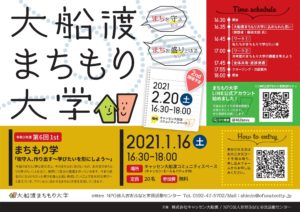 Inquiries: NPO Ofunato Citizen Activity Center (Kinoshita / Kanano)
Mail shimin@ofunatocity.jp
Tel 0192-47-5702
Holding period
2021/1/16~2021/1/16
Open time
16:30~18:00
Venue

Cassen Ofunato Community Space

Address
10-3 Nonoda, Ofunato-cho, Ofunato-shi
Parking
Have
Price
free
Contact
NPO Ofunato Citizen Activity Center

Person in charge: Kinoshita / Kanano

0192-47-5702

shimin@ofunatocity.jp
HP
Click here for official website and other related sites

※Event information is subject to change. Please see the official website for details.