"Dual Camp" Jizpong Kido (Jipon Kid) Winter Crew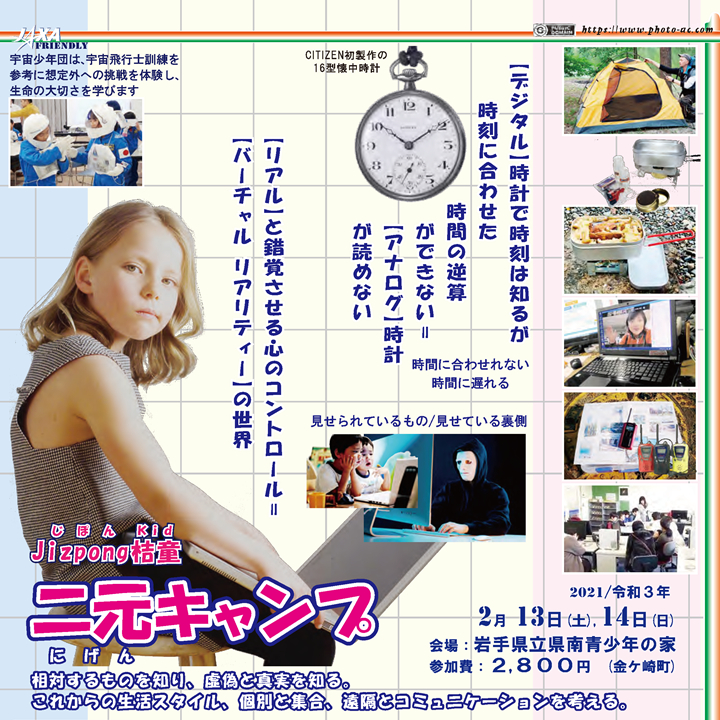 Know the falsehood and truth from the two, the opposite, and think about the future lifestyle, individual and collective, remote and communication.
[Digital] I know the time with a clock, but I can't calculate the time back according to the time because I can't read the [Analog] clock? (Behind the time when it cannot be adjusted)
Do you control your mind with the illusion of [real]? The world of [Virtual Reality] (What is being shown / Behind the scenes being shown)
We will develop communication skills under the theme of "dual" in the present age when children who are supposed to grow up in groups and touch each other are forced to be isolated.
Since the camp (night in the hall) is composed of individuals and a simulated society, elementary, junior high and high school students and other adults also said, "Please come in. Please do not hesitate."
Activity program
(1) "Dual" is also a compatible two poles Analog and digital Unlike what they represent Remote communication Transceiver Flag semaphore Web conferencing experience Real and virtual Falsehood and truth Communication method SNS and fake Net experience to lie
(2) Individuals and society who come into contact with other cultures through "dual" Individual meals and dinners Solo tents and companies
(3) The earth is a neighborhood association in space Countries are neighbors Differences in culture between other countries and Japan ⇔ Think outside and inside? Do you feel connected far and near?
Holding period
2021/2/13~2021/2/14
Open time
Opening 10:00

Opening 12:30
Venue

Iwate Prefectural South Youth House

Address
49-1 Shimodate, Nagasawa, Kanegasaki-cho
Price
Participation fee: 2,800 yen per person

1 night 2 days, 3 meals (13th lunch-14th breakfast) Meal fee, in-house accommodation sheets fee, insurance fee, teaching material fee

* The meeting will be disbanded at the venue, and you will be responsible for the transportation costs.

* If you can bring your own PC, please bring it with you.
Contact
Hanamaki Space Boy Scouts

Mail: info@oitw.org

TEL: 050-3630-1003
HP
Click here for official website and other related sites

※Event information is subject to change. Please see the official website for details.