100-year-old company presents Episode 3 Ekiben's long-established store Saito Matsugetsudo-with a museum tour of Ishitokenjino on the Ofunato line-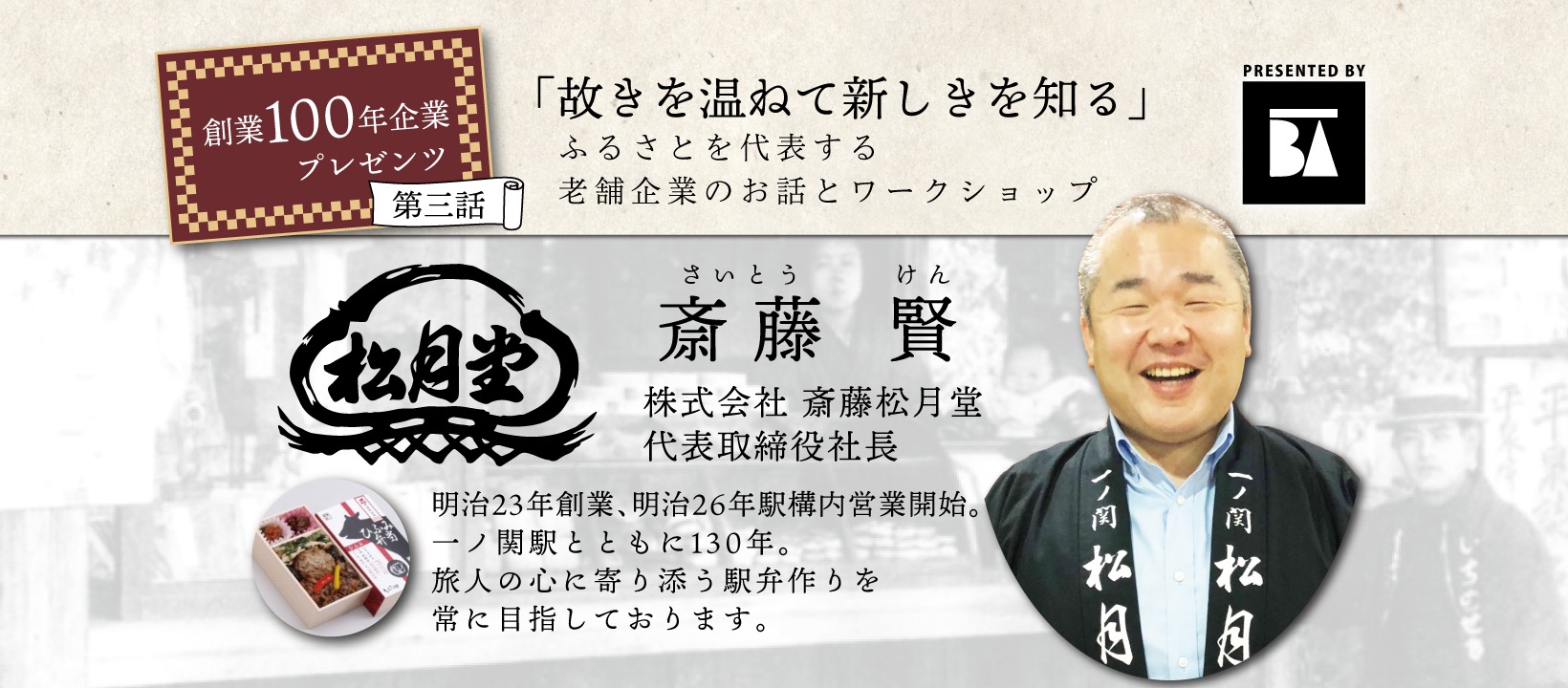 Companies that have been supporting this region for more than 100 years As a matter of course, companies in this town have their beginnings and twists and turns.
Warm the old and know the new
Why don't you listen to the story and experience it and feel the goodness of this area again?
In addition to the lecture by Mr. Matsugetsudo Saito, this event will include the experience of riding a train, which is inseparable from the ekiben, and the newly renewed "Museum of Ishitokenjino", which is inseparable from the Ofunato Line. Will be guided by the director!
——————————————–
Episode 3 "100 Years Founded Corporate Presents Episode 3 Ekiben's Long-established Saito Matsugetsudo-With a Museum Tour of Ishitokenjino on the Ofunato Line-"
Lecturer Saito Matsugetsudo Co., Ltd. Ken Saito
◇ Event schedule ◇
09:30 Hotel Sunroute Ichinoseki reception starts
10:00 Lecture start
11:30 Saito Matsugetsudo Ekiben actual meal
12:45 Depart Ichinoseki Station on the Ofunato Line
13:15 Arrive at Rikuchu Matsukawa Station Visit the renewed Ishitokenjino Museum
15:14 Departure from Rikuchu Matsukawa Station
15:40 Arrive at Ichinoseki Station
16:00 Workshop on new ekiben development at Ichiba
Disbanded after 17:00
◇ Participation fee ◇
3,000 yen per person * The price includes lecture attendance fee, ekiben fee, round-trip train fee between Ichinoseki Station and Rikuchu-Matsukawa Station, facility admission fee, and taxes.
◇ Capacity ◇
Limited to 15 people
◇ Application deadline ◇
Friday, November 20
◇ How to apply ◇
① Visit Ichiba and apply directly ② Apply by phone (0191-48-3838) ③ Get a leaflet! Apply by sending a fax (0191-345-346) ④ Apply using the google form below
https://forms.gle/Xb3kBEPfNNGDaR1cA
Note!
Please note that "participation" on the event page is not the official reception.
◇ Inquiries ◇
Ichiba
Address 1-5 Kamiotsuki-gai, Ichinoseki (20 seconds walk from the west exit of Ichinoseki Station)
Phone 0191-48-3838
Business hours 9: 30-18: 00 Regular holiday Tuesday
Travel planning / implementation / application: Maruku Co., Ltd. 171-2 Akoogi Yunnan, Ichinoseki City, Iwate Prefecture
TEL 0191-34-8421
FAX 0191-34-8422
Iwate Governor Registered Travel Industry 3-226
▼ Cancellation ▼
* Price per person ○ 7 to 2 days before the start of the trip 30% of the travel price
○ 40% of the previous day's travel price
○ 50% of the travel price on the day
○ 100% of the travel price without contact on the day
Holding period
2020/11/22
Open time
Meet at 10:00

Disband at 17:00
Venue

Sunroute Hotel Ichinoseki / Rental Space 1 BA

Address
1-5, Shangdatuji Street, Ichinoseki City
Parking
Please use the municipal parking lot
Access
20 seconds walk from Ichinoseki Station
Price
3000 yen per person
Contact
Tel 0191 48 3838 (business hours 9: 30-18: 00 / regular holiday Tuesday)
HP
Click here for official website and other related sites

※Event information is subject to change. Please see the official website for details.