Kenji Miyazawa Society 30th Anniversary of Ihatov Center "Painting Exhibition depicting the World of Ihatov Hanamaki and Kenji"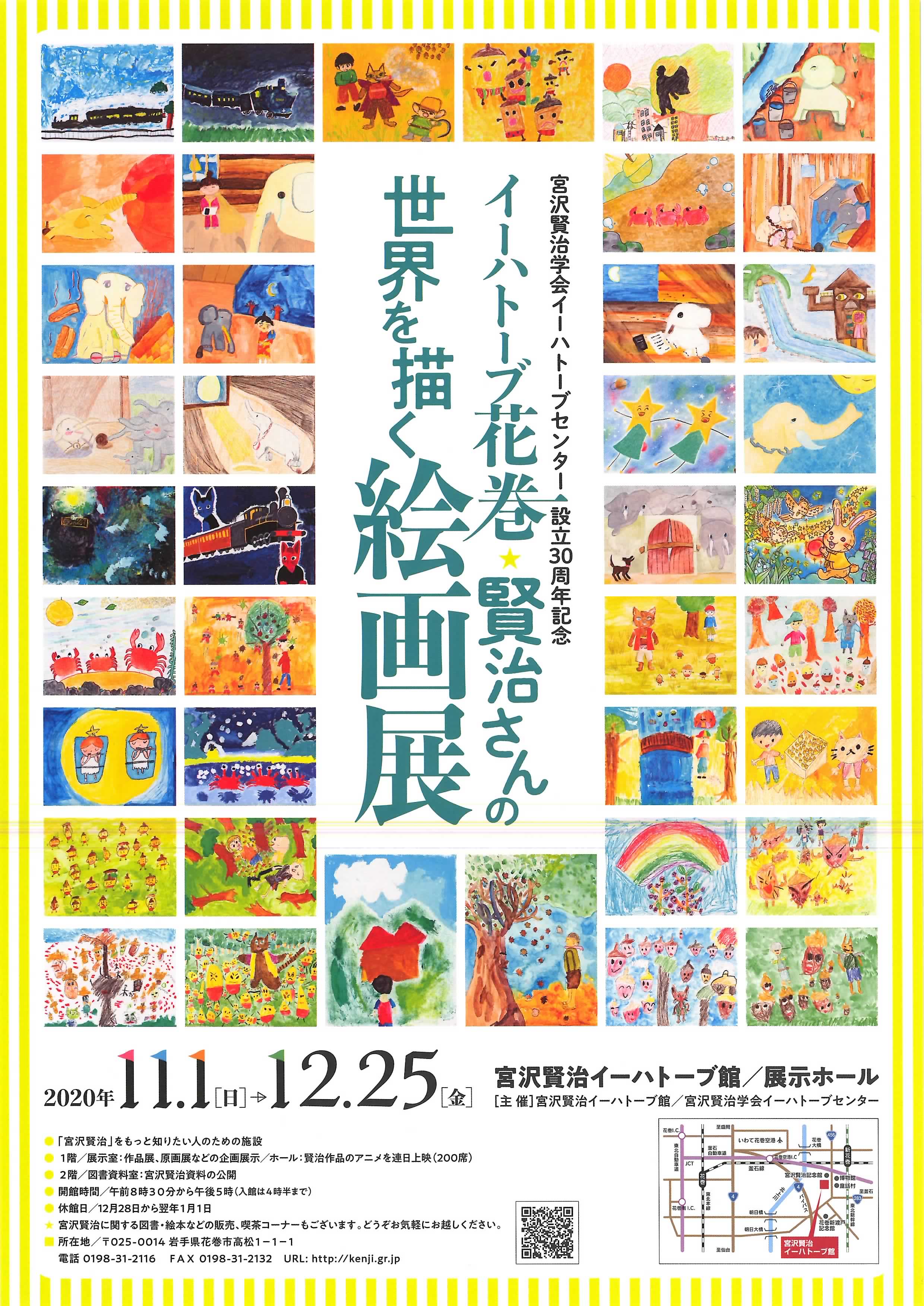 In commemoration of the 30th anniversary of the establishment of the Ihatov Center of the Kenji Miyazawa Society, paintings drawn by elementary and junior high school students in the city under the theme of "Ihatov Hanamaki / Kenji's world I felt" (for the "Kenji Miyazawa Art Street" project carried out in the city The works submitted) and the works of children from Hanamaki City Hanamaki Elementary School (1st) and Hanamaki City Nanjo Elementary School (4th), which received the Kenji Miyazawa Ihatov Center Achievement Award, are on display.
Holding period
2020/11/1~2020/12/25
Open time
From 8:30 am to 5 pm (admission is until 4:30 pm)
Venue

Kenji Miyazawa Ihatov Hall Exhibition Hall

Address
1 Chiwari Dai 1 Chiwari, Takamatsu, Hanamaki
Parking
21 units (free)
Access
Approximately 2km from Shin-Hanamaki Station on the Tohoku Shinkansen, 3 minutes by car, 4 minutes to Iwateken Kotsu Ito-Yokado, 5 minutes on foot after getting off at "Kenji Memorial Hall Exit"
Price
free
Contact
Kenji Miyazawa Ihatov Hall

Phone: 0198-31-2116

Fax: 0198-31-2132
HP
Click here for official website and other related sites

※Event information is subject to change. Please see the official website for details.