Masterpiece chair exhibition where you can sit + modern craft design exhibition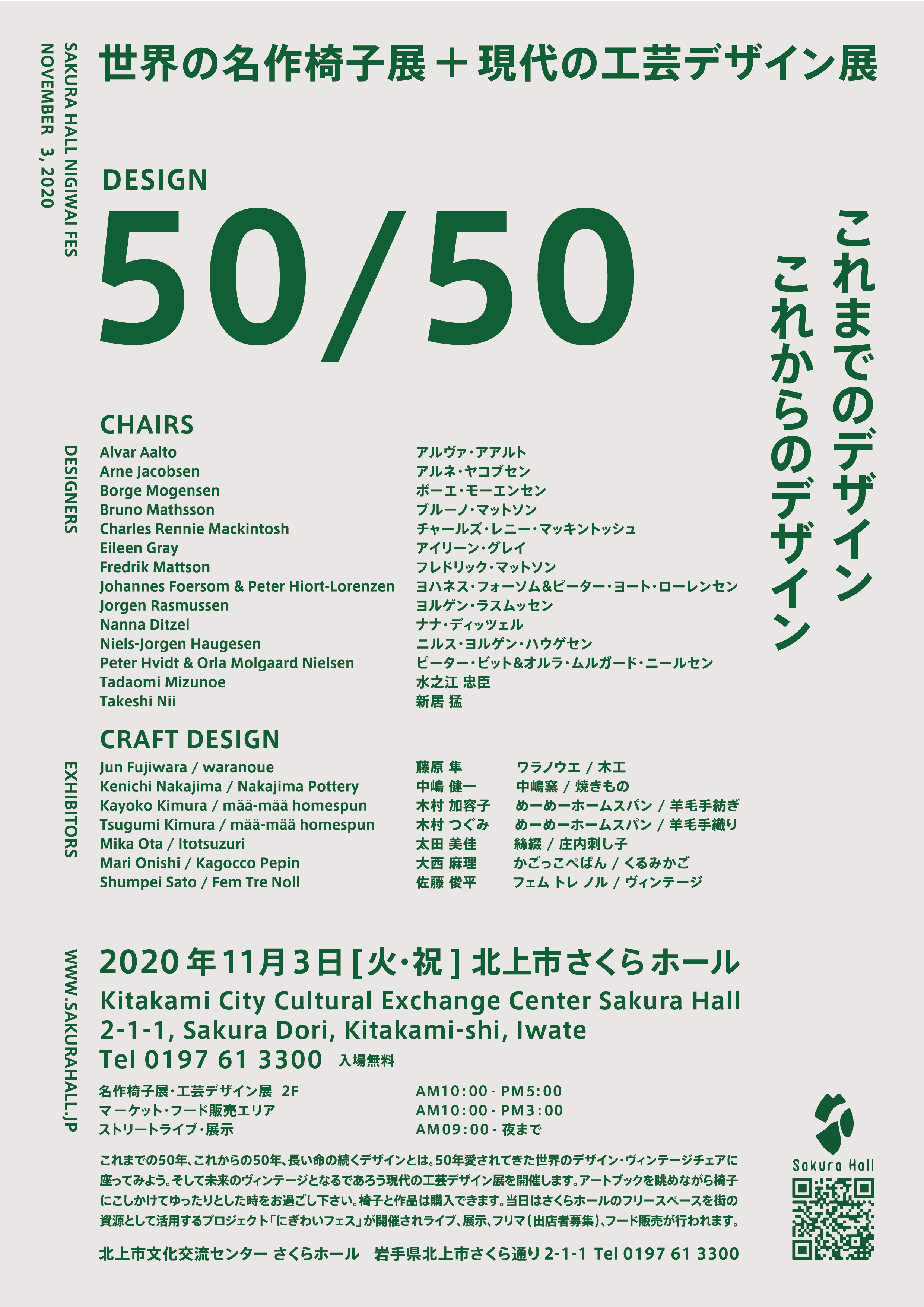 ~ DESIGN 50/50 Designs so far and in the future ~
What is a design that will last for the past 50 years and the next 50 years?
Let's sit down on the world's design vintage chair, which has been loved for 50 years! Let's sit in the world's classic vintage chair! And we will hold a contemporary craft design exhibition that will be the vintage of the future. Except for some, the chairs on display can be purchased. Photo books, art books, books on crafts, etc. are also on display, so please spend a relaxing time all day long by sitting on a chair. You can talk slowly with the artist himself. May the flowers bloom in the discussion of manufacturing.
On the day of the event, a "lively festival" will be held, with street live performances, various exhibitions, flea markets, and food sales.
https://fb.me/e/1aSo5fnJd
To visitors
*free entrance.
* Canceled in case of rain or stormy weather.
* Please bring an eco bag.
* Thank you for taking measures against corona infection.
* Please cooperate as the temperature will be measured at the entrance. ▼ Special guest Keiji Nagai (interior designer / chair collector)
You can visit famous designers in the world and hear directly from Mr. Nagai, who has collected chairs by seeing and hearing about the design and his personality. The collection ranges from those in the Museum of Modern Art in New York to unnamed chairs. In 1997, he was the first Japanese to receive the Danish "Furniture Award" in recognition of his achievements in popularizing design.
From the magazine Casa Brutus
https://casabrutus.com/design/111722
————————————
World Masterpiece Chair Exhibition Designer List
————————————
* You can actually sit down.
* Except for some, you can purchase the chairs on display.
Alvar Aalto
/ Alvar Aalto
Arne Jacobsen
/ Arne Jacobsen
Børge Mogensen
/ BorgeMogensen
Bruno Mattson
/ Bruno Mathsson
Charles Rennie Mackintosh
/ Charles Rennie Mackintosh
Eileen Gray
/ Eileen Gray
Fredrick Mattson
/ Fredrik Mattson
Johannes Forsom
/ Johannes Foersom
Peter Yot Laurensen
/ Peter Hiort Lorenzen
Jorgen Rasmussen
/ Jorgen Rasmussen
Nanna Ditzel
/ Nanna Ditzel
Nils Jorgen Haugesen
/ Niels Jorgen Haugesen
Peter Bit & Orla Murgard Nielsen
/ Peter Hvidt & Orla Molgaard Nielsen
Tadaomi Mizunoe
/ Tadaomi Mizunoe
Takeshi Nii
/ Takeshi Nii
————————————
Craft Design Exhibition Exhibitor
————————————
* You can talk with the creator while actually picking up the work and seeing it.
* Works can be purchased.
Jun Fujiwara Jun Fujiwara
waranoue
/ Woodworking
Kenichi Nakajima Kenichi Nakajima Kiln
/ Grilled food
Kayoko Kimura Kayoko Kimura
Tsugumi Kimura Tsugumi Kimura
mää-mää homespun
/ Wool hand-spun hand-woven demonstration, order reception style
Mika Ota Mika Ota
Itotsuzuri
/ Shonai Sashiko
Mari Onishi Mari Onishi
Kagocco Pepin
/ Walnut basket
Shumpei Sato Shunpei Sato
Fem Tre Noll
/ vintage
————————————
Holding period
2020/11/3~2020/11/3
Open time
From 10:00

Until 17:00
Venue

Kitakami City Cultural Exchange Center Sakura Hall

Address
2-1-1 Sakuradori, Kitakami City, Iwate Prefecture
Parking
Yes
Price
free
Contact
Sakura Park Project Executive Committee

Email nigiwaifes@gmail.com

TEL 0197-61-3300
HP
Click here for official website and other related sites

※Event information is subject to change. Please see the official website for details.