Cultural Policy Working 1st "Aims of Cultural Arts in Kitakami City"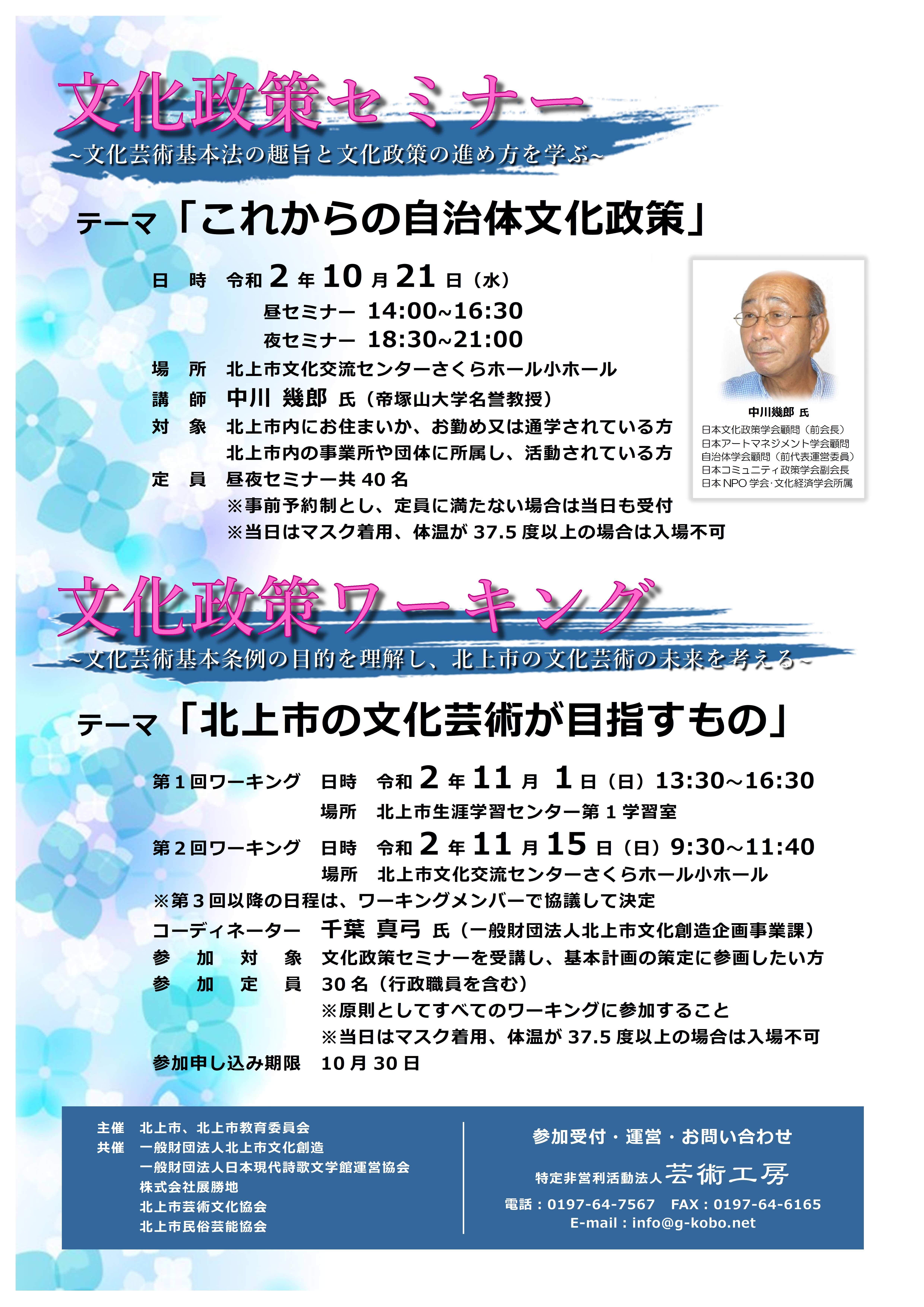 Understand the purpose of the Basic Culture and Arts Ordinance and think about the future of culture and art in Kitakami City
Prior to the establishment of the Kitakami City Cultural Arts Promotion Ordinance and the formulation of the Cultural Arts Promotion Basic Plan, the direction that Kitakami City is aiming for while sharing the issues and needs of citizens and managers of cultural facilities and exchanging opinions on future cultural policies. Think about.
* For those who participated in the "Cultural Policy Seminar" on October 21st (Wednesday).
Contents of the event
Theme "Aims of Kitakami City's Cultural Arts"
Coordinator Mayumi Chiba (Kitakami City Cultural Creation Planning Business Division)
Date and time
1st Working Date and Time Sunday, November 1, 2nd year 13: 30-16: 30
2nd Working Date and Time Sunday, November 15, 2nd year 9: 30-11: 40
* The schedule for the 3rd and subsequent sessions will be decided through discussions among working members.
Participation target
Those who want to attend a cultural policy seminar and participate in the formulation of a basic plan
Capacity
30 people (including administrative staff)
* As a general rule, attendance at all working sessions (3 times in total) is a prerequisite.
* Wear a mask on the day and cannot enter if the body temperature is 37.5 degrees or higher.
Application destination
Specified non-profit corporation art studio
TEL: 0197-64-7567
Email: info@g-kobo.net
* Please apply by October 30th (Friday).
Holding period
2020/11/1
Open time
13:30~16:30
Venue

Kitakami City Lifelong Learning Center 1st Study Room

Address
1-3-1, Odori, Kitakami City Odense Plaza Globe 3rd and 4th floors
Parking
None
Price
free
Contact
NPO corporation art studio

TEL: 0197-64-7567

Email: info@g-kobo.net
HP
Click here for official website and other related sites

※Event information is subject to change. Please see the official website for details.