9/10 (Sun) Iwate Gourmet ♥ Experience Con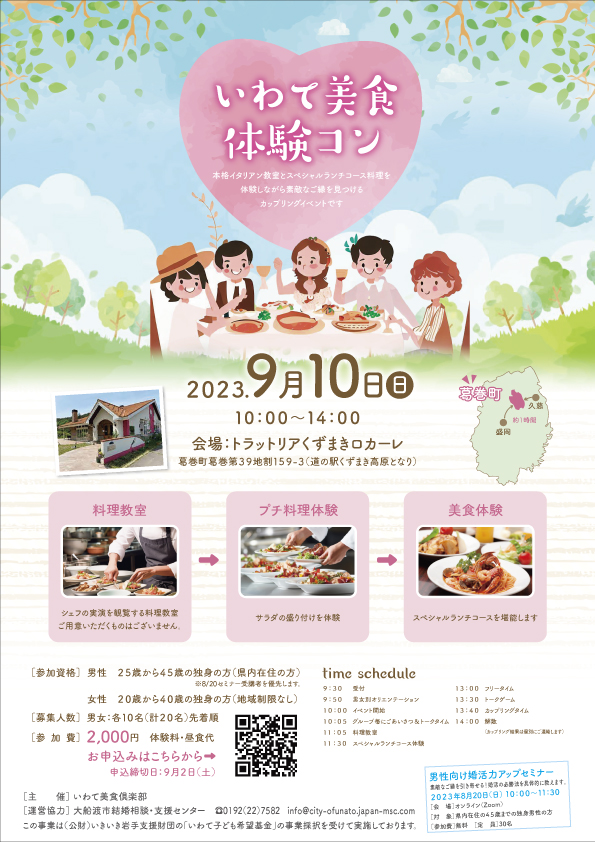 At an Italian restaurant in a quiet forest
Let's have a delicious and fun love life!
It is a coupling event where you can find a wonderful relationship while experiencing an authentic Italian class and a special lunch course.
No confession, no couple reveal, couple method, you can give a message and contact information to the person you care about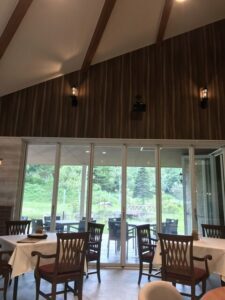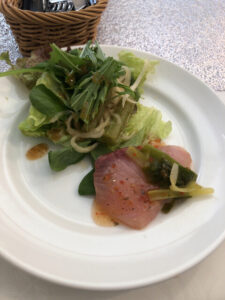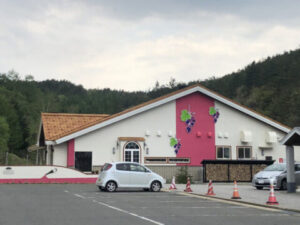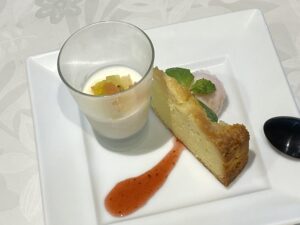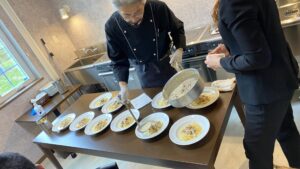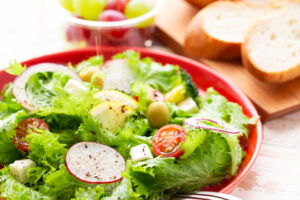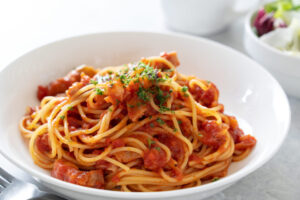 Date/Time/September 10, 2023 (Sun) 10:00-14:00
Venue: Trattoria Kuzumaki Locale Kuzumaki-cho Kuzumaki 39th Chiwari 159-3 (next to Roadside Station Kuzumaki Kogen)
Participation Eligibility: Male Single person between the ages of 25 and 45 (those living in the prefecture)
*Priority will be given to those who attend the 8/20 seminar.
/ Female single between 20 and 40 years old (no region restrictions)
Recruitment number men and women: 10 each (total 20 people) first-come-first-served basis
Participation fee / 2000 yen Experience fee / lunch fee
Time schedule (tentative)
9:30 Reception 9:50 Orientation for men and women 10:00 Opening 10:05 Greetings and talk time for each group 11:05 Cooking class
11:30 gastronomic experience (special course lunch)
13:00 Free time 13:30 Talk game 13:40 Coupling time 14:00 Dissolution (Coupling results will be notified individually)
How to apply: Please fill in the necessary information on the web form and apply.
Application deadline: Saturday, September 2nd
Organizer: Iwate Gourmet Club
Management cooperation: Ofunato Marriage Counseling and Support Center ☎0192-22-7582 info atmark city-ofunato.japan-msc.com
<Participation rules and notes>
In order for all participants to have a good time, we have established participation rules and precautions. Please apply only if you agree.
〇 Participation rules conform to those of Ofunato Marriage Counseling and Support Center. Please check in advance.
◆You may be asked to submit a public ID (driver's license, My Number Card) at the reception on the day of the event to verify your identity. Please note.
◆Please refrain from exchanging mobile phone numbers and contact information such as LINE between participants during the event.
◆The Management Office will not answer any questions regarding the personal information of participants during or after the event.
◆We are not responsible for any troubles, thefts, accidents in the parking lot, etc. during and after the event. Please keep valuables by yourself.
<Regarding cancellation handling>
If you wish to cancel after applying, please be sure to contact the Center. Cancellations after the application deadline will be charged a cancellation fee equivalent to the participation fee, so please make an appointment in advance before applying.
Holding period
2023/9/10~2023/9/10
Open time
Opening 10:00

Start 14:00
Venue

Trattoria Kuzumaki Locale

Address
159-3 Kuzumaki Town Kuzumaki 39th District Wari
Parking
Free parking available
Access
Next to Roadside Station Kuzumaki Kogen
Price
2000 yen experience fee and lunch fee
Contact
Secretariat: Ofunato Marriage Counseling and Support Center [Address] 10-11 Morimachi Azamachi, Ofunato City Sun Rear 2F [TEL] 0192-22-7582 [Opening days] Weekdays 10: 00-19: 00, Saturdays and Sundays 9:00 00-18:00 [Closed] Tuesdays and holidays [Homepage] https://city-ofunato.japan-msc.com/
HP
Click here for official website and other related sites

※Event information is subject to change. Please see the official website for details.