Famous song cafe at night, Ara Ebisu ~Did Kodo listen to jazz? ! ~ [Accepting concert participation! ]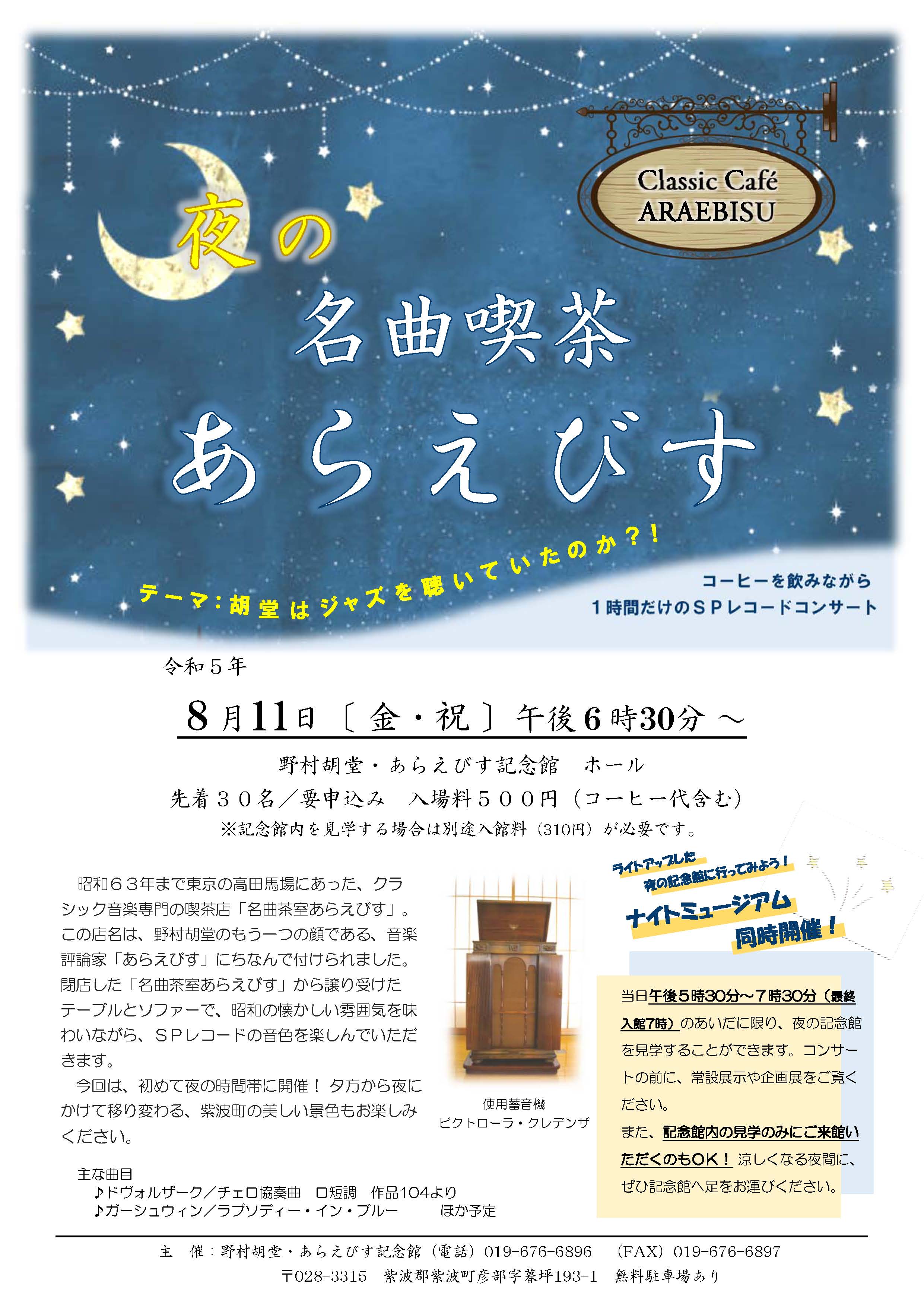 It is a one-hour record concert where you can watch SP records on a gramophone while drinking coffee.
The theme this time was "Was Kodo listening to jazz?!" While unraveling the vast record collection of "Araebisu", who was a classical music critic mainly by SP Records, you can enjoy music under the guidance of the curator.
.
Also, this time, it will be held at night time for the first time! Enjoy the atmosphere of the illuminated memorial hall and Ara Ebisu Hall at night.
.
Program (tentative)
♪ Dvorak / Cello Concerto in B minor, Op.104 ♪ Gershwin / Rhapsody in Blue, etc. planned
*Contents may change due to circumstances. note that.
.
★ Origin of the event "Masterpiece Tea Room Ara Ebisu"
Classical music specialty coffee shop "Meikyoku Tea Room Ara Ebisu" was in Takadanobaba, Tokyo until 1988. The name of the store was named after the music critic "Araebisu" who is another face of Kodo Nomura. At this event, the name of the event will be "Meikyoku Cafe Ara Ebisu", with tables and sofas (limited to 16 sofa seats) inherited from "Meikyoku Tea Room Ara Ebisu", where you can enjoy the sound of SP records while enjoying the nostalgic atmosphere of the Showa era. Have fun.
Holding period
2023/8/11
Open time
6:30pm - 7:30pm (30 minutes before doors open)
Venue

Nomura Kodo/Araebisu Memorial Hall Araebisu Hall

Address
193-1 Kuratsubo, Hikobe, Shiwa-cho, Shiwa-gun
Parking
free
Price
Entrance fee 500 yen (with coffee) / Entrance fee 310 yen (in the case of a tour of the building)

Capacity 30 people
Contact
Nomura Kodo/Araebisu Memorial Museum 019-676-6896
HP
Click here for official website and other related sites

※Event information is subject to change. Please see the official website for details.